Hi everyone, our next OFW interview feature is with Meanne, a former Admin Training Coordinator and now turned housewife in Dubai.
Meanne has been in Dubai for over 15 years, although 2 of those years were spent back in the Philippines. Her situation is interesting as she is homeschooling her daughter. As she does not have a full time job now, she is able to save on babysitting fees and school fees including transport, uniform, miscellaneous fees, etc. and she is able to give her extra lessons apart from the text books. Living in Dubai and raising a family in the UAE is a challenge due to the rising costs, especially on education for kids so this can be another option for families who bring their kids with them in this country.
Meanne is also the blogger behind ExpatPinay and her blog can be found at expatpinay.wordpress.com where she shares her stories and adventures as a Filipina expat in Dubai. Check out our interview below.

OFW Profile: Admin Training Coordinator  turned Housewife in Dubai
Name: Meanne
Education: Business Secretarial graduate
How long in Dubai: 15 years
1. Tell me about yourself.
My name is Meanne, a Business Secretarial graduate and have been in the UAE for 15 years, out of which two and a half years were spent in the Philippines when I resigned from corporate world in 2012. Been traveling back and forth to UAE since then as my husband still works here. My last job was in an Airline Company in Garhoud as an Admin Training Coordinator for almost six years. I am now a favored homemaker and a homeschooler to my 9 yrd old daughter. We opt for the homeschooling education right now as we frequently travel so she wouldn't miss any school year until she goes back to the conventional school. Works well for us.

2. Why did you come to Dubai?
My husband was offered a job here in UAE hence our transfer, but it was also a "why not Dubai?" reason for me. Didn't know much about Dubai at that time except there was a good job opportunity waiting for us; so basically it was a family decision to move here.
3. What where your previous jobs?
Previous to my airline job, I was working as a PA for a couple who managed a European-owned Manpower Services Company in Sheikh Zayed Rd. I left this company as my bosses were retiring and I couldn't see myself continuing to work there anymore with different bosses. Then I joined the Airline job but had to leave due to family call. My decision was supported by my husband.
4. How do you find your current job? Are you happy/satisfied with it?
As a homemaker and a homeschooler, it is both rewarding and exhausting at the same time. But my reward exceeds as I see my family happy. One of the reasons as well why I started blogging so I could have my 'me' time. It is like doing something out of my norm; all mums can share my sentiments hahahaha! Pls visit my site at https://expatpinay.wordpress.com when you find the time. I also share our homeschooling journey on my blog. Currently, my daughter and I are both on my husband's sponsorship.
5. Are you able to save in Dubai? Why/How?
It was difficult during our initial years over here especially when our daughter was born and started her schooling. Raising your kids in UAE is expensive and really challenging. Eventually we learned to manage our expenditures within our budget and saved within our capacity. However, we try to set aside a little amount to compensate our hard work like simple dinning outside, etc. as long as it will not put a strain on our monthly budget.
6. Is it difficult to live in Dubai? What are your struggles? What's life like outside work?
I may have answer this question differently if I were asked five years ago. With the current standard of living, I should say it wasn't as easy as it used to be and I am sure quite a majority of contract workers can testify on that. My personal struggle is my husband's erratic working shifts; drives me nuts sometimes :). But at the end of the day, work is work. No one is indispensable. It's a take it or leave it option on the plate.
7. What do you like about Dubai?
Cleaner and more organized, I guess. The beautiful architecture of shopping malls and commercial buildings.
8. What do you not like about Dubai?
The worsening heat. The cost of living that doesn't seem to stop from increasing. There will always be a plus and minus points for every city. I do not want to sound ungrateful and critical either! Just need to pray for wisdom for this nation. The same prayer for our own country too.
9. What are your plans in your career/family/future?
Maybe it is time for us to give a serious thought on our retirement from UAE and maybe start something on our own back home. Not very, very soon though but the spot is moving up on our agenda. My husband's dream is to put up his own restaurant someday. He said dreaming is for free, so why not dream big?! As for me if I am still going back to the corporate world? Well, we never know.. We should not plan so much far ahead. All are virtual for now! Hahahaha!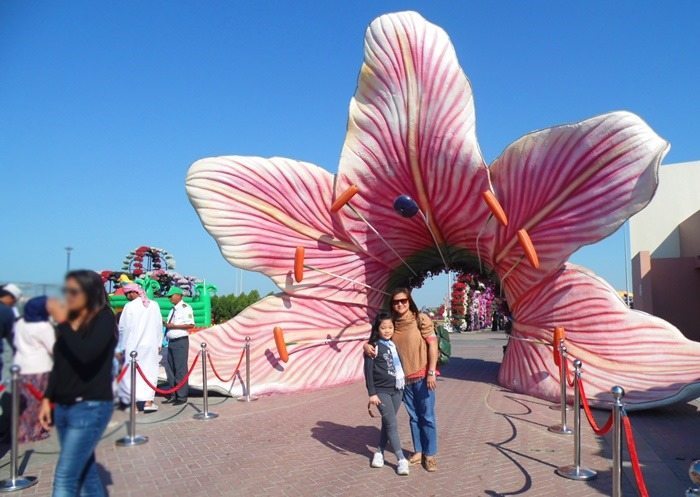 Dubai Miracle Garden
10. You have any tips for Kabayans when working/finding work/living in Dubai?
I know that one of the motivations why we want to work abroad is to save and provide a better future for our family back home. That's a long way to reality if we do not work and plan smart. Do not forget to save for your future or your sacrifice away from your family will only be in vain. And to those who are just about to come and work here, ready yourself emotionally. It is not always as easy as sometimes we thought it will be. God bless us all and more power to DUBAIOFW.COM !
Expat Pinay Blog – https://expatpinay.wordpress.com/
Twitter – @behdong_khmer
———————————-
*Photos provided by Meanne
Are you a Pinoy Expat in Dubai? Do you want to be featured in the website? Send us an email telling us you want to be featured at admin@dubaiOFW.com and we will send you the set of questions! Let's help other Pinoys who want to come to Dubai understand what life in the UAE is like through your story.