Today's OFW interview features Leah Paula Miralles, a 28-year-old Filipina based in Dubai. She is currently working here as a Program Coordinator for an MBA International School, which is among the world's top schools when it comes to global MBA programs.
According to Leah, she initially travelled to the UAE simply because she wanted to explore this beautiful country. She hadn't planned on staying here for a long time. Opportunity came knocking, however, and she decided to go for it. She has been working in the same company for 6 years now! Leah states that she is blessed to be part of the company, which has been truly supportive to its employees, especially during the pandemic.
In the following interview, Leah talks about how much she has grown as an OFW, particularly when it comes to living on her own and becoming independent. She hopes to continue learning and expanding her career in Dubai, and even plans to start her own family here, too. Keep on reading to learn more about Leah and her unique OFW story!
OFW Feature: Leah, Program Coordinator in an MBA International School
Name: Leah Paula Miralles
Nickname: "Leah" or "Lee"
Age: 28 years old
Current Profession: Program Coordinator for an MBA International School in Dubai
Years in Dubai: 6 years
1. Tell us about yourself.
Hi! I'm Leah Paula Miralles, 28 yrs old. My colleagues prefer to call me "Leah" or "Lee." I am currently working as a Program Coordinator handling the Master of Global Business Program at S. P. Jain School of Global Management Dubai Campus. I've been with S P Jain for almost 6 years now.
Notably, I'd just like to share that S. P. Jain School's Global MBA program has been ranked among the Top 20 MBA programs in the world in the Forbes Best Business Schools (International) Rankings 2013. It has also been ranked #11 in the world in the "Best International 1-year MBA programs" category and #19 in the "Best International MBA programs" category, which ranks both one year and two year MBA programs.
2. Why did you come to Dubai?
To be honest, I only came to Dubai to explore the country and I was not planning to stay for a long time. But then opportunity knocked, so I gave it a try. And here I am working for the same for company for 6 years now 🙂
3. What were your previous jobs?
I was a teacher way back, in the Philippines. But when I landed here in the UAE, I was first hired as a receptionist at S. P. Jain. And with God's grace after 17 months, I was promoted as the Program Coordinator even if I was only 24 at that time. I am the youngest Program Coordinator handling Masters Programs.
4. How do you find your current job? Are you happy/satisfied with it?
I was fortunate enough to land a great job; we are a team of young professionals. I'm lucky that I am working for an employer that values not only the company but also the well-being of its employees.
But don't get me wrong I also did have a fair share of negative experiences when it comes to employers. In reality, it's not always sunshine and happy thoughts, but that's ok. That's life, and life is unpredictable.
I must admit that for the past 6 years, I have been extremely blessed with respect to my professional career. I also appreciate the support given by the management during the pandemic.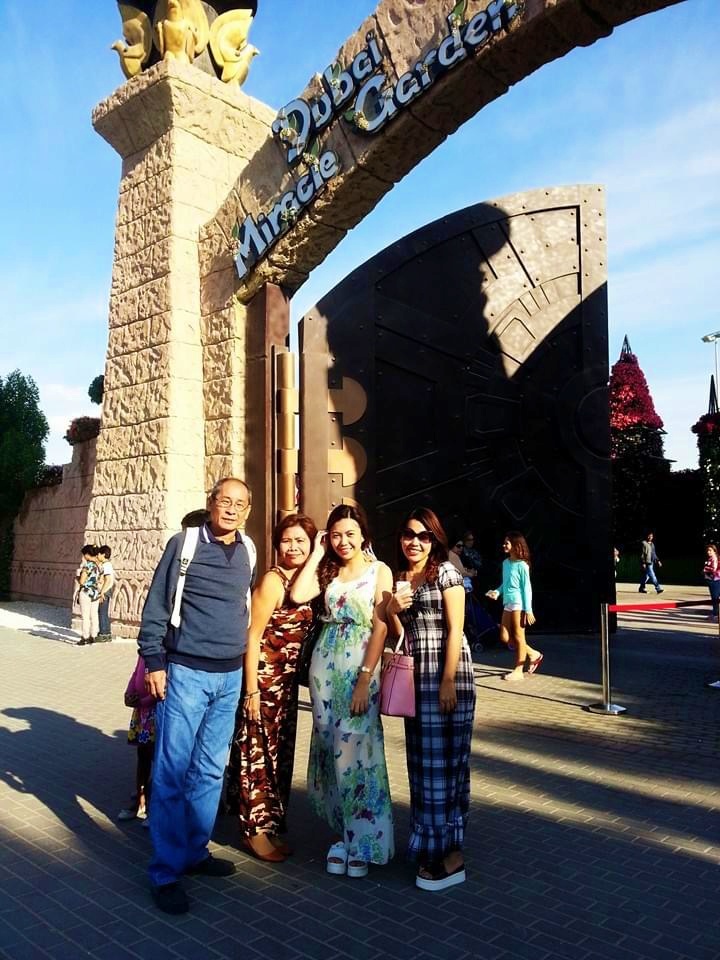 Yes, although I must admit I am an impulsive buyer 😂
6. Is it difficult to live in Dubai? What are your struggles? What's life like outside work?
At first, yes, the struggle is real. Especially in my case, in the Philippines I was used to getting up with food already on the table, not doing household chores (please don't judge me 🤪). But here, it is really different, you have to work on your own. I literally learned how to cook, do the laundry, and all other stuff. But I am proud and confident to say that I have grown independently here in the UAE.
7. What do you like about Dubai?
What I like about Dubai is that I feel safe and secured here.

8. What do you NOT Like about Dubai?
The humid summer weather!
9. What are your plans for your career/family/future?
My plan is to make a career switch 🤞🏻 I'm working on that. And in God's time to build my own family here in Dubai. Yes, I am planning to stay here until I grow old 😇
10. You have any tips for kabayans when working/finding work/living in Dubai?
Determination is the key. Keep on trying, and do not ever lose hope. Just trust Him and he will never forsake you.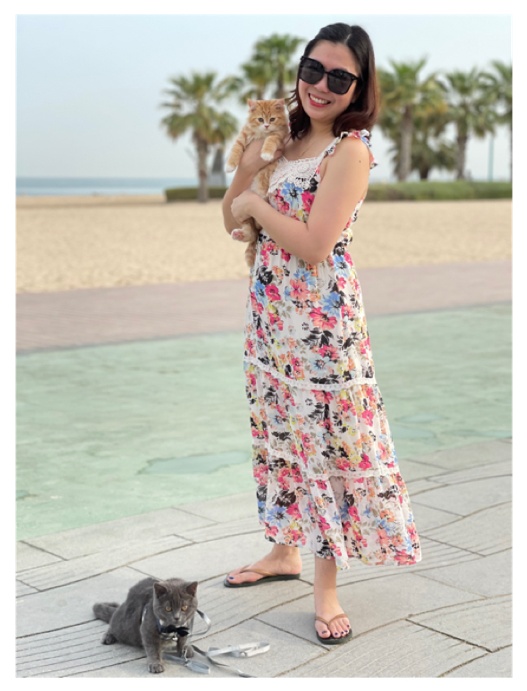 To my SPJ colleagues – mga Ali, laban lang 💪 I'm always here for you guys!💗
To the Caronan family – my sister's li'l family, thank you for looking out for our parents. My one and only nephew Calebibo, see you soon my baby love! I love you so much 👶🏻
To my habibi – Dan Andro, thank you for taking care of me and our kids (cats 😹). So blessed to have you in my life! 💜 Advance happy 9th year anniversary 😻 I love you, bby!
To my parents – Thank you for everything. Without you I might not be the person I am today. Special mention to my papa (yes I am a papa's girl 😅) the only person who never doubted me, thank you for all the sacrifices and love. Please stay healthy! 🙏 See you both soon! I love you two! 💜
Thank you Lord God for everything🙏 I owe everything to you💗
————–
*Photos provided by Leah
Are you an expat in Dubai? Do you want to be featured in the website? Send us an email telling us you want to be featured at admin@dubaiOFW.com and we will send you the set of questions! Let's help other Pinoys who want to come to Dubai understand what life in the UAE is like through your story.