Our next featured Overseas Filipino Worker is a Pinay medical laboratory technologist who's been living in the UAE for 6 years already. Lady Anne shares her story on how she came to Dubai and working in the healthcare industry.
Aside from her profession, Lady Anne is also well-known Dubai blogger. She is the blogger behind Lady And Her Sweet Escapes where she writes about her adventures and food trips during her days off. Learn more about her story and read the tips she shares for Pinoys who want to go to Dubai and live here.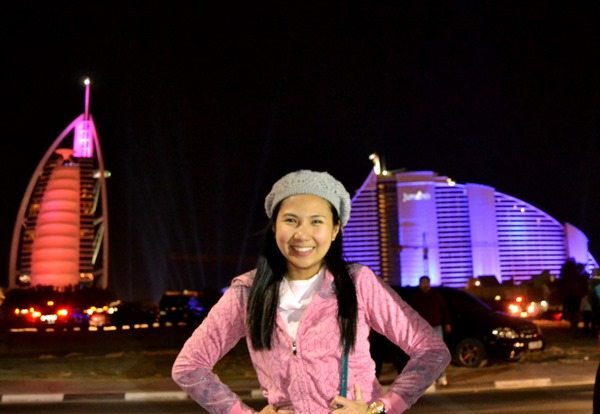 OFW: Lady Anne at Burj Al Arab and Jumeirah Beach Hotel
OFW Profile: Pinay Medical Laboratory Technologist
Name: Lady Anne
Education: BS Medical Technology graduate
How Long in Dubai: almost 6 years
1. Tell me about yourself.
I am Lady Anne. I am already 31 and happily married, but many people mistakenly think I'm still in my early 20s. I am working as a Laboratory Technologist in a reliable reference laboratory in Dubai for almost 6 years.
2. Why did you come to Dubai?
I am an only child, well-loved and very dependent to my parents. I found myself seeking for personal growth a couple of years after college. When the opportunity to live and work in Dubai came, I grabbed it without second thoughts and went on with my journey mainly for self-discovery.
3. What were your previous jobs?
After passing the PRC board exam for Medical Technology, I had a short stint in a free-standing laboratory until I got a job offer in a tertiary hospital in our province. I rendered four years of service in Philippines before I moved to Dubai.
4. How do you find your current job? Are you happy/satisfied with it?
I found a great job on my 3rd week. It's been almost 6 years and I'm still with the same company. Working in the Healthcare industry is challenging; work timings are very unusual. Thus, my body clock is not perfectly synced with my husband's. Despite of that, I can still say that I am really blessed to be working in the field that I really love.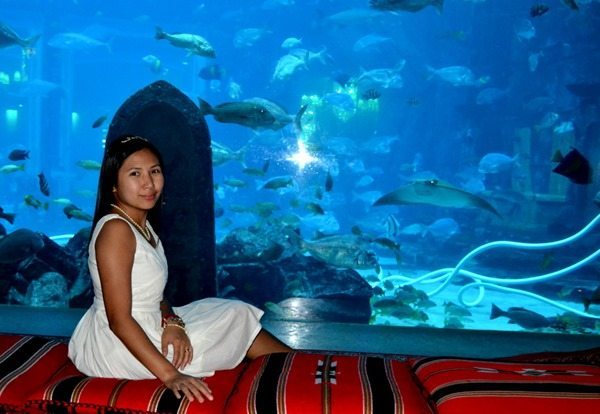 Pinoy in Dubai Blogger
5. Are you able to save in Dubai? Why/How?
Honestly, it is very hard to save when you are in the city of glitz and glamour. A huge portion of the household income goes to our basic needs; room rental, food, water and electricity bills. My husband and I have the same perspective; we keep our priorities while enjoying the expat life. So, a fix amount goes to our investments back home, a little goes to our travels and a humble portion is left in our bank account.
6. Is it difficult to live in Dubai? What are your struggles? What's life like outside work?
It's not easy to be away from home; homesickness haunts me almost every day! Struggles come on extremely hot summer days and stressful work shifts. But then, when I contemplate on my reasons for being here, the feeling of gratefulness rises above it all!
Life outside work can be amazing, only if you want it to be. Dubai has a lot to offer, so I often escape the monotony by acting like a tourist in the city that I call my second home on my day off.
7. What do you Like about Dubai?
I have over a hundred of reasons to love about Dubai. The top five on my list are the awesome architecture, the extravagant events, the culinary diversity, the tax-free living and the life-learning experiences that made me a better person.
8. What do you NOT Like about Dubai?
The only thing that pops into my mind is the constantly increasing room rental. I am a positive thinker, so I only entertain good vibes. There might be more to hate, but I always feel that focusing on the negative aspects wouldn't help me and the people around me.
9. What are your plans in your career/family/future?
Having career and family goals at the same time is quite difficult. Though I'm very passionate about my profession, I decided to slow down on my career path and focus on the family plans. I don't know what the future holds, but I can still see myself living in Dubai for a couple of years more.
10. Tips for Kabayans when working/finding work/living in Dubai?
It is very important to pay respect to the culture. When you fully understand the rules and traditions, life in Dubai will be much easier. You have to know your goals and stick to your priorities. Find a work that you really love and do NOT spend more than you earn. Enjoy every moment, but do remember to prepare for your future back home. It is also vital to surround yourself with people who can inspire you. And most of all, spread happiness as much as you can!

Lady & Her Sweet Escapes Dubai Blog
Connect with Lady on Social Media
Website: www.ladyandhersweetescapes.com
Facebook Page: www.facebook.com/LadyHerSweetEscapes: twitter.com/LadyAnne_Abit
Google+: plus.google.com/+LadyAnneAbit
Instagram: @ladyandhersweetescapes
———————–
Thanks for the interview, Lady!
Do you want to be featured in our OFW Interview series? Send us an email at admin@dubaiofw.com.