It's time for another OFW interview. We are glad to feature "Doc Gelo" who has been in Dubai for just a year and is working as a Clinical Advisor in a medical insurance company. Before Dubai, he worked as a university lecturer in Malaysia for 3 years.
Aside from being in the medical industry, Doc Gelo is an award-winning blogger who writes in his travel and food site which can be found at DocGelo.com. He has also published a photo book with the title: #TravelMemories which is a collection of photo memories of his travels in Nepal, Jordan and Morocco.
Check out our interview as he shares his struggles and ambitions, as well as tips for OFWs wanting to come to the UAE for work.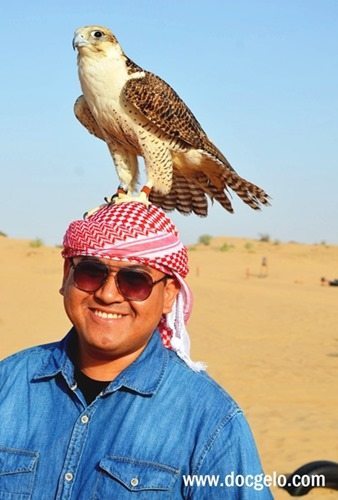 OFW Profile: Pinoy Clinical Advisor in Dubai
Name: Angelo aka "Doc Gelo"
Education: Medicine and BS Biology degrees.
How long in Dubai: 1 year
1. Tell me about yourself.
Hello, I'm Angelo. Most people call me, Gelo or Doc Gelo. I'm 38 years old and blessed with almost 11-year-old son who's studying and living with his mom back home in the Philippines.
I'm currently working as a Clinical Advisor in an International Medical Insurance company here in Dubai. I'm a licensed General Practitioner in the Philippines, with Medicine and BS Biology degrees.
I'm basically a new OFW here in UAE, as I only arrived late February of 2014. Immediately as I updated my CV with UAE address and mobile number, I lodged countless applications in most job portals available in the emirates. I initially tried applying for jobs in Abu Dhabi as my youngest brother and cousins are based there. But faith and fate led me to land a job in Dubai.
Fortunately, two weeks after arrival, I got 3 interviews. One of which, I accepted and became my first job in Dubai. I was trained and became one of the Medical Reviewers in a Third-Party-Administrator company that works with multiple medical insurance companies and providers (hospitals, clinics, pharmacies) within and outside UAE. I resigned because I was referred to my present employer since late October 2014.
2. Why did you come to Dubai?
I came to Dubai to work and to start a new life.
3. What were your previous jobs?
I was a college lecturer teaching Medical-Surgical Nursing for almost 10 years in a Nursing school in Quezon City before I transferred as an NCLEX-RN review center for postgraduate nurses in Manila.
Then from 2010 to late October 2013, I became a lecturer of 10 medical subjects in a medical university in Penang, Malaysia. I was with my family in Malaysia so working abroad back then was more bearable.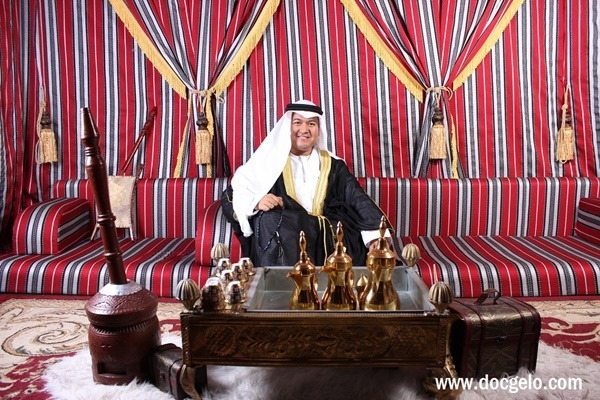 4. How do you find your current job? Are you happy/satisfied with it?
Despite physically and mentally demanding, I am proud and happier with my current job. My work as a Clinical Advisor in an International medical insurance company entails adjudication, evaluation and pre-authorization of medical and surgical requests from hospitals and clinics here and abroad, both elective and emergency procedures.
It's physically demanding because I have fixed full time work timings, but only for 4 straight nights per week. So generally, I have odd schedule compared to other employees, like my weekend starts Sunday morning unlike the usual Thursday night in UAE. I have not encountered any major problems yet, as everyone in my new company are very helpful and supportive.
5. Are you able to save in Dubai? Why/How?
Savings is important regardless of work place – either abroad or at home. Financial security is one of those things that's challenging to achieve particularly for me because personally, my monthly salary is allotted into three household expenses. Although I am not complaining as it's my responsibility, I am supporting and working for myself here in Dubai, for my son, and for my parents back home who are retired and in their senior years already.
Gradually, I was able to pay my loans, and hopefully, I could save even little by little in spite of the not so cheap cost of living here in Dubai.
6. Is it difficult to live in Dubai? What are your struggles? What's life like outside work?
For someone like me who lived and worked in Malaysia for 3 years, of which the 2 last years I was able to bring my wife, who worked there too, and our son who studied in Penang while we were there; living alone in Dubai imposed a drastic adjustment on my part during my earlier months.
In more ways than one, living solitary here for more than a year now made me more independent and self-reliant. I learned not to dwell too much on problems, rather find solutions to them and be more focused at everything at the moment.
Outside work, I try to go against stress and problems by enjoying life the way I know how. I unwind and relax through simple measures as sleeping all day during days off, to dining at some local eateries and coffee shops, and going to Jumeirah Beach or Bastakiya sometimes just to while away time. I also try my best to go to St. Mary's Church every week to attend mass. I'm not that religious however, keeping my faith keeps me sane abroad.
I'm also thankful I had a chance to travel once in a while.
7. What do you Like about Dubai?
Two thumbs up for fair and employee-friendly work benefits in Dubai like tax-free salary, month-long-annual-leave, provision of medical and dental insurance, gratuity pay and many more. I never enjoyed it before in my previous work.
I like UAE's proximity to the countries in my bucket list. I was able to travel to Jordan, Morocco and Turkey within a year of working in Dubai.
Most of all, working in a multi-cultural and very cosmopolitan city like Dubai gives me more opportunities to grow not only professionally but personally as well.
Beyond Toxicity – Doc Gelo's Blog
8. What do you NOT Like about Dubai?
Temperature that may rise to more than 40 degree Celsius. I'm sure I'll miss the winter-weather in Dubai soon, and will look forward to experiencing it again by fourth quarter of the year. Also, sandstorms.
9. What are your plans in your career/family/future?
I hope to grow more in my work and to keep learning new things everyday. I hope to save and save a lot and eventually become financially stable in the very near future. I hope to continue supporting my families back home, and to raise my son as a God-fearing individual despite our distance. I hope to travel to more countries because I consider traveling as a way of life.
10. You have any tips for Kabayans when working/finding work/living in Dubai?
Do not lose hope. If for the first attempt, you had difficulty in finding a job, just keep going and try your best to be selective too, in choosing positions and benefits that suit you and your needs.
Know your priorities, set goals and attend to your responsibilities but do not forget yourself. Enjoy your life as being a Dubai OFW is already tough, don't make it tougher by disregarding and not loving yourself. Be mindful of your health. Remember we're working here not only for ourselves but for our families as well.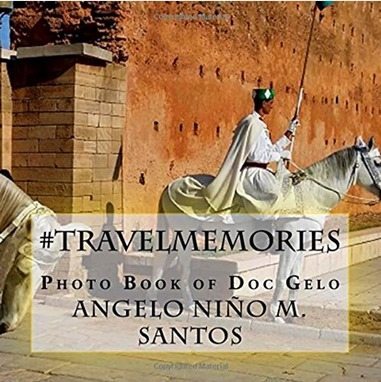 #TravelMemories ebook screenshot grab from Amazon.
*Photos provided by Doc Gelo.
———————————-
Connect with DocGelo on Social Media
Travel & Food Blog: Beyond Toxicity @ www.docgelo.com
Instagram: @iamdocgelo
Twitter: @docgelo
Travel Photo Book: #travelmemories available at amazon.com, Barnes and Noble and other online bookstores.
———————————-
Thank you for the interview Doc Gelo and for sharing your story with DubaiOFW!
Do you want to be featured? Our OFW interview series features different Pinoy expat workers in Dubai with the aim to help fellow Filipinos to get an idea about life in the Middle East. Send us an email at admin@dubaiOFW.com and we will send you the questions!