UPDATE: The Jollibee in Dubai Mall is now Open! Here's a write-up of the opening of the first Jollibee in Dubai. Jollibee in The Dubai Mall is Now Open!
Other Shops in UAE:
I heard news from friends and colleagues saying that the Jollibee in Dubai is about to open in The Dubai Mall. We wrote an article when the news came out that this well-loved Filipino brand will soon be available for many Pinoys in the UAE and it's only a matter of time when the restaurant will be launched.
Fast forward how many months and now it's going to happen! In fact, there's already a signboard in The Dubai Mall food court mentioning that Jollibee is opening soon. Because we wanted to confirm this news, we had to go to the mall to see it for ourselves. Indeed it's there!
Jollibee Restaurant at The Dubai Mall Foodcourt

Dubai Mall Jollibee restaurant (between KFC and MerCURRIES)
So where is the location of this Jollibee photo in Dubai? This was taken at the food court of The Dubai Mall. From the photo below, this is but a small shop, but for sure this is going to be a very busy queue with so many patrons of the foodchain. Chowking and Max Restaurant are already here, it should be no surprise that Jollibee (Jobee) should be here in Dubai in the first place!
We cannot wait to eat the favorite Chickenjoy, Jolly Spaghetti, Yumburgers, Burgersteak, Pancit Palabok, etc.!
Question now is… When will the official Jollibee in Dubai launch? According to some mall staff, they said it will launch on April 3, 2015. But we're not quite sure. I've also heard that there will be more than one Jollibee outlet – we heard that there will be a branch in Burjuman center in Bur Dubai.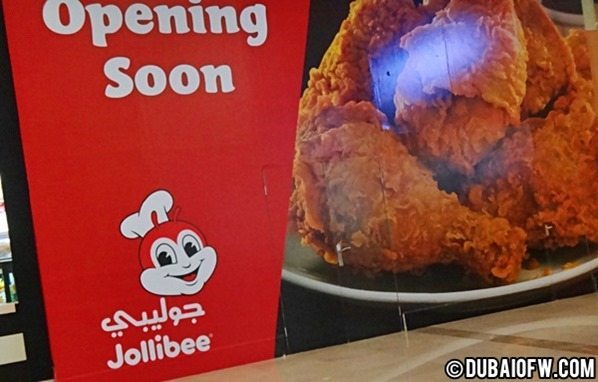 Aren't you excited? We ARE
Filipinos love Jollibee. The Philippines is the only country where McDonald's is number two. Definitely when this will be officially launched, it's going to be a long line as more than 700 thousand Pinoy expats will be flocking to this restaurant chain.
The long wait is over and this number one fastfood chain will be within reach to the people of the United Arab Emirates! We will be writing our review once we are able to taste the food ourselves so watch out for that!
The Bee is fast approaching! Bee Happy everyone!
Jollibee in The Dubai Mall
2nd Level Food Court