Good news to all Filipinos in Dubai and the rest of the United Arab Emirates! Jollibee, the well-loved Pinoy fast food restaurant will soon open in the UAE. According to this ABS-CBN news article, Jollibee will be opening soon in the Middle East.
UPDATE: This restaurant will have a branch in The Dubai Mall food court! Read the article here – JOLLIBEE Opening in The Dubai Mall
There's no mention on the actual date, but this is a welcome treat especially for Pinoys living in Dubai who have been craving for their favorite Burger Steak, Fiesa Palabok, Chickenjoy and Jolly Spaghetti meals.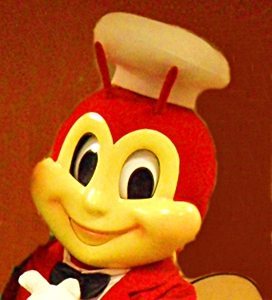 Real Jollibee to Open in the UAE Soon!
Jollibee Foods Corp. on Tuesday said its subsidiary Golden Plate Pte Ltd. signed a joint venture with Golden Crown Foods to create a company that will own and operate Jollibee stores in the United Arab Emirates.

Golden Plate will own 49% of the joint venture company, with the rest owned by Golden Crown. Both companies will share control and management of the UAE company.

Source: ABS-CBN News
"Jollibee" in Dubai Al Karama?
There are a couple of "Jollibee" stores located in Al Karama and Dubai Marina area and when we tried the one in Al Karama. Thinking that this was the real deal, we went to this restaurant that had a fine-dining ambience to have dinner. We ordered Fiesta Palabok and Chickenjoy, only to be disheartened by the taste which did not meet our expectations. The Jollibee in Dubai did not have the same taste as the Philippine brand. This led us to assume that this restaurant was simply a knock-off. To think that they even had the Jollibee face logo advertised outside.
After some time, we saw the logo removed which probably proved that it wasn't an actual franchise. We may be wrong that it wasn't an actual franchise or that it's a franchise but did not meet quality standards.
Regardless of this, we're glad that the real Jollibee is coming to the UAE. Chowking franchises are already here, and there are also Max's restaurants in a few areas; but this is truly exciting news especially with the growing number of Pinoy expats living in the Emirates. We'll keep you posted once it opens!