Our next Overseas Filipino Worker feature in Dubai is with Myla, a Digital Marketing Executive who has been living and working in the UAE for 3 years. Myla is also a blogger and writes about food, travel, and lifestyle on her blog Find Me a Break.
One experience she shares why she loves Dubai is how honest people are. She lost her phone numerous times but it was always returned to her.
As an expat, Myla shares tips to fellow Pinoys to make sure we save money for the rainy days since we won't be staying here forever. Treating ourselves is not bad, but we should try our best to avoid using credit cards and control our spending. Read the rest of our interview here!
OFW Interview with a Digital Marketing Executive in Dubai
Nickname: Myla
Age: 28
Current profession: Digital Marketing Executive
Course in College: Bachelor of Science and Information Technology
How many years in Dubai: 3 years.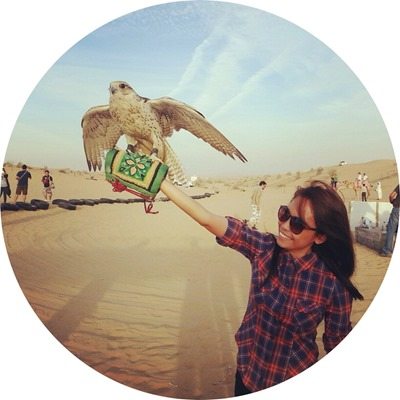 1. Tell me about yourself. Brief Introduction – (Nickname, age, single/with family, current profession, college course — graduated or not?, how many years in Dubai?)
Hi, my name is Myla. I am 28 years old and have been an expat in Dubai for 3 years. I studied Bachelor of Science and Information Technology. I am working as a Digital Marketing Executive in a very exciting PR company.
2. Why did you come to Dubai?
Same as most of the people who came to Dubai – to earn a living but also my travel bug had hit me one day. I decided that I wanted to see the world and Dubai is my first stop.
3. What were your previous jobs?
I was as a Link builder and a SEO advisor in the Philippines and when I moved to Dubai I accepted a job as a Researcher in News agency company.
4. How do you find your current job? Are you happy/satisfied with it?
Yes, I love my current job. I consider it as my dream job. I enjoy what I'm doing and I believe that's what matters.
5. Are you able to save in Dubai? Why/How?
My partner works in a financial literacy company. They provide financial advice to government related organisations. With his help I was able to understand and value the importance of saving money as an expat – to save first thing when your salary gets in.
6. Is it difficult to live in Dubai? What are your struggles? What's life like outside work?
Dubai treated me very well since the day I've arrived. I met my soulmate here. I love my job. I have a good circle of friends. Life has been so good so I can't complain.
Most weekends, my partner and I go out somewhere we haven't been for food. He is a massive foodie and I like taking pictures so it's a good combination for my blog to exist. Also, I try to meet fellow bloggers online – making Dubai life so much better!
7. What do you Like about Dubai?
I love Dubai because it is safe especially for women. People are honest. I have lost my phone 4 times and each time they were returned.
8. What do you NOT Like about Dubai?
The weather during summer. I struggle so much and the humidity is horrible.
9. What are your plans in your career/family/future?
I'm still enjoying my time in Dubai but my major plan is to save money and invest a place in Philippines so I can rent it out and retire early. J
10. You have any tips for Kabayans when working/finding work/living in Dubai?
Make the most of your stay in Dubai. Giving yourself a treat once in a while is not a bad idea but make sure you control your spending and avoid using credit cards because this is one of the problems that most Filipinos in the country are facing.
There are mixed perceptions about what it is like living in Dubai but remember without the opportunities we, expats wouldn't be able to financially support ourselves or our family back home. So enjoy your stay in the beautiful Emirate. There are plenty of great opportunities if you just know how to look.
Connect with Myla on Social Media
Blog: www.findmeabreak.me
Facebook: facebook.com/findmeabreak
Twitter: twitter.com/findmeabreak
Instagram: instagram.com/findmeabreak
———————————-
*Photos provided by Myla
Are you a Pinoy Expat in Dubai? Do you want to be featured in the website? Send us an email telling us you want to be featured at admin@dubaiOFW.com and we will send you the set of questions! Let's help other Pinoys who want to come to Dubai understand what life in the UAE is like through your story.