Liwan Restaurant in Al Guhrair Rotana is offering daily Iftar Buffet in celebration of the Ramadan feast. Plenty of options are available for breaking your fast in Dubai and the resto provides an array of Arabic menu and a selection of international dishes to satisfy your cravings during this month.
Liwan All Day Dining
Al Ghurair Rayhaan by Rotana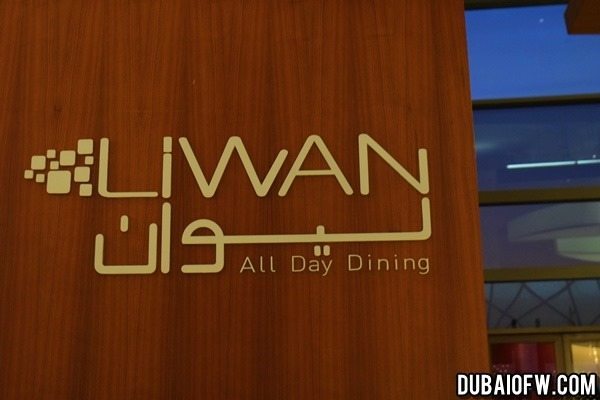 All Day Dining at Liwan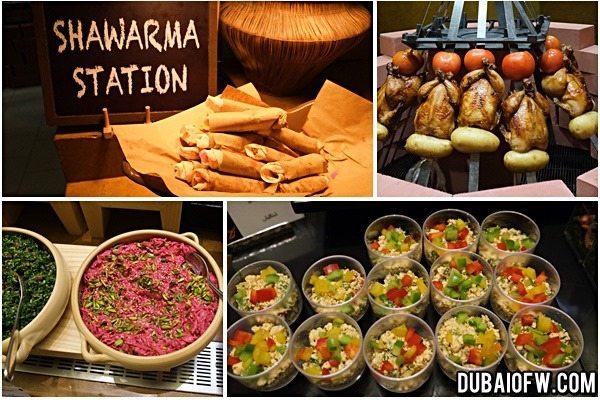 Al Ghurair Liwan Iftar Buffet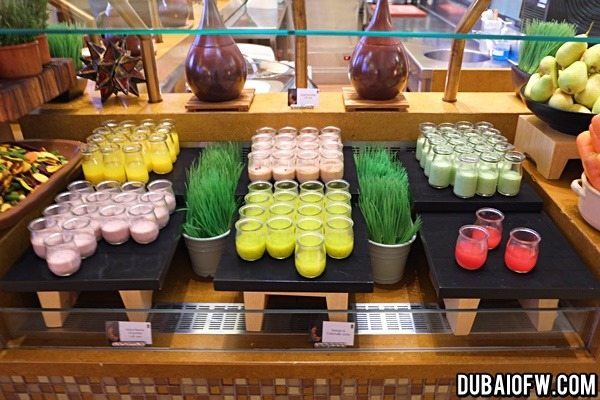 refreshments in small glasses, don't only pick one!
Liwan All Day Dining Resto At Al Ghurair Rotana Hotel
You can bond with your family as you choose over the menu prepared in their food stations. Arabic set, Indian set, appetizer, Roasted food, sushi, cool refreshments and Arabic sweets are available for you to try.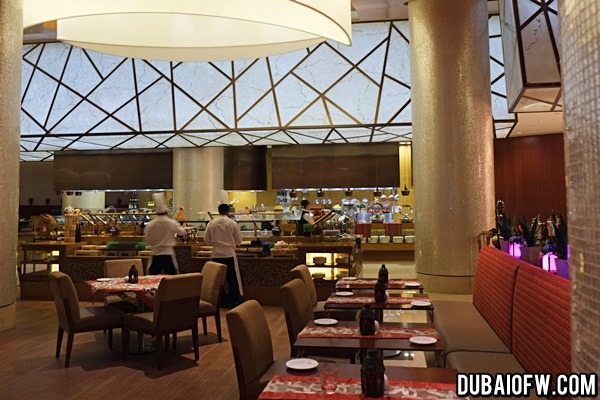 Liwan restaurant dining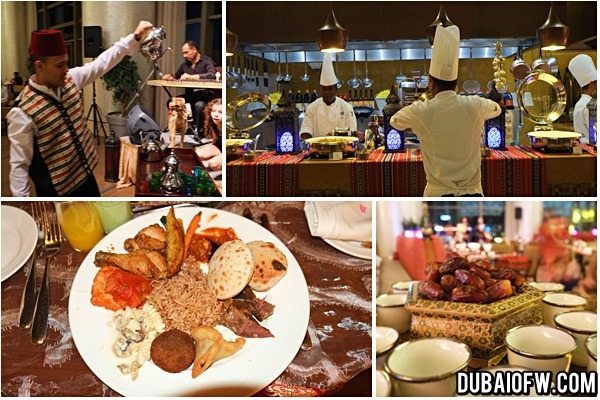 food at the Iftar buffet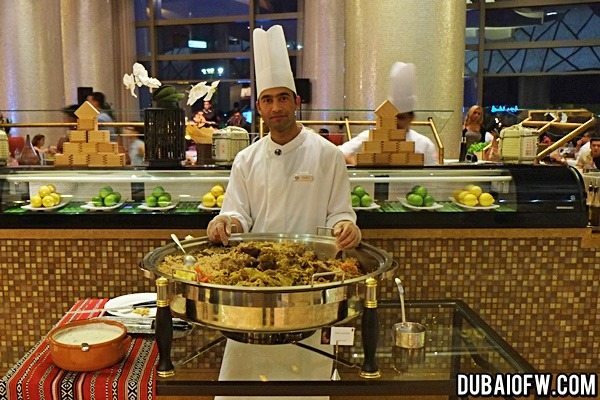 Chef serving local style ouzi
One thing we noticed is that there are so many dates available for you to pick an just munch on. It's great to pair it with Morroccan tea, which was also served aplenty.
A live band plays traditional music as you celebrate this occasion so you can have a good time while Arabic songs are sung.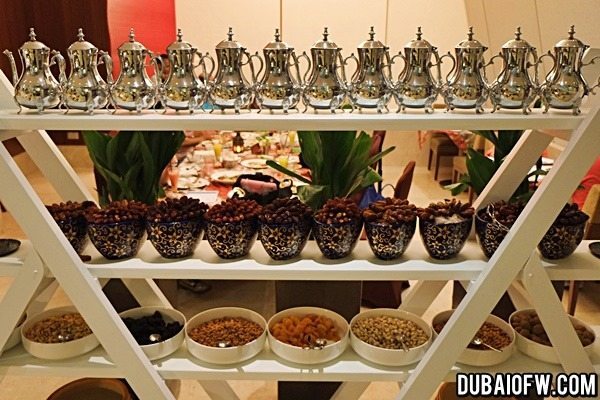 Dates, nuts, almonds, dried fruits
variety of food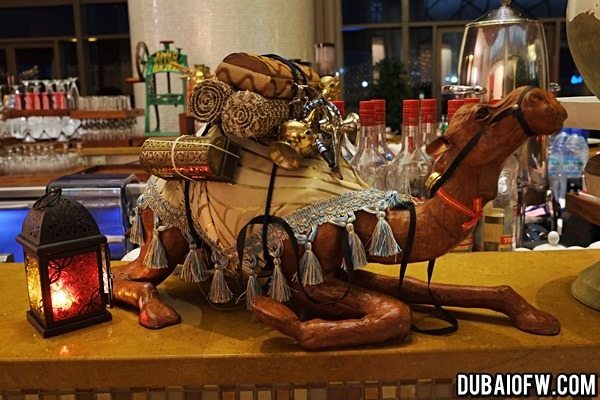 Ramadan at Liwan
Take your time with the food that they have prepared and make sure you get back for some more servings. This is a buffet after all and you can enjoy the moment as our Muslim brothers and sisters break the fast.
Don't forget to check out the dessert station! They have plenty of sweets for you to try!
On a side note, Al Ghurair has another dining shop called Shayan restaurant which is located on the same level of the hotel. You can check it out as well if you fancy some Persian cuisine. Read our write-up here – Nowruz Feast at Shayan Restaurant
chef in action
Arabic desserts!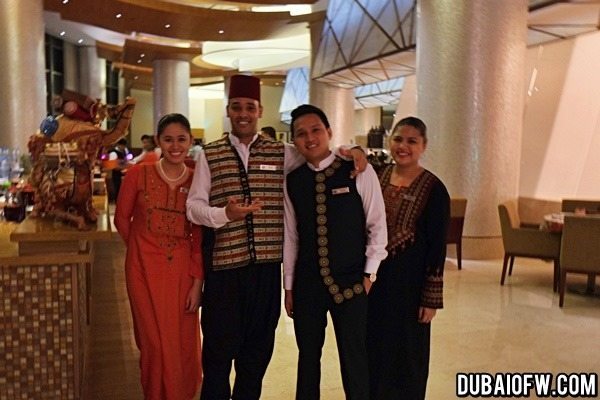 staff at Liwan restaurant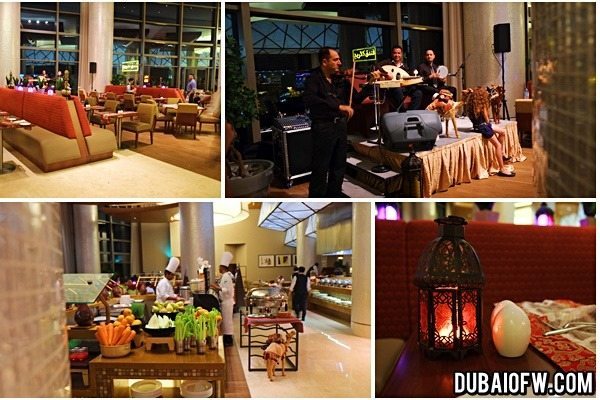 inside the huge restaurant
Aside from the buffet, they hotel and restaurant have a few activities such as a photo booth where you can have a snapshot with your family and friends, an instagram photo contest where you can upload and tag the restaurant for exciting prizes, a raffle draw exclusive for diners for a chance to win a free trip to Turkey.
Lastly,  they have a photo exhibit at the hotel located by at the lobby for you to vote by taking a selfie for a chance to win some exciting prizes! Here's the list of promos that they offer this Ramadan month. Check out the links to know the mechanics of each offer:
Instagram Photo contest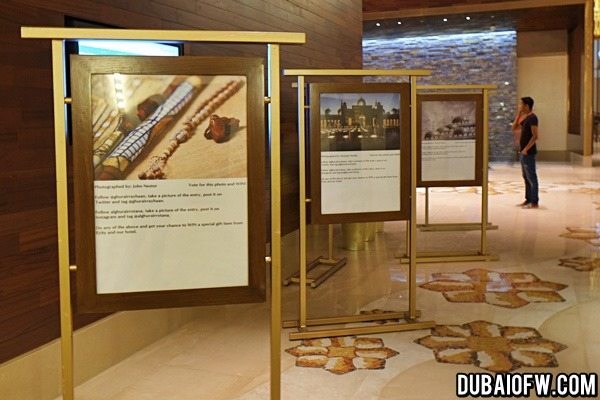 Bring to life Photo exhibit
Price for the iftar buffet at Liwan is 149 AED per person. The restaurant is located at the 3rd level of the hotel, beside the lobby.
How to Get There
Take the metro and stop at Union station. Exit and walk towards the Al Ghurair Center Mall. The hotel is located beside the mall.
Contact Information
Liwan Restaurant
Al Ghurair Rayhaan by Rotana, Dubai
Telephone Number: + 971 (0) 4 2933000
Website: www.rotana.com
Facebook: https://www.facebook.com/AlGhurairRayhaanandArjaanbyRotana