For residents of the UAE, Jordan should definitely be in your travel list as it is one of the easy visa processing countries especially for UAE residents.Aside from the fact that UAE and Jordan both belong to the same nation of the Middle East, Jordan is a beautiful country known for ancient cities, historic wonders and vibrant culture. Here we share some travel tips about what to expect from this country.
There is a great vibe of exploration, which has inspired tourists all over the word to visit Jordan notwithstanding all its negative media. Maybe it's the Dead Sea that surely piqued interests. Maybe it's the thrilling adventure to the lost city of Petra. Or perhaps it is the abounding adventure waiting to be discovered. Don't miss the world's most beautiful pink dessert in Wadi Rum too! There are plenty of reasons to plan a trip to this spectacular country.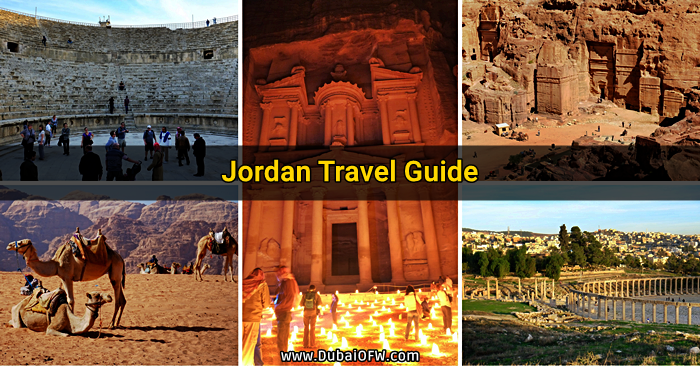 Things to Know about Jordan – Travel Tips
Convinced enough to go to Jordan? The following is a rundown of helpful things you should know when traveling to this country.
Weather & Climate
Jordan's climate is characterized by hot, dry summers most of the year and a surprising cold and wet winter. Deserts can be freezing at times.
Summertime is between July and August and since about 90 percent of Jordan is covered by desert, expect the sun to be scorching hot. Although cold nights are not something you would expect from a desert country, it happens from November to February.
The best time to visit Jordan is March to May and October.
Currency
Jordan's official currency is Jordanian Dinar abbreviated as JOD. But it is also known as JD among cool young locals.
1 USD = 0.71 JOD
1 AED = 0.19 JOD
Language
The official language in Jordan is Arabic. But Jordanian people especially those from the capital, Amman, can communicate in English.
Visa Processing
Visa on Arrival can be easily obtained and processed at the airport counters. Tourist visas are valid for three months and allows up to 30-day stay starting from the date of entry. Passport must be valid for 6 months when arriving.
Here's a guide how we were able to apply for a Jordan tourist visa in the Jordan consulate in Bur Dubai: How to Apply for a Jordan Tourist Visa in Dubai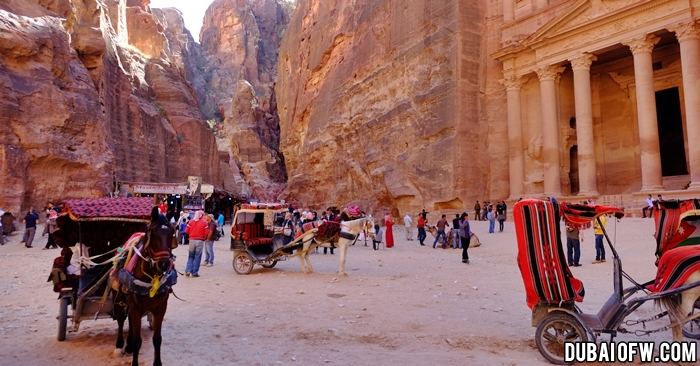 Petra, Jordan
Accommodation
There is a wide variety of hotels and accommodation available from affordable hotels or hostels to five star hotels that will suit everyone's budget.
Petra Moon Hotel in Petra
Cheap Accommodations in Jordan
For Cheap Accommodations in Jordan, you can search for hostels and hotels according to your needs below:

Transportation
Public transportation is cheap but unfortunately, it can consume your travel time. Don't waste your precious time on public transport. Rent a car and drive, or hire a driver through localtrips.net. Bonus is the chitchat with the driver about Jordanian culture and customs. A private transport is the ideal way to travel and during our visit in Jordan, we hired a driver and payment is on a per day basis.
Jordan Food
The national dish of Jordan is Mansaf and definitely a must-try. It is a traditional dish made of rice, nuts and lamb cooked in dried yoghurt and served in a large platter. Expect its flavor to burst in your mouth as mansaf means 'explosion' in Arabic.
Jordanian people are accustomed to eat mezze before the main meal. It is a series of small dishes that are mostly vegetarian such as hummus, fattoush and baba ganoush.
Other must-try dishes are falafel and schwarma. Quench your thirst with Jordan's version of lemonade which appears to be very green due to the plentiful mint infusion.
For sweet tooth tourists, the place perfect for you is Habibah which also translates to 'sweet tooth'. The best place to splurge on sweets and desserts.
Major Tourist Attractions in Jordan
Jordan offers an unbelievable variety of fun things to do such as creating your own perfume in a bottle, horse riding, exploring spice shops and relaxing with the famed Arabic coffee.
THE LOST CITY OF PETRA is a world heritage site and undoubtedly the greatest tourist attraction of Jordan. It is known as the 'Rose City' because of the color of its rock formations that look so surreal. Explore the huge site of Petra and capture its magical beauty. #PicturePerfectPetra
People from all over the world flock to float in the DEAD SEA. It is a major bucket list item for tourists because it is the true definition of salt water. It actually requires to cross an entire beach of salt before finally reaching the water. You can arrange a spa holiday or medical healing here.
Jordan also has THE RED SEA in Aqaba. It offers many scuba diving and snorkeling opportunities because of the abundance of marine life.
Spend a night under the stars in WADI RUM, the most beautiful pink desert in the world. Camp in the desert, go camel trekking, and go rock climbing.
The historic CITADEL is also fantastic as it combines the beautiful ruins of the ancient city and breathtaking views over the city.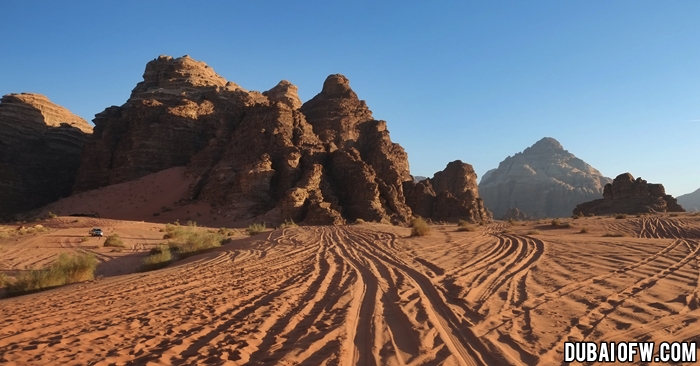 Wadi Rum, Jordan
Flights from Dubai to Jordan
Flying to Jordan from Dubai, United Arab Emirates is not a problem, with 4 daily flights from Dubai to Amman. Royal Jordanian provides 34% of the direct flights which usually takes about 3.5 hours. Emirates, Saudia and American Airlines also fly to Amman.
Average direct flight fare from Dubai to Amman is about AED1,200. While connecting flights from Dubai to Amman has an average fare of about AED995. Kuwait is the most popular connecting city for one stop flights between Dubai and Amman.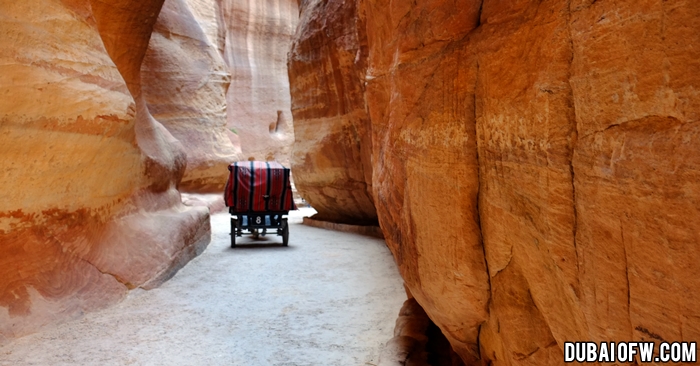 Other Tips When Travelling from Dubai to Jordan
Jordan is a Muslim country so it is best to know few tips to give respect to its people and culture. Ensure your safety too by reading through this list of good to know tips before going to Jordan.
Traveling to Jordan is actually safe, despite the negative media hype it is getting these days. But as a reminder, it is best to stay away from the northern parts near the Syrian border.
Do not flash valuables as well.
Always bring your passport with you when traveling around. Checkpoints and passport checks are common in all these areas.
As Jordan is a hot country, apply sunscreen, even on cloudy days.
Bring a minimum of 2 liters of water enough for a day.
Exploring Jordan involves lots of walking so comfortable walking shoes are highly recommended.
Both men and women should dress modestly covering shoulders, arms, legs and chest. Take this time to up your clothes layering game.
Grab some dinars at the airport for daily expenses.
In general, tipping is 10% for waiters or tour guides. Round up for taxi drivers.
Don't buy any antique souvenirs (100 years old +) as taking it home with you is illegal.
We hope you find these travel guide from Dubai to Jordan helpful as it aims to inform you of important things to know before visiting this beautiful country.