One of the best things about living in the UAE is the country's proximity to many beautiful places. And while there are certainly numerous places to visit across these 7 emirates, you should also consider traveling to other nearby places, such as Jordan.
Also Read: How to Apply for a Jordan Tourist Visa in Dubai
The Kingdom of Jordan is a landlocked nation in Western Asia; it is bordered by Egypt, Iraq, Israel, and Syria on all sides. Its location alone suggests that Jordan has a rich and colourful history — with many historic sites, not to mention lots of breathtaking natural wonders. Let us take a closer look at some of the reasons why you should visit Jordan!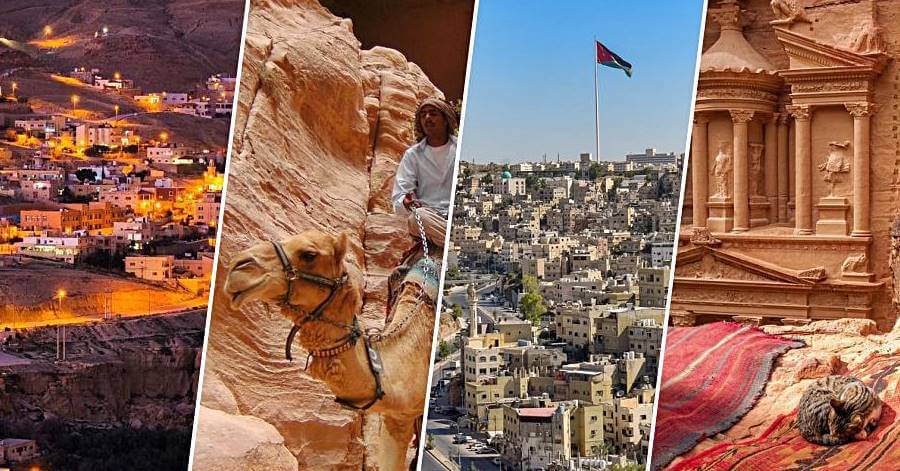 Top Reasons to Visit Jordan
From historical sites to natural sceneries to delicious cuisine, Jordan has plenty to offer for tourists. One by one, let us talk about why this country should be on your travel bucket list!
1. Safe Travel
There always seems to be a conflict of some sort going on in the Middle East. For this reason, many people hesitate to visit Jordan, afraid for their safety. However, this couldn't be farther from the truth… traveling to Jordan is perfectly safe! The county has always stayed out of conflicts in the region, and the local crime rate is extremely low.
Of course, this doesn't mean that you shouldn't be careful. Just like when traveling to all other countries, you should use common sense! Keep your money and important documents in a safe place at all times. Avoid walking or traveling alone, especially at night. When visiting the city, countryside, or historic sites, consider hiring a local guide so you won't have any problems.
2. Easy Communication
When it comes to communication, don't worry because most Jordanians speak English. English is taught as part of the country's educational system, so you should have an easy time communicating with the locals. That being said, keep in mind that Arabic is the official language of Jordan — and most countries in the Middle East, for that matter. So it's also a good idea to learn a few Arabic words, such as basic greetings and phrases.
3. Best Time to Travel
The best time to visit Jordan is during the months of March, April, and May. This is springtime, when the temperature is not too hot (like summer) or too cold (like winter). During this season, many plants are in bloom, and you'll be amazed by the sights. On the other hand, traveling during the autumn months would also be a good idea.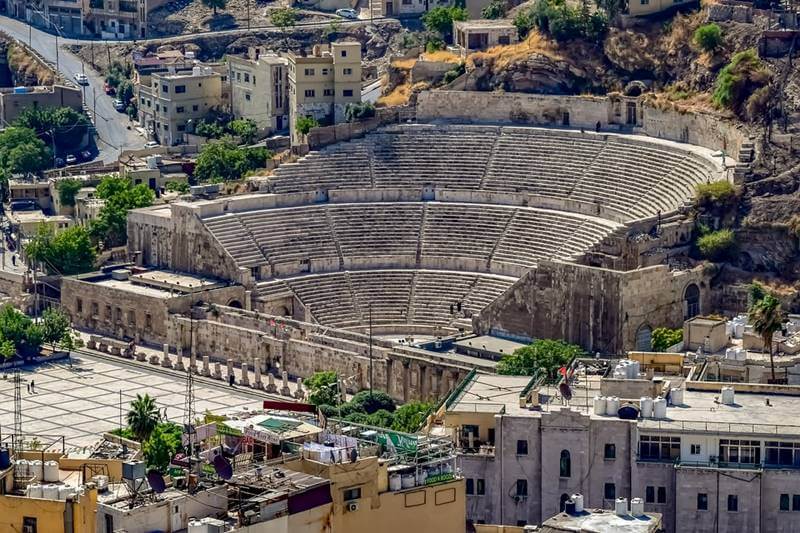 4. Ease of Travel
A quick look at the Emirates website shows that there are 10 weekly flights from Dubai (DXB) to Amman (AMM), the capital of Jordan. Everyday, there's a direct flight at 2:05pm that takes around two hours and 55 minutes. Meanwhile, every Monday, Thursday, and Saturday, there's a direct flight at 10:10pm that takes around three hours and 5 minutes.
It is also worth noting that there are no longer any COVID-19 entry restrictions when traveling to Jordan. The country is currently open for tourists; COVID-19 testing, quarantine, and vaccination are not required.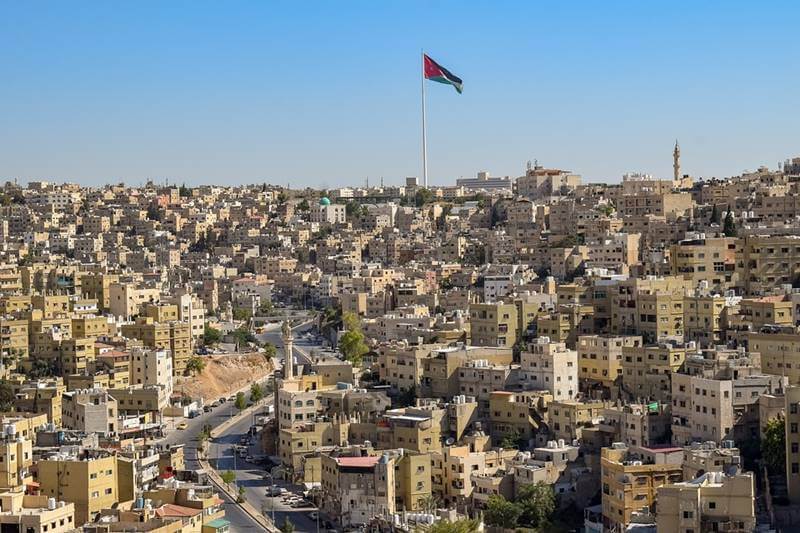 5. Accommodation Options
Regardless of your budget, you are likely to find good accommodations in Jordan. Wherever you go, there are 5-star hotels, 4-star hotels, and budget hotels where you can check in. You can even go camping in the desert!
6. Historic Capital
The capital of Jordan, Amman, happens to be one of the oldest cities in the world that is continuously inhabited, having a recorded history of 7,000 years! Previously, it was called Philadelphia, in honour of Cleopatra's son, Ptolemy Philadelphus, who had rebuilt the city before it was taken over and given to the Romans around 30 B.C.
What can you expect to see in Amman? For starters, there's an ancient Roman amphitheatre, which is open to tourists and usually hosts live events. There are traditional markets or souks, where you can buy plenty of souvenirs. You could also visit the museums and galleries for a glimpse into the Kingdom's history and culture.
In the evenings, you'd be happy to know that Amman has a thriving nightlife. There are many restaurants, night clubs, and shisha cafes. Be sure to visit these places for a taste of authentic Jordanian cuisine, and do try out some shisha!
7. The Lowest Point on Earth
Ah yes, the Dead Sea. Visitors to Jordan shouldn't miss a trip to one of the lowest points on earth. The Dead Sea is over 400 metres below sea level, and has over 34% salinity. Its super high salt level means that you can easily float above the water without any effort. How cool is that?!
Moreover, the Dead Sea is also known to have healing properties. Many people use its mineral-rich mud for spa treatments and massages. You can also buy salts, scrubs, and other products as souvenirs of your trip to the Dead Sea. Yay!
8. UNESCO World Heritage Site
More than 2,000 years ago, the ancient city of Petra was carved into a rock face. Ancient tombs, monuments, and other structures are literally imprinted onto the cliffs — making Petra a UNESCO World Heritage Site. More recently, it was also recognised as one of the New Seven Wonders of the World. Wow!
Notably, when most people talk about Jordan, the beautiful "rose red" city of Petra also comes to mind. That's how world-famous it is! Be sure to include it in your itinerary!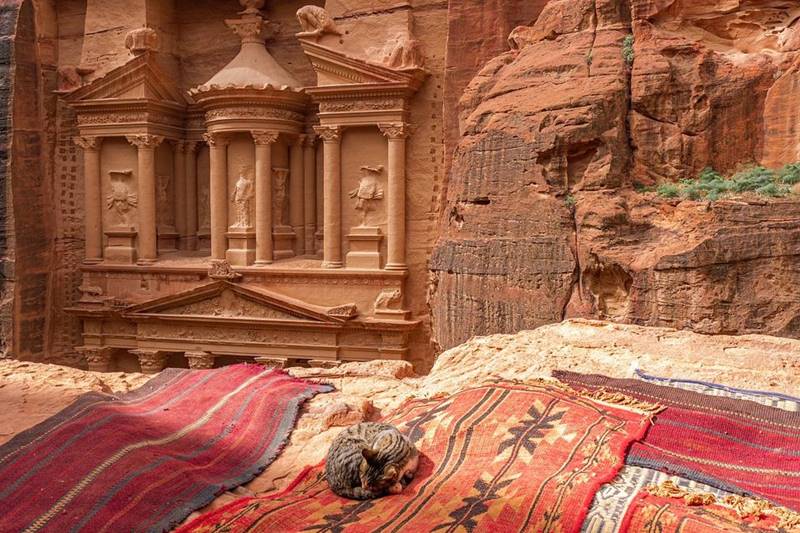 9. Sacred Site
Another historic site in Jordan is Mount Nebo. It is believed that this is the place where the Biblical prophet, Moses, saw the Promised Land. Many people say that this is also where Moses died and was buried, although the exact location of his grave is not known.
At the top of Mount Nebo, there's a church and stone memorial that is dedicated to Moses. Many Christians have traveled to this site, as a pilgrimage. When you reach the top, you can look around and be mesmerized by the supposed Promised Land.
10. Valley of the Moon
The Valley of the Moon or "Wadi Rum" is a desert landscape that is famous all over the world. In 1998, the Jordanian Government declared it as a protected area. Notably, the people living in and around this valley are of Bedouin origins. There are so many exciting things that you can do here: desert safari, camping at night, riding on the dunes… and of course, taking lots and lots of pictures!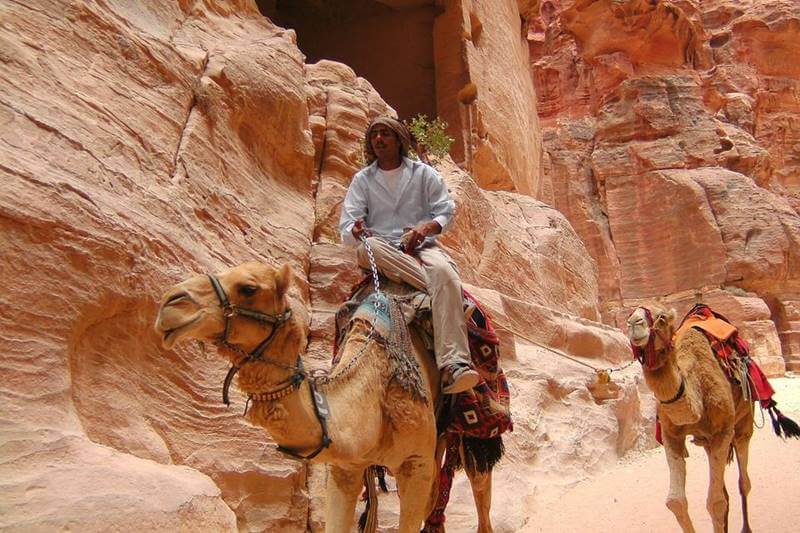 11. Delicious Food
As a landlocked country, Jordan has benefited from its surrounding country's cultures, especially when it comes to cuisine. A typical meal includes plenty of "mezze" — small plates containing hummus, meat dishes, and other dishes like baba ghanoush, which is cooked eggplant with olive oil and seasonings.
12. Kind, Hospitable People
The people of Jordan are generally kind, warm, and friendly. They will not hesitate to answer your questions, or give you a hand if you need directions. Many will even invite you to their homes for a meal and cup of tea! Jordanians are truly hospitable, indeed!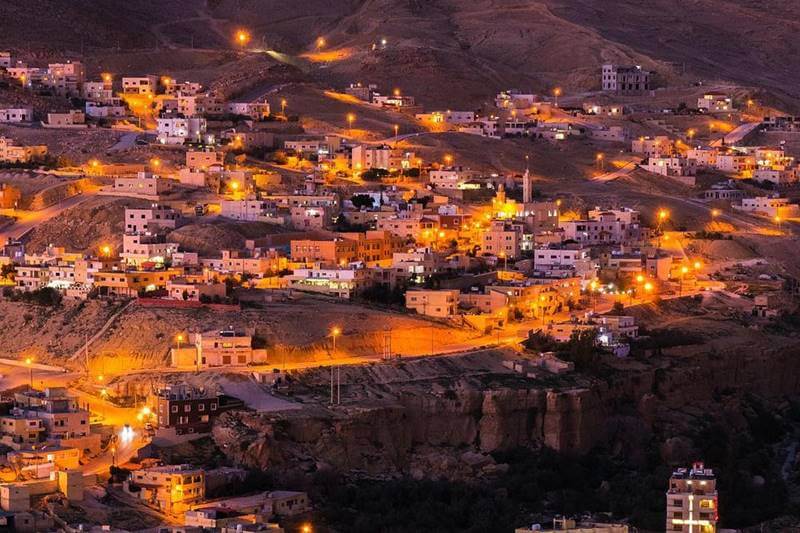 Summary
If you have never travelled to Jordan before, then now is the time to do so! It's a beautiful country, with amazing sights, sounds, food, and people! Of course, before you make any travel plans, we have some helpful suggestions. Read on and check out these tips for traveling light and smart!