Whenever OFWs come to the Philippines for a vacation, they need to renew their Overseas Employment Certificates (OECs) before going back abroad. Although this requirement helps to ensure that they are properly documented, it can also be a time-consuming process.
Fortunately, OFWs will no longer have to renew their OECs every time they come home. Instead, they will be issued iDOLE – OFW Identification Cards, which will replace the OEC as well as enhance the delivery of government services for Filipinos who work overseas.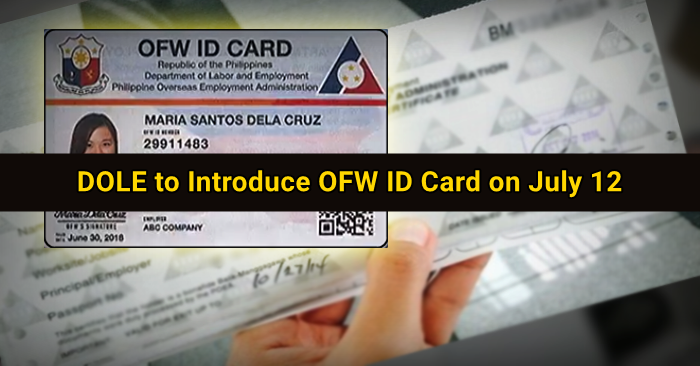 iDOLE – OFW ID Replaces OEC
"Under this program, all bonafide OFWs will be given iDOLE, the ID of the Department of Labor and Employment at no cost to the OFWs," Labor Secretary Silvestre Bello III stated recently. "This will serve as the OEC of the OFWS."
Using their iDOLE Cards, OFWs will be able to:
Transact with government agencies such as Philhealth, SSS, and Pag-IBIG;
Access their government records online without having to go to the concerned agencies;
Make purchases, since the card can be used as a debit card / ATM card for OFW Bank; and
Commute easily, since the card can be used as a beep card for MRT and LRT.
Labor Secretary Silvestre Bello III – Image Credit – DOLE FB Page
The iDOLE Card as an Electronic Passport
Secretary Bello also shared that they are planning for the iDOLE Card to be used as an electronic passport for OFWs. He explained that they will coordinate with the Bureau of Immigration, the Department of Foreign Affairs, and the Department of Justice about this.
If the plan pushes through, the secretary said that in the future, OFWs will be able to use the iDOLE Cards as electronic passports whenever they go abroad or return to the Philippines.
Moreover, Filipinos who are working abroad are set to benefit from the OFW Bank, which will be officially launched this October. They will also enjoy the better, streamlined services of the One-Stop Service Center for OFWs (OSSCO), which they can access nationwide.
Protecting the Welfare of OFWs Everywhere
Notably, the secretary described the iDOLE Card as "the best gift" of President Rodrigo Duterte to OFWs. "The President has seen to it that their lives are more comfortable, more secured, and their stay abroad are properly attended to," he said. "And it has been my policy to prioritize the protection, welfare, and interest of our Bagong Bayani."
Indeed, the iDOLE Card will make things much easier for OFWs around the world. With better access to government services, banking, and even transportation — the new ID will provide more time for them to enjoy their vacation and take care of their loved ones — wherever they go.