If you are planning to go on a vacation back to the Philippines, one of the requirements needed at the Philippine immigration is an Overseas Employment Certificate (OEC). You will need this before you can go back to Dubai, UAE.
What's the importance of an OEC? This is your proof that you are working legally as an Overseas Filipino Worker. This will also exempt you from paying the terminal fee and travel tax so it is important that you get this certificate.
In order to get this in Dubai, you would have to head to the Philippine Consulate General embassy located in Al Qusais to process it prior to your vacation. However, in case you have no time to get an OEC in Dubai, you can still process it in the Philippines. Just make sure you get the OEC before your departure flight as this is a requirement before you can fly to Dubai as an OFW.
Applying for an OEC at Manila NAIA Terminal 3 Before Your Flight
In case you are not able to apply for an OEC before leaving Dubai for your vacation in the Philippines, you can still apply for an OEC when you are at the NAIA Terminal 3 in Manila. Below are the procedures how to apply for this certificate to make sure that you do not pay the travel tax.
Here's a step by step guide to help you understand how to get an OEC at NAIA Terminal 3 in Manila.
Note: Current procedures are based on actual experiences which may be changed anytime without prior notice. Please verify the procedures with the respective government entity or at the POEA Booth NAIA Terminal 3 when you land into Manila.
1.Proceed to the dedicated POEA station at NAIA Terminal 3 which is open 24/7.

2. OEC will only be issued if your departure date is within 5 days from the date you requested it. Your will be asked to present your passport and

confirmed ticket

.
*You may be distracted by the sign below; however, based on previous experiences, your vacation does not necessarily have to be 5 days only. As per various POEA agents behind this booth, you can get OEC on the actual date of departure or within 5 days before that.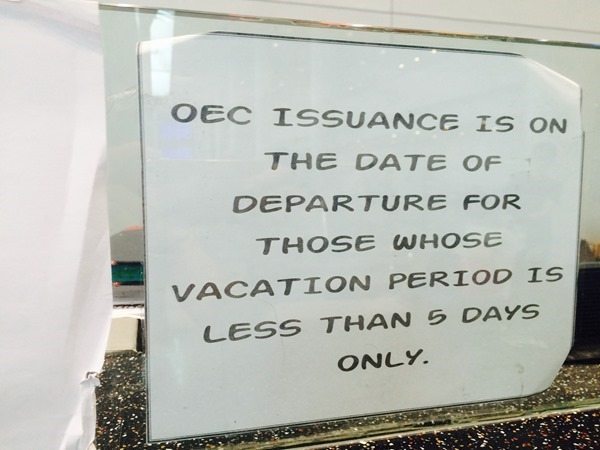 3. You will also be asked to fill out the "

BALIK-MANGGAGAWA INFORMATION SHEET

"; pay the OWWA fee which as of the moment costs

PHP 1,100.78

; pay the

PAG-IBIG contribution

of

PHP 1,200

;  and the OEC form of PHP 100.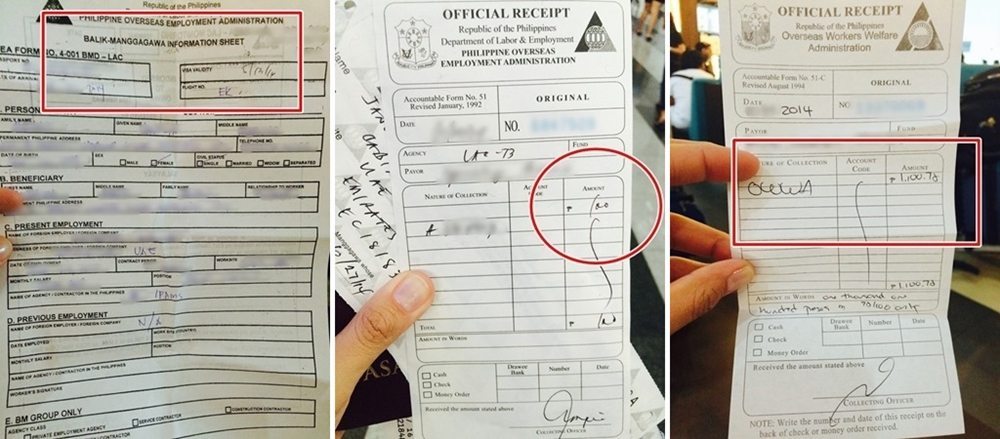 4. You will finally be issued with the OEC.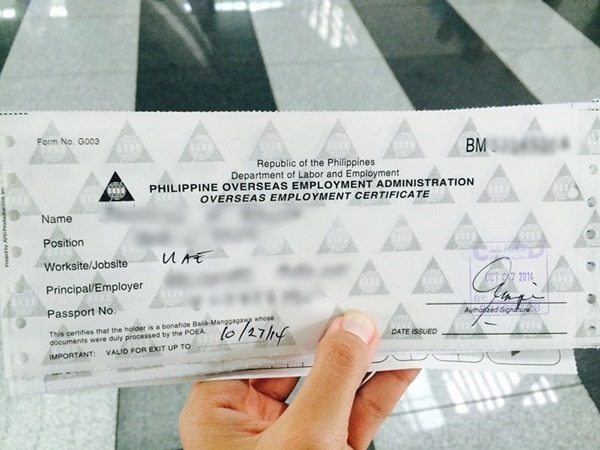 5. After OEC validation: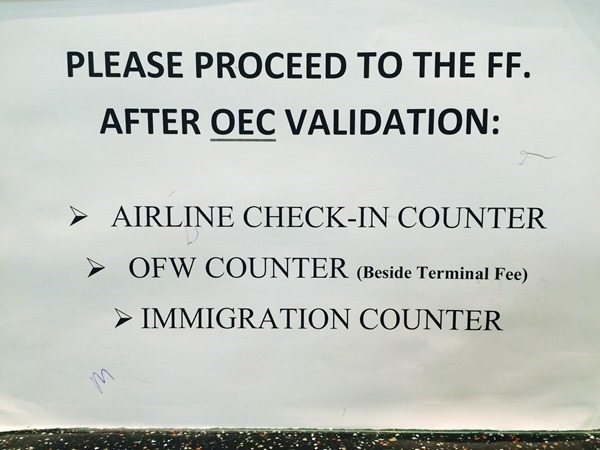 6. At the airline check in counter, be ready to present your passport, valid residence visa and stamped OEC. You will then be issued a boarding pass.
7. Proceed to the OFW COUNTER: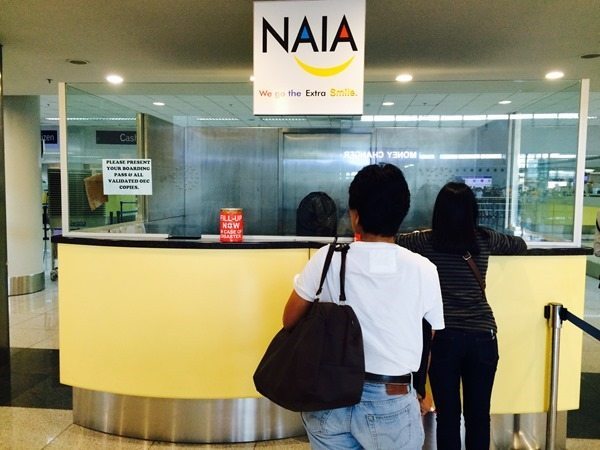 8. At the counter, present your boarding pass and all validated OEC copies.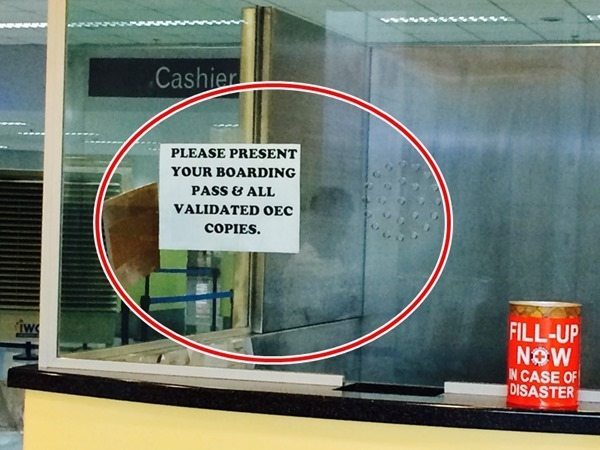 Your OEC and boarding pass will then be stamped.
9. Look for the OFW section at the Immigration Counter located on the far left side.
AT THE IMMIGRATION COUNTER – OFW SECTION: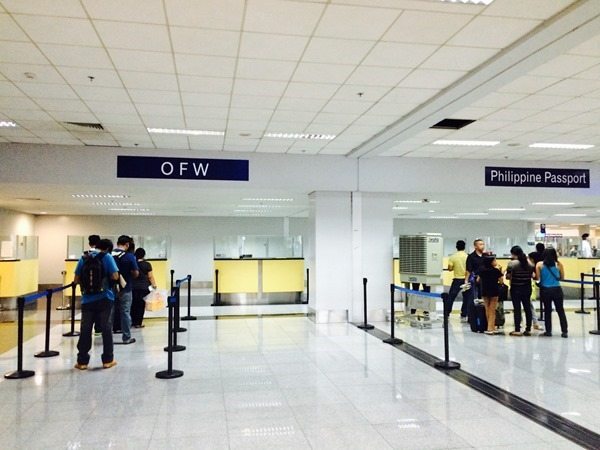 10. Your passport and a valid residence visa of the country you are working in will be checked. You have now gone past the immigration counter and are ready for your flight!
——
Please make sure you process these documents as these papers are necessary for you to leave the Philippines and go back to Dubai for your work. Of course, getting the OEC certificate prior to arriving in the Philippines is less of a hassle so you can simply enjoy your vacation and not worry about it when you are back at the airport. So follow this guide as a reference. Also, it is reported that online application for an OEC will soon be implemented. Please stay tuned here at DubaiOFW.com for more updates about these processes.