For Filipino residents in the UAE who have lost loved ones, it is important process a report of death to the nearest Philippine embassy so that it is officially documented. The nearest  Philippine Consulate General Embassy located in Al Qusais. Here's the procedure when registering the death of a loved one for Pinoys in Dubai.
Important: Filling out the documents should be typewritten. This is to avoid issues when encoding the information into their system.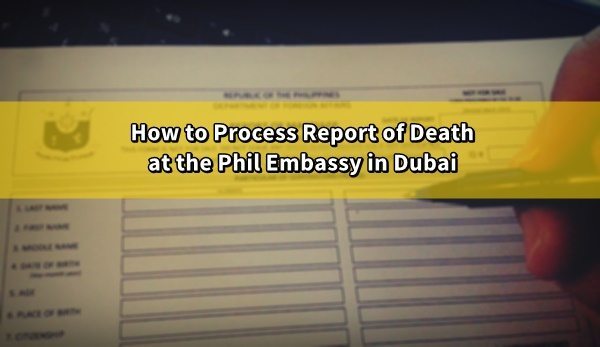 Dubai Report of Death Certificate Registration for Filipinos
When reporting death, the following documents must be submitted:
Original Death Certificate which is issued by the Ministry of Health – that is translated into English, plus five (5) photocopies.
A Police Incident Report is required if cause of death is not natural  or an accident – should be  translated into English, plus five (5) photocopies.
Original passport of the deceased and five (5) photocopies of front data page;
STEPS & PROCEDURES:
Submit the requirements listed above to the Assistance to Nationals (ATN) Section.
Fill out Data Sheet Form.
At the Cashier (Room 3), pay the processing fee (100 AED).
An NOC or No Objection Certificate  will be issued on the same day.
Dispatch number/reference number and date when the document shall be made available. This is required by the NSO in securing an authenticated copy of the Death Certificate.
Fee : AED 100.00
We understand that this may be a difficult time for you to and we hope you are guided by these information to report it to the Philippine government appropriately. This is to ensure that the event is reported so proper benefits to bereaved is processed.
For other services, please check out the links listed  below