Two paraplegic air pilots on wheelchairs, who are part of the Handi-flight mission to raise awareness for the inclusion of people of determination have made landing on Dubai and were given a warm welcome by Dubai Airports, Execujet, and Lions Club International officials for the Handi-flight team's five-day stopover in Dubai to promote their advocacy, as shared in a report by Gulf News.
ALSO READ: HH Sheikh Mohammed Launches Policy for People with Special Needs
The initiative, which was organized by Lions Club International, serves the purpose of promoting the inclusion of people with disabilities to combat discrimination on a global scale and to raise funds for the association Humanity and Inclusion.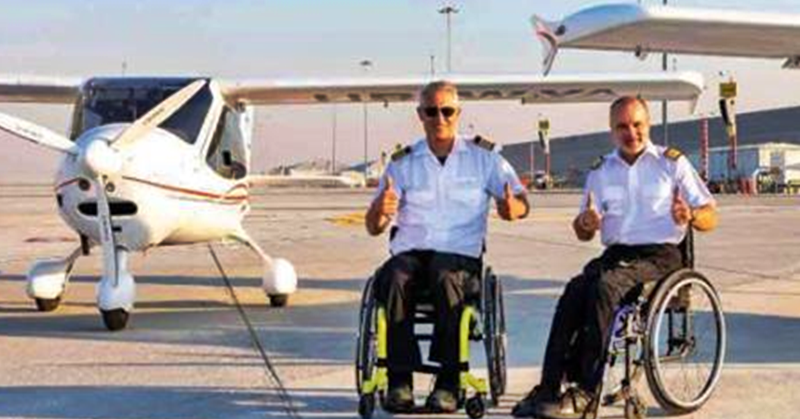 Pilots on Wheelchairs Visit Dubai to Raise Awareness for the Inclusion of People of Determination
The two pilots on wheelchairs, Mike Lomberg from South Africa, and Guillaume Feral from France, are on a mission that will cover 80,000 kilometres in nine months across 40 countries and six continents via 150 staging points. The support team behind this global endeavour are all former members of the Solar Impulse Project, and are all volunteers for this cause.
According to the vice-president of Terminal Operations at Dubai Airports, Essa Al Shamsi, they are a proud partner of this advocacy which aims to promote the rights and inclusion of people of determination in society. Shamsi shared, "We are proud to be associated with this worthy cause and salute these pilots for their skill and commitment to this important mission."
The Handi-flight team will be staying in Dubai for five days which will allow them to connect with local officials and media to advance their cause. The team is also scheduled to attend the Lions Club International's Constitutional Area Forum, which will be held in Dubai together with some 3,000 delegates representing Africa, the Middle East, and the Asian sub-continent.
All throughout the Handi-flight team's stay in the emirate, Dubai Airports and Execujet will sponsor their aircraft landing, parking, and handling.
To know more about the Handiflight around the World Initiative, you may visit their website.
ALSO READ: Expo 2020 Dubai to Sign 47 Construction Contracts Worth 11 Billion AED this Year