As part of the preparations for Expo 2020 Dubai, 47 construction contracts worth 11 billion AED will be signed this year. These contracts include the creation of parking lots, support areas, and other infrastructure. They are open to local, regional, and even international businesses.
"On Time and On Budget"
According to the UAE Minister of State for International Cooperation and Director General for Dubai Expo 2020 Bureau, Her Excellency Reem Al Hashimy, they are committed to delivering this world-class event "on time and on budget." She recently led a meeting where they discussed the contract procurement process, which is based on "inclusivity, simplicity, and transparency."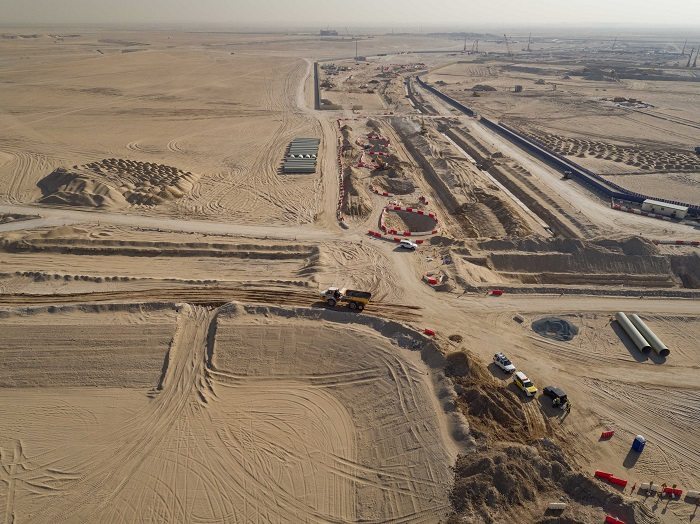 Preparing the 4.8-square kilometer site
photo credit: mediaoffice.ae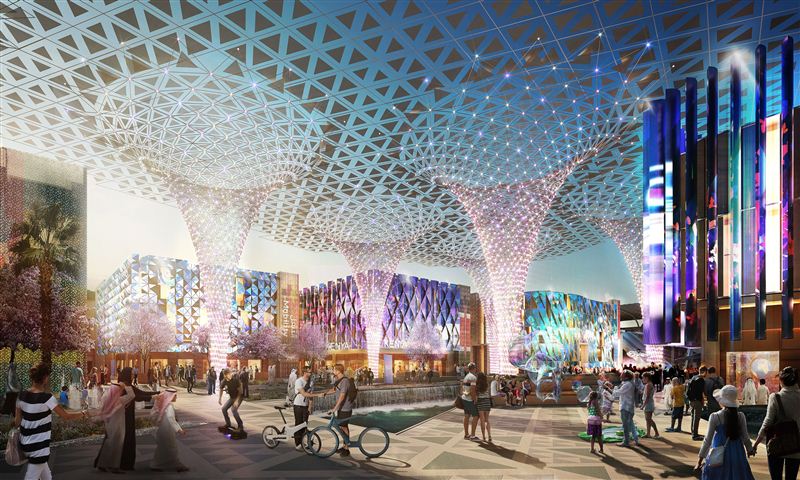 Dubai Expo2020
photo credit: mediaoffice.ae
Construction for Expo2020
HE Al Hashimy stated that they envision the event's physical infrastructures to last far beyond 2021. She also placed importance on non-construction contracts, as these will enable businesses from all over the world to join "the most inclusive and international event in Expo history." There will be 98 non-construction contracts signed this year, bringing in 360 Million AED worth of investments. These include, event management, legal advisory services, and merchandising.
Also present in the meeting were HE Eng. Hussain Nasser Lootah, Director General of the Dubai Municipality, and HE Khalifa Al Zaffin, Executive Chairman of Dubai Aviation City Corporation. Both are members of the Expo 2020 Dubai Higher Committee. Likewise, members of the Real Estate & Delivery and Procurement Departments also joined the meeting.
300,000-Capacity Venue
Last year, Expo 2020 Dubai signed more than 1,200 contracts worth 2 Billion AED. These include the Orascom-Besix joint venture, which aims to develop the infrastructure for the 4.38-square kilometer event area. From October 2020 to April 2021, this site will be able to accommodate up to 300,000 persons per day!
Notably, the venture includes everything: road construction, setting up cables and pipes, irrigation, sewerage, water, electricity, and telecommunications. It is like building an entire city!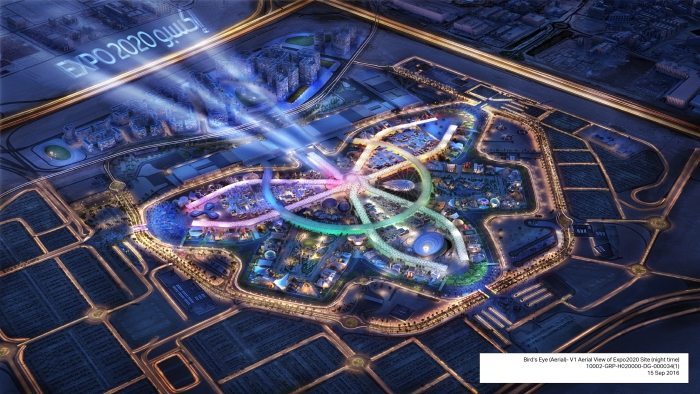 Amzing bird's-eye view of the site
photo credit: mediaoffice.ae
"Momentum of Construction"
If 2016 was a "year for design," Expo 2020 Dubai's Vice President of Real Estate & Delivery, Ahmed Al Khatib, stated that 2017 marks the the "momentum of construction." This year will pave the way for international participants, who will start building their "pavilions" in 2018.
Al Khatib noted that these contracts will enable them to finish most of the construction early, even a year before the expo begins. So far, early construction on the site has been completed, including the moving of 4.7 million cubic meters of earth.
Open to SMEs
Last year, it was declared that 20 percent of the Expo Dubai 2020's total spending would be allocated to small and medium-sized enterprises or SMES. So far, out of 12,000 vendors and suppliers who registered through the eSourcing Portal, 66 percent fall into the SME category.
The inclusion of SMEs signifies the Expo's commitment to empower not only the large-scale enterprises, but businesses of all sizes. This gives equal chances for SMEs to showcase their products and services to the world.
More Job Opportunities
With all of these contracts and projects, the Expo Dubai 2020 is bound to bring in more job opportunities for locals and expats alike. For those who are hoping to land a job in Dubai, this just might be the big break that they are waiting for.