It's common notion that most specialized jobs are assigned to male professionals, especially in the Middle East. However, since gender is no longer a basis to qualify for a job, many societies including the UAE has transitioned and adopted the new norm that jobs are offered to those who are equipped with skills and technical know-how, instead of gender.
This is a very good thing because we all know for a fact that what men can do, women can do, too. And it's through our small ways of recognizing every person's efforts in society that we become more motivated to do better at what we do.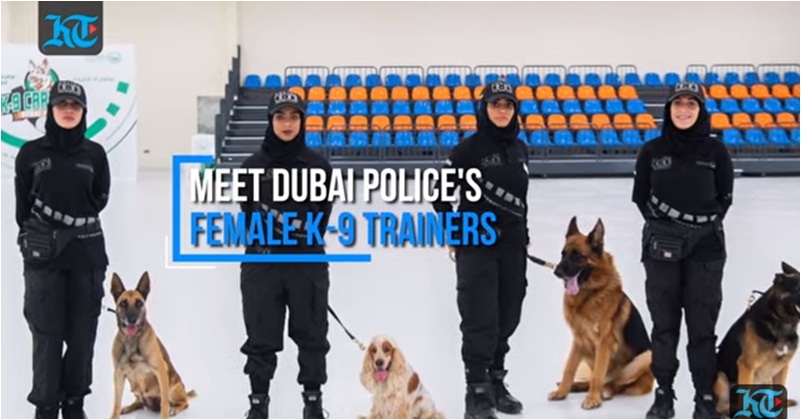 [WATCH] Dubai's Police Women and their K-9 Partners at Work
Drugs? Bombs? Explosives? These are just some of the things the Dubai Police work with on a daily basis. And don't think that high-risk jobs such as these don't require a special set of hands (or paws) to get the work done because they sure do!
These are just some of the items specially trained dogs such as Yoshi have to deal with as part of their training with the Dubai Police.
Established in 1976, Dubai Police's Canine Division started with six dogs and six trainers, but has now grown into a team of more than 60 dogs including labradors, malinois, German shepherds, and cocker spaniels, which are all imported from Europe. All the dogs have to undergo a training programme for three months, as shared in a report by the Khaleej Times.
On the other hand, the division's female K-9 trainers' team was formed in 2008 to secure special events where only women are allowed to join. Recently the team was deployed for security inspection, a day before the royal Al Maktoum weddings in Dubai. The unit assigned was composed of six dogs and four Emirati female trainers.
One of the female trainers, Fatima Al Jasmi, who joined the K-9 division in 2011, shares that her specialty is in training dogs for detecting explosives. Al Jasmi thanked the Dubai government for creating opportunities that have, for many years been reserved for men.
Al Jasmi explained that her decision to join the Dubai Police was because of her love for dogs and her desire to serve her country. She noted that since His Highness Sheikh Mohammed bin Rashid Al Maktoum Vice-President and Prime Minister of the UAE and Ruler of Dubai, has said that Emirati women don't know the word 'impossible', it has become their motivation to reach the position they are in right now and she attributed their success to the challenge and opportunity the Dubai government has given them.
One of Al Jasmi's teammates, Corporal Sharifa Yousif Al Ali joined Dubai Police's K-9 unit in 2018 after graduating from the Dubai Police Academy. Al-Ali shared that her passion for training dogs for sniffing out both explosives and narcotics was inspired by her father who also worked in the army and trained dogs.
For her part, Constable Maha Salim Abbas joined the police force in 2017 following the footsteps of her father who worked for the Dubai Police. She shared that her family encouraged her to join the K-9 team, and that they are very proud and support her of what she does.
If it weren't for the leaders the Dubai government has, it wouldn't be possible to have these inspiring women excel at their chosen fields of work, as well as in their passion.
ALSO READ: UAE Achieves Global Tolerance Centre Status