Today's OFW interview features Chris, a 42-year-old Filipino living in Dubai. He completed a degree in Business Administration in the Philippines, and is currently a Call Center Manager for a multinational insurance firm.
Despite his current status and position, Chris humbly recalls his simple beginnings… from working as a Jollibee service crew in college… to sleeping in Luneta because he couldn't pay his rent! Today, he shares the joy of helping and training other expats at work, traveling around Europe (which he had dreamed of as a kid), and organising an annual get-together for his fellow kabayans and their families. Indeed, he has come a long way!
Chris also shares some financial tips that help him to save and manage money, along with some insights for other Filipinos who are planning to work abroad. His love for his parents and family is also evident — a trait that most Pinoys will surely emphatise with. Read on to know more about Chris and his inspiring OFW story!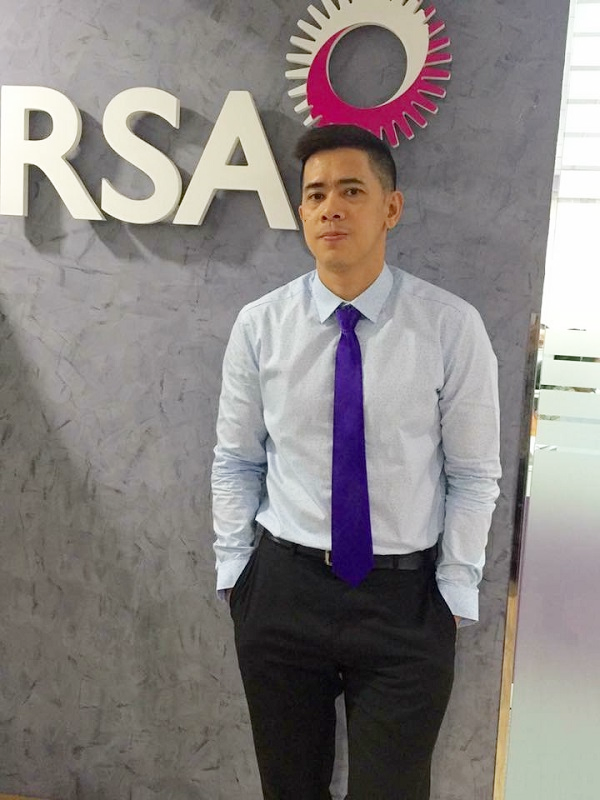 OFW Feature: Call Center Manager in Dubai
Nickname: Chris
Age: 42 years old
Current Profession: Call Center Manager
College Degrees: Bachelor of Science in Business Administration
Years in Dubai: About 9 years
1. Tell us about yourself.
Hello! You can call me Chris, 42 years old, and I am currently managing an inbound call center for RSA Insurance, a multinational insurance company that has been in the business in 100 countries for the last 300 years. I joined as a Junior Agent in 2012. I completed my BSBA degree, Major in Management, at Philippine Christian University – Manila Campus.
2. Why did you come to Dubai?
I came to Dubai primarily because I needed to support my parents, as both of them were already seniors at the time, and I've always wanted to see the world.
3. What were your previous jobs?
I started as an agent, just like everyone else with my current company. Prior to working with RSA Insurance in March 2012, I had worked with Emirates NBD Call Center for a year, and then Sharaf DG Customer Service for another year, too. Back in the Philippines, I was a Jollibee Service Crew for nearly 7 years while in college, before joining the call center industry in 2004.
4. How do you find your job in Dubai? Are you happy/satisfied with it?
I am happy that my job allows me to manage and train people, and I am very content and blessed because God gave me a job that allows me to just use my skills. I have hired over 20 Filipinos in the last 4 years who were inexperienced and were mostly on visit visas — that I think is the good part of my job… helping people!
5. Are you able to save in Dubai? Why/How?
I am happy to say that my 5-year condo mortgage shall be completed by October 2019. I also save AED 1000 monthly — this is a must. It can be difficult to save but in my department, together with 9 other colleagues who are not Filipinos, we have a "kitty" or paluwagan — this is another AED 1000 a month.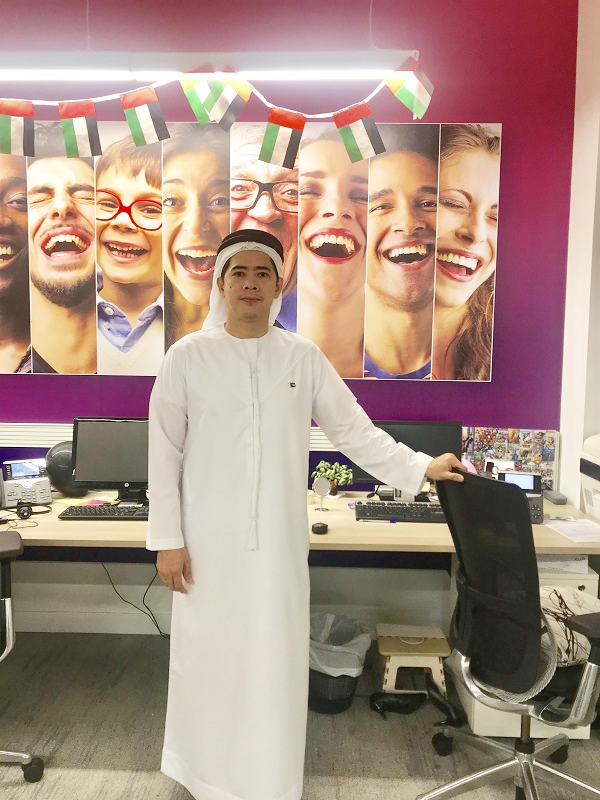 6. Is it difficult to live in Dubai? What are/were your struggles? What's life like outside work?
It was difficult at the beginning, though it became better and better because I am a very optimistic person. I see the good in almost everything for some reason! Living here is also expensive. I am currently renting a room for AED 2500 plus DEWA in Al Rigga, so I get to invite friends once in awhile instead of going out.
Once a year in the last 7 years, I have organized an all-Filipino get together that aims to bring together all kabayans working with RSA and theirs families. This year, we had a family day at Creek Park one Friday morning attended by at least 50 kabayans. Parang fiesta sa dami ng pagkain, kanya kanyang dala! (It was like a fiesta, with so much food brought by everyone!) I find joy in doing this because the employees bring their kids, and we organize games and prizes so it's really not just work. It's really intended to be a fun day for kids and kids at heart!
7. What do you like about Dubai?
I get to travel the world. Growing up I drew Eiffel Tower and Big Ben, and I've always wanted to see Spain, Italy, and all of Europe. In the last 10 years I got to be in a European country at least 10 days once a year. I like it that Dubai is my gateway to countries that I would not be able to see if I am based in the Philippines. Just last April I was in Amsterdam, and I am going to spend Christmas in Amsterdam this year and New Year in Paris — these trips excite me a lot! I was in Paris in 2014 and I still get excited!
8. What do you NOT Like about Dubai?
The extremely hot temperature! I know it gets warm also in the Philippines, but summer here is something I dislike!
9. What are your plans in your career/family/future?
I am giving myself a couple of years more and hopefully go back home so that I can take care of my aging parents. They are both over 70 now and it is important that I am settled and financially stable to better care for them.
10. You have any tips for Kabayans when working/finding work/living in Dubai?
First, know the type of job you want to find here — "kahit ano" (whatever) — should never be the first option. Look for something that you do best, where you can excel. Build connections, meet people, and keep your network growing. I personally got to know my current job from a kabayan that I met over the phone because of work. She was with RSA and I was with ENBD at the time. She recommended me in 2012, I got promoted in 2013 to a senior position, and then became a manager in 2015. Meet people and build friendships! When you are far from home you need to create your own family here.
Moreover, don't get trapped with loans! Don't take more than one credit card. Even if you don't have assets, if you don't have liabilities — that alone is your asset.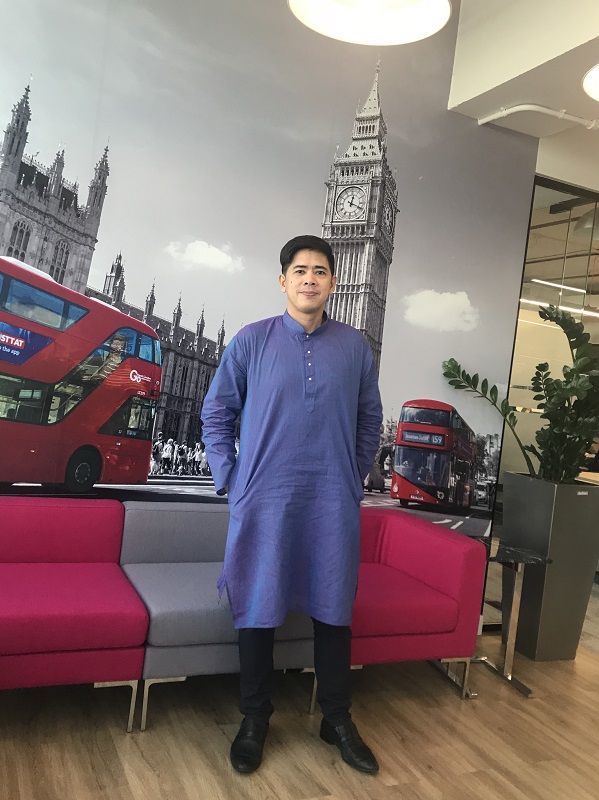 BONUS:  Are there any insights and causes you support that you'd like to share to our readers?
This may sound cliche, but I really want to inspire kids, particularly the kids from Dulong Ilog in Candaba, Pampanga. We all grew up in a small barangay and life was and still is never easy. I was a college scholar and a Jollibee service crew while studying college. I studied in college for 6 years instead of 4 years because I needed to work so I could attend my 6 pm classes. I had to sleep in Luneta for 14 nights because I couldn't pay my dorm rent. I also took a janitorial job for a year and half, just to survive college.
Having finished college despite all my hardships, I want to help other kids finish their education, too. I want to show the world to these kids, and tell them that if they study hard, they can travel the world — not as workers — but as tourists. I want them to experience the richness of seeing different cultures. Indeed, education is very important!
—————-
*Photos provided by Chris
Are you an expat in Dubai? Do you want to be featured in the website? Send us an email telling us you want to be featured at admin@dubaiOFW.com and we will send you the set of questions! Let's help other Pinoys who want to come to Dubai understand what life in the UAE is like through your story.