The Dubai Police has recently announced the opening of a new Smart Police Station (SPS) at Al Seef in Al Reefa area on Monday (August 19).
The opening of the new station is a new step towards the emirate's goal of adopting digital change to provide customers round-the-clock service without human interference. The new smart station provides criminal, traffic, social services, as well as certificates and permits for customers without the presence of police officers.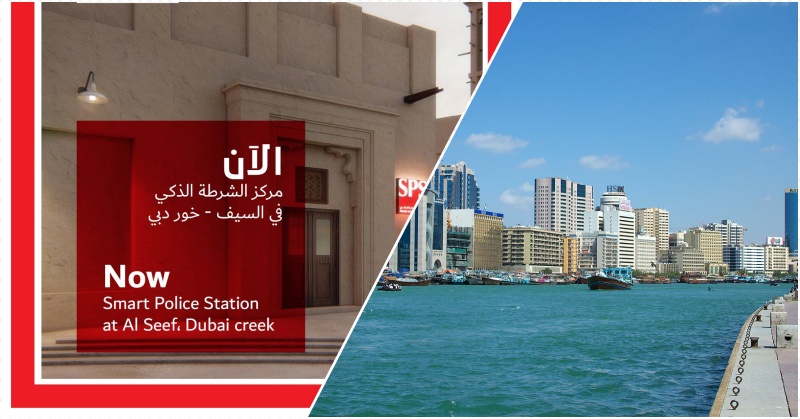 Dubai Police's New Al Refaa Smart Station Now Open
According to Lt-Col Hussein bin Ghalita, deputy director of the General Directorate of Artificial Intelligence for Smart Applications Affairs and project manager of Smart Police Stations, said the smart station is a step to future, aimed at making Dubai the smartest city in the world, as shared in a report by the Khaleej Times.
He added that the design of the station in Al Seef area was made to be in line with the design of the original area. Furthermore, the types of services offered are the same as other smart police stations.
Accordingly, Smart Police Stations provide 27 criminal and traffic-related services, and 33 other services.
أنجز معاملاتك بصورة ذكية وذاتية، ودون الحاجة إلى الانتقال لمراكز الشرطة التقليدية، عبر الفرع الجديد لمركز الشرطة الذكي (SPS)، الذي يتميز بحلّة تراثية تجسد عبق الماضي الأصيل في منطقة «السيف» في «خور دبي».#أمنكم_سعادتنا#نتواصل_ونحمي_نبتكر_ونبني pic.twitter.com/320kAVNF1U

— Dubai Policeشرطة دبي (@DubaiPoliceHQ) August 6, 2019

Commenting on the update, Lt-Col Bin Ghalita added that more smart police stations would be established, which will enable customers to complete their transactions efficiently, without having to visit the traditional police stations or to wait in queues.
Meanwhile, an initiative to develop a number of self-service centres, offering "Drive Thru" and "Walk Thru" services is also under way.
The first smart police station in Dubai was established in November 2017. Last February, the Dubai Police announced that by 2020, the number of smart stations will be up to 45.
Here are some of the services offered by Dubai's Smart Police Stations (SPS):
Home security
Victim support
Bounced cheque reporting
Labour complaint
Police eye
Filing criminal complaint
Police report enquiry
Human trafficking
Traffic status certificate
Change vehicle colour
Pay fine
Good conduct certificate
Corpse entry permit
Night work permit
Road Closure Permit
Clearance Certificate
Tourist Security
For those who are hesitant to communicate their concerns to a police officer at a police station they can now do so by visiting a Smart Police Station even without directly interacting with a police officer in person.
Through the SPS, visitors can launch their complaints without the need to go to a traditional police station.
ALSO READ: Traffic Fines in UAE Can Now be Settled at Smart Kiosks