A lot of people travel regularly between Dubai and Sharjah, usually by taking the public bus. Recently, however, a new transportation option between the two emirates has been launched… ferry service! It is the first marine transit line between Dubai and another emirate.
ALSO READ: Ferry Service Launched bet. Dubai Marina & The Dubai Mall
Aiming to enhance people mobility between the two emirates, the Dubai Roads and Transport Authority (RTA) on July 27 introduced a ferry service that would transport passengers between Al Ghubaiba Marine Station in Dubai and Aquarium Marine Station in Sharjah.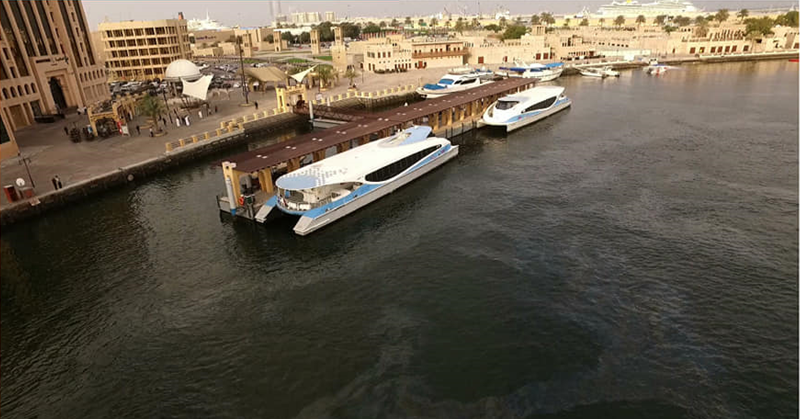 Dubai-Sharjah Ferry Service Launched
The RTA currently operates nine ferries at eight stations, namely: Al Ghubaiba, Al Marina Mall, Al Jadaf, Water Canal, Sheikh Zayed Road, Water Front, Marasi, and Dubai Design District. And now, we can add Aquarium Marine Station in Sharjah to the list!
"The new marine transit line boosts the cooperation between Dubai and Sharjah by offering more mobility options between the two emirates," stated His Excellency Mattar Al Tayer, Director-General and Chairman of the Board of Executive Directors of RTA in a press release.
"It will ease the pressure on roads through offering a safe and quick marine transport solution," he said. "The Ferry will be operating 42 journeys (21 in each direction) daily. Commuters are offered free parking as well as internal bus service at Sharjah Aquarium Marine Station."
The Advisor of Planning & Survey Department and Vice Chairman of Urban Planning Council in Sharjah, Engr. Salah bin Butti, explained that to urge people to use the new service, Aquarium Marine Station is supported by Park-and-Ride facility with 300 parking spaces. A shuttle bus will also be available to take commuters to different parts of Sharjah.
"This service will contribute to realizing the vision of Sharjah's RTA aimed at introducing diverse mobility means to meet the needs of various public transport users including citizens, residents and tourists," according to HE Engr. Yusuf Saleh Al Suwaiji, Chairman of Roads and Transport Authority, Sharjah.
"Moreover, marine transport is a safe and convenient mobility mode that offers a great chance for viewing captivating urban facilities stretching along the coastal line from Sharjah Aquarium up to Al Ghubaiba Marine Station in Dubai," he added.
Fare & Timings
The transport fare for the new Dubai-Sharjah ferry service is as follows:
AED 15 – Silver Class
AED 25 – Gold Class
FREE – People of determination / Children below 5 years old
The travel time between Al Ghubaiba Marine Station and Aquarium Marine Station is around 35 minutes. From Dubai, the first trip will depart at 5:15 am, and the last trip at 8:00 pm. From Sharjah, the first trip will leave at 5:00 am, and the last trip at 7:30 pm.
During peak hours — 5:00 am to 9:00 am in the morning, and 4:00 pm to 8:30 pm in the evening — there will be a ferry service trip every 30 minutes from Saturday to Thursday. Meanwhile, during off-peak hours, the ferry service interval will be one and a half hours.
Here is a video about the Dubai-Sharjah ferry service, shared by RTA Dubai on Facebook:
ALSO READ: RTA Launches Circular Marine Line on Dubai Water Canal
The new ferry service between Dubai and Sharjah is a great transport alternative, especially for those who commute daily between the two emirates. Indeed, it's awesome to know that getting around Dubai and other emirates just keeps getting better and better these days!