There's an Open Day for cabin crew position by Emirates airlines this 13 April and 28 April. and details of the location are yet to be confirmed. So those of you in Dubai who are planning to apply for a job as a flight attendant, kindly take note of the dates for you to submit your application.
Emirates have continued hiring cabin crews and they have posted the details of the Open day on their website and social media pages.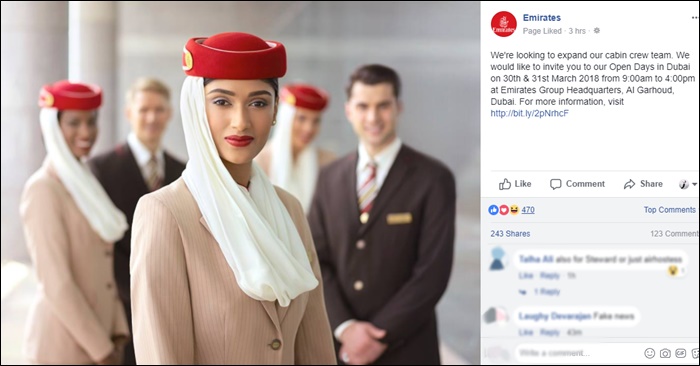 Emirates Open Day on 13 April and 28 April 2018
Please make sure that you are qualified for the position. At a glance, here are the qualifications for the Emirates Cabin Crew Position:
Flight Attendant Qualifications
At least 21 years old
Healthy and physically fit
Minimum height of 160 cm
High school graduate (Grade 12)
Fluent in spoken & written English
Arm reach of 212 cm while standing on tiptoes
No visible tattoos when wearing cabin crew uniform
Confident, friendly, and can adapt to new situations
What is an Open Day?
In case you're wondering what an Open Day is, it's the first stage of the hiring process by airline company wherein you will be submitting your CV application and photograph to the recruitment team. This is NOT an interview yet as basically you will be submitting your documents only.
There may be a very brief opportunity for you to introduce yourself and the recruitment staff may just ask "How are you?" or just say "Good morning/afternoon." Or at the very least, the officer will ask verify your name "Is your name ____?" and "Is this the phone number and address to contact you should we call you in the next hiring process?" — these questions may or may not be asked but please do take note of how quick this Open Day process takes place.
As Emirates is looking to expand their team, please be guided with the details of the said Open Days in Dubai.
Dates: 13 April and 28 April 2018
Time: 9am to 4pm
Location: to be confirmed

Note: Candidates are requested to bring along an updated CV and 1 photograph
Good luck!