Are you planning an overseas trip from the Philippines? If so, it's essential to stay up to date with the latest travel guidelines. An updated list of travel requirements for outbound travelers, including OFWs, has been announced, set to take effect from September 3, 2023. These new regulations aim to enhance the travel process and ensure a smoother experience for all travelers and avoid getting offloaded by the Bureau of Immigration.
According to the updated guidelines shared by the PIA, self-financed travelers now need to provide additional documents to support their travel plans. These documents encompass a confirmed return or roundtrip ticket, proof of hotel reservation or lodging arrangements, proof of financial capability or a reliable source of income, and verification of employment. These supplementary requirements are in addition to the standard travel prerequisites.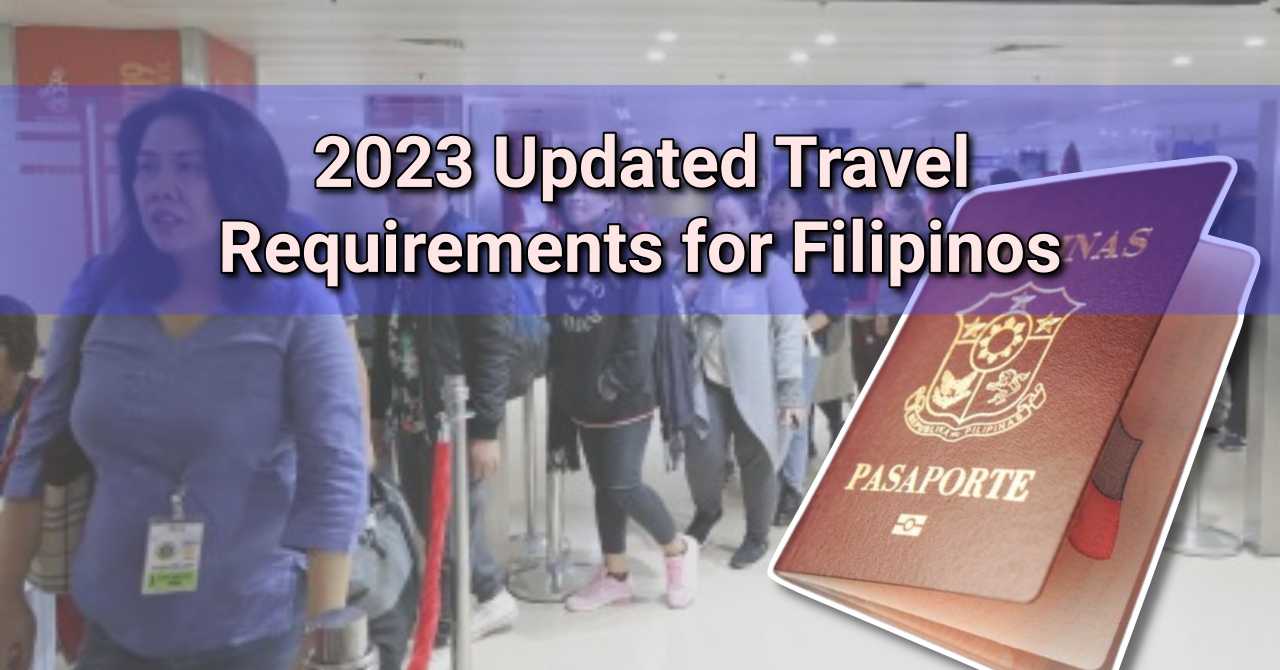 2023 Travel Requirements for Tourists and OFWs
To prepare effectively, let's review the basic documents necessary for overseas travel:
Ensure that your passport remains valid for at least six months from your intended departure date.
Verify whether you require an appropriate visa for your destination.
Keep your boarding pass accessible for a seamless check-in process.
If necessary, secure a confirmed return or roundtrip ticket.
For different traveler categories, there are specific supporting documents required:
Tourists: Self-Funded Travelers
Present proof of your confirmed accommodation arrangements.
Showcase your financial capacity or the source of your income.
Provide evidence of your current employment.
If you are sponsored by a relative abroad within the 1st civil degree:
Present original birth or marriage certificates issued by PSA.
Provide copies of your sponsor's passport and valid work visa/residence permit.
OFW sponsors must possess an Overseas Employment Certificate.
If your sponsor is a relative abroad up to the 4th civil degree of consanguinity or affinity:
Furnish a notarized Original Affidavit of Support and Guarantee.
Include a confirmed return or roundtrip ticket.
Provide birth or marriage certificates/records that establish your relationship with the sponsor.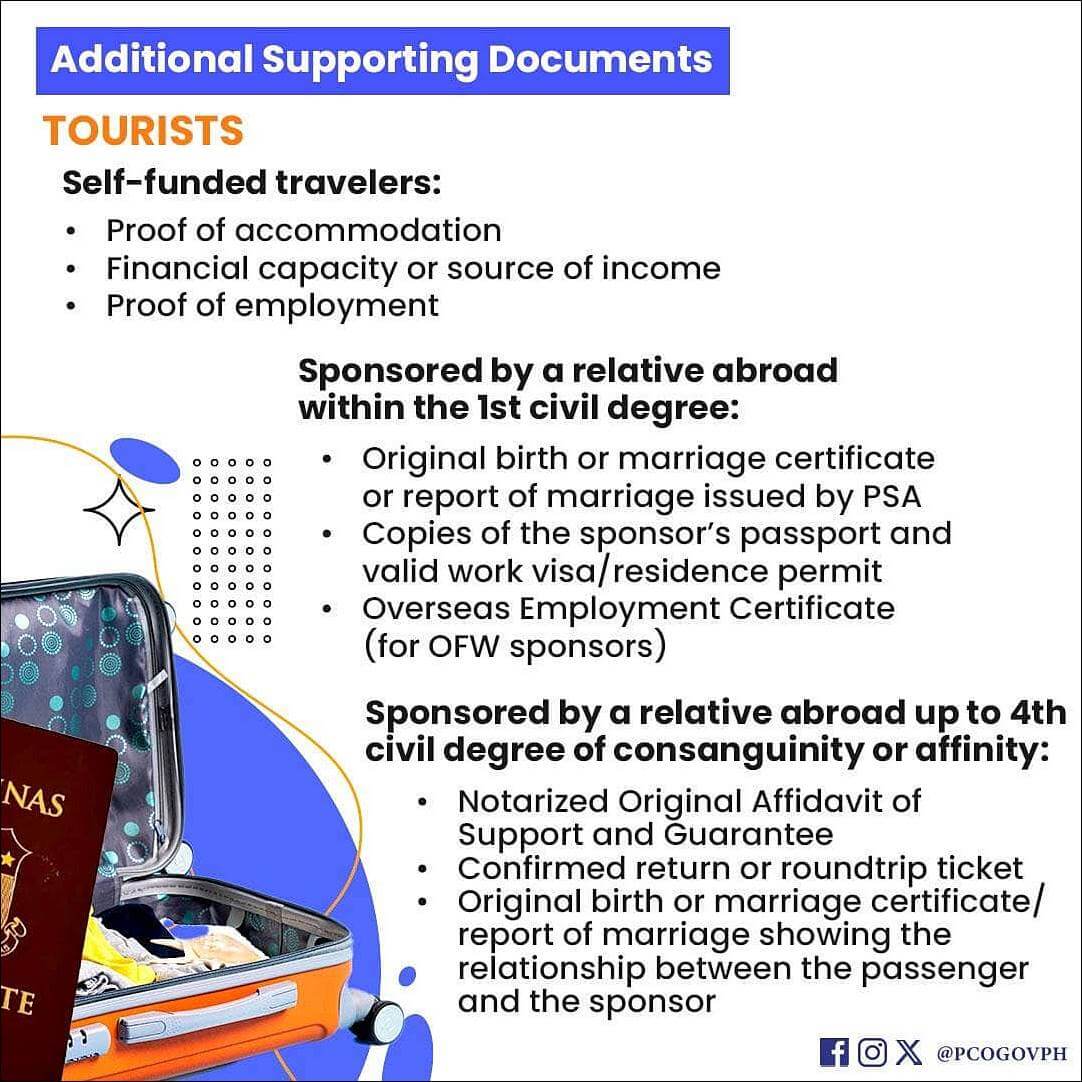 Tourists: Sponsored by Non-Relative or Legal Entity
Obtain a Notarized Original Affidavit of Support and Guarantee.
Present substantial proof that supports your relationship with the sponsor.
Secure a confirmed return or roundtrip ticket.
If the sponsor is a legal/juridical entity, provide registration papers.
Tourists: Traveling with a Local Sponsor
Obtain a duly notarized affidavit executed by your local sponsor.
Provide substantial evidence that establishes your relationship.
Include a copy of your sponsor's return ticket, matching your travel itinerary.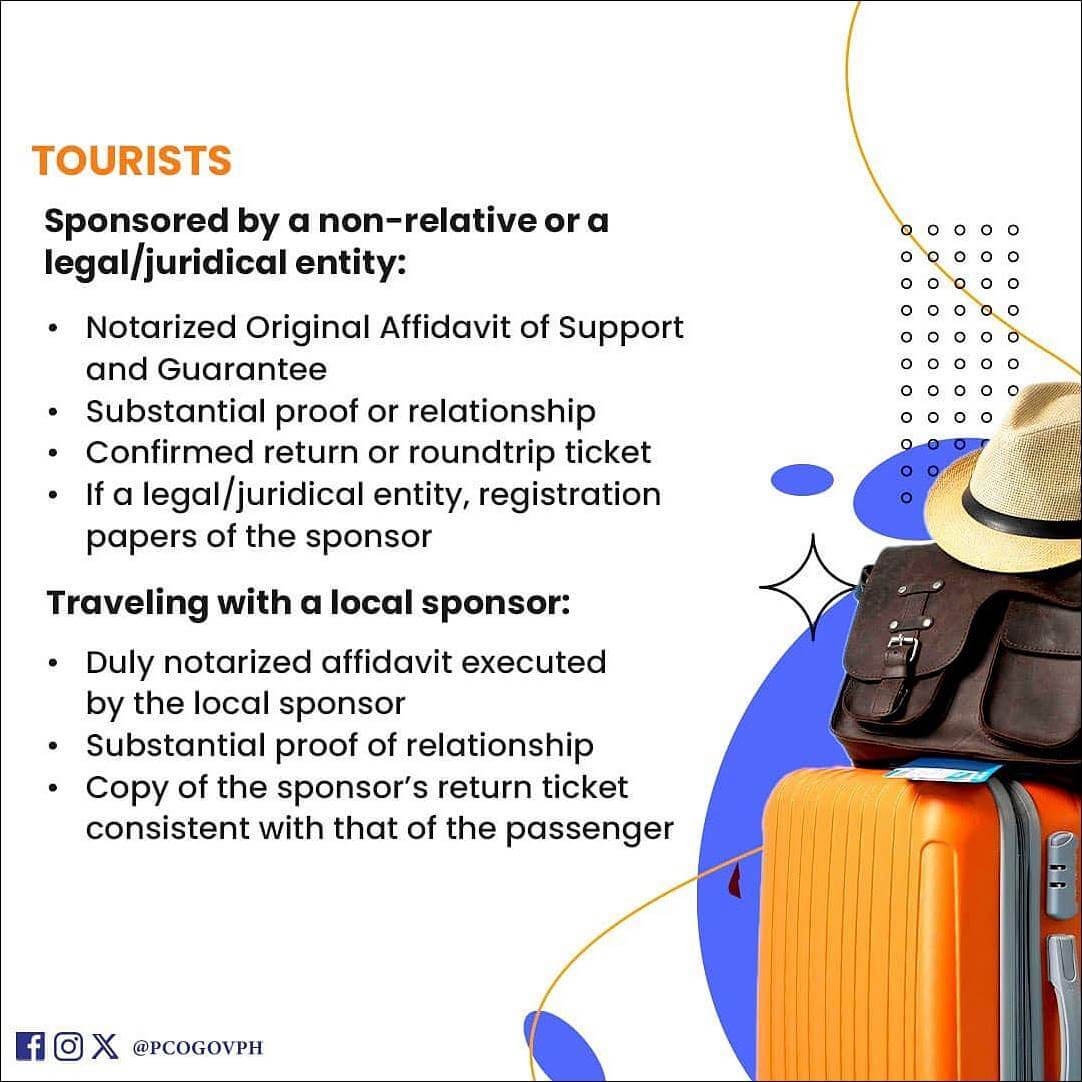 Overseas Filipino Workers (OFWs)
First-time OFWs must have an OEC or OFW clearance issued by DMW.
Possess a valid employment visa or work permit.
Carry an employment contract and visa usage undertaking or manpower request.
BM (Balik-Manggagawa) OFWs require a valid employment visa or work permit.
Secure an OEC or OFW clearance issued on-site or BM OEC Exemption.
Direct-hire OFWs need an OEC, E-receipt, or OFW Clearance, along with a valid employment visa or work permit.
OFWs requiring Special Travel Exit Clearance include locally employed seafarers on a Philippine Registered Ship's conduction from a foreign port to the Philippines.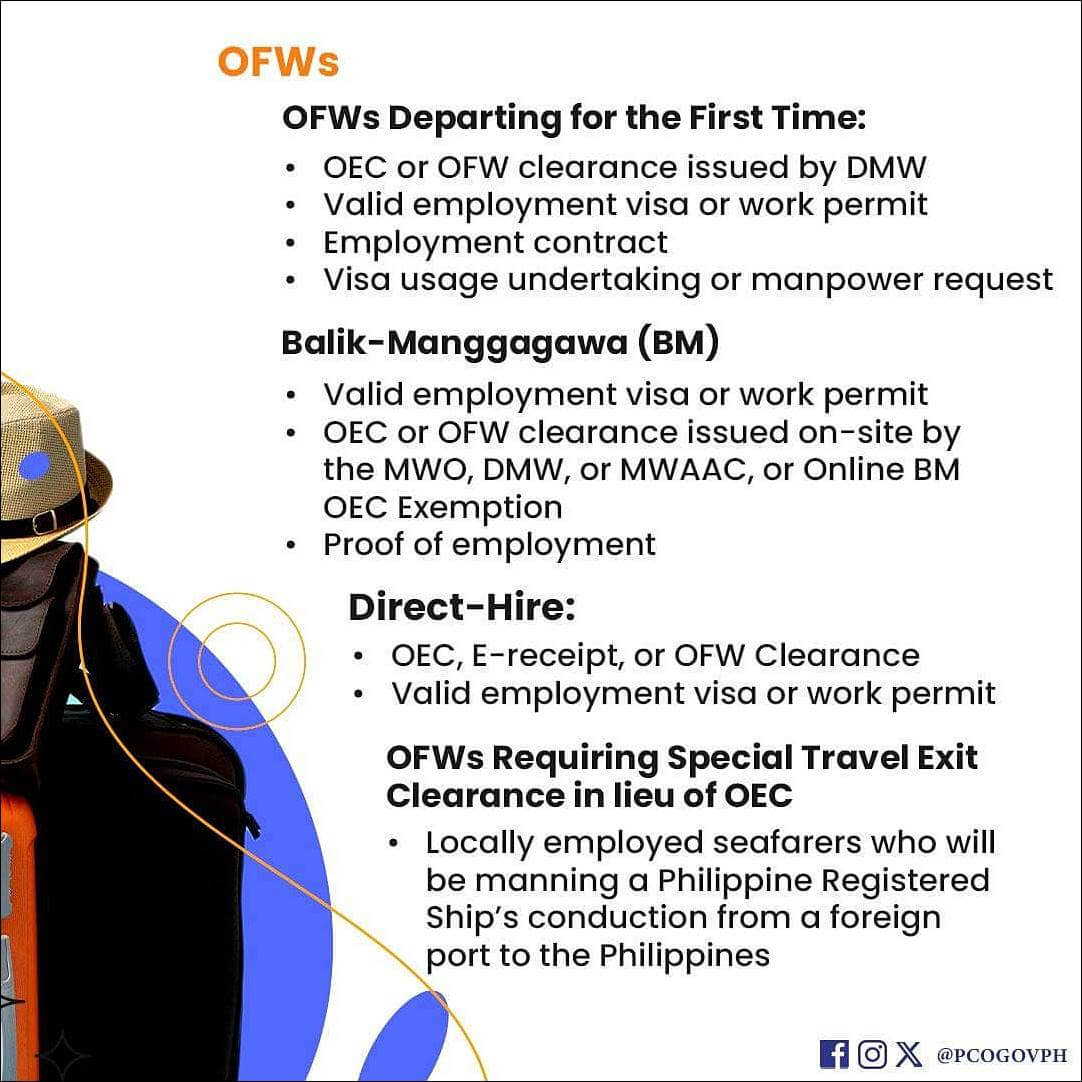 The guidelines also address scenarios in which immigration officers may delay a passenger's departure.
These instances encompass refusal to undergo secondary inspection, doubts about the purpose of travel, discrepancies in travel documents, presentation of fraudulent materials, non-compliance with earlier requirements, and suspicions of human trafficking or illegal recruitment.
It is crucial to adhere to these guidelines for the benefit of all fellow Filipinos' welfare and rights.
For those encountering human trafficking incidents, the Inter-Agency Council Against Trafficking (IACAT) offers contact information: "Report Human Trafficking at 1343 Actionline if within Metro Manila or (02) 1343 if outside Metro Manila."
Traveling abroad involves preparation, vigilance, and cooperation. By staying informed and following these guidelines, you contribute to a safer and more efficient travel experience for all.
Here's the official notice from the PCOO on this Facebook post:
In conclusion, it's vital to be well-informed about the latest travel requirements for a smooth journey from the Philippines.
The new guidelines, starting September 3, are designed to make outbound travel smoother and stress-free for everyone.
Whether you're a tourist or an OFW, understanding the needed documents and steps will help you get ready effectively.
Remember to follow the instructions during inspections, with the Inter-Agency Council Against Trafficking (IACAT) highlighting the importance of prompt secondary inspections.
By adhering to these guidelines, we not only navigate administrative procedures but also play a role in safeguarding the rights and well-being of our fellow Filipinos.
READ NEXT: 21 Things First-Time Tourists Should Know When Visiting the UAE