Working abroad is never easy. Many Filipinos are forced to leave the country not because they have a choice but out of necessity. With the promise of better wages in other parts of the world, Filipinos risk being away from their families to earn. According to the Philippine Statistics Authority, there is an estimated 2.4 million Overseas Filipino Workers who have worked abroad within April to September 2015. Around 97.1 percent of them had an existing working contract.
The number shows how many expat Pinoys there are who want to provide a better life for themselves and for their loved ones. But aside from getting a better pay, expats are advised to save their hard-earned salary and to invest them in the goal of making their money grow.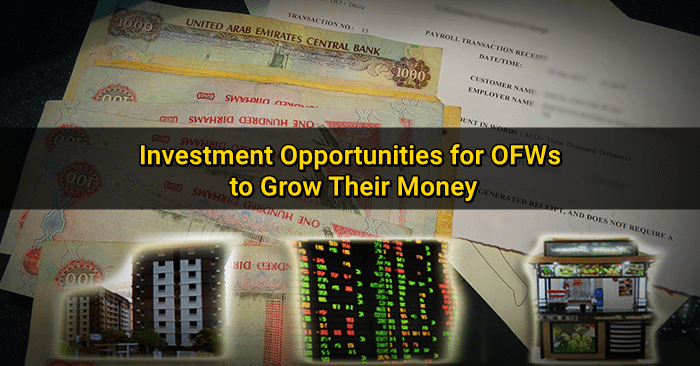 How OFWs Can Grow Their Money Through Diverse Investment Options
If you're an OFW who is looking for ways for you to use your salary in investment opportunities, here are some options for you. It's good to get an idea about saving and looking for business opportunities so that we can avoid being in an 'employee' mindset, because we won't be forever employees.
1. Get into a franchise
One of the most common ways to grow your money is to invest in a business. Franchises have become a huge industry in the Philippines as OFWs find it practical. With a franchise business, money can grow faster than getting interest from the bank if handled well. Food carts are the usual investments with costs ranging from around PhP 35,000 to PhP 200,000. If this is too costly, there are OFW beneficiary loans to assist in funding your business.
The caveat however is that the money you invested is not shielded from incurring losses. Unlike banks that offer a more protected and controlled environment, businesses can fail and poses a certain degree of risk depending on the industry you are getting into. It is important that when you put money into a business, be ready to lose it. So don't invest big immediately and make sure to entrust the business to people who really care about it.
2. Try out real estate
The Philippines is currently experiencing a real estate boom especially with high-rise condominiums and mid-rise commercial buildings. This is because the cost to build isn't as expensive now and renting has become a main source of income for some families. This is another common way for OFWs to invest their money, as real estate rentals are self-liquidating. This means that whatever amount you invested in buying a condo for example, will be paid by the tenant who rents the condo you bought. This in turn, becomes a good investment as in the long term, you can still profit from it either through rental or by reselling it.
Some real estate experts however, would also advise investors to put their money in buying land instead. This is more profitable as land is something considered permanent, unlike condos that tend to lose value once the building diminishes in value.
3. Invest with a bank
Entrusting your money to finance institutions is the safest way to grow your money. Banks offer a wide array of services and products that can match your risk profile. Because banks offer a stable environment for your money, the risk of losses is more or less predictable or controlled and you are shielded from losing all your money through a depositor's insurance (Philippine Depositor's Insurance Company or PDIC).
For those with low-risk profiles, time deposit or mutual funds would be preferable as risks are often low. Your money's rate of growth though is lower and the maturation date is longer. For those with a high-risk profile, investing in stocks or the stock market is a good option as there are higher yields and you can profit more for a shorter period of time. The caution here however is that you have to educate yourself on how to read and analyze the stock market environment.
Some financial advisers would say that diversifying your investments is better than putting all your money in one. So it would be good to mix some of these and create an investment portfolio that varied enough to keep your money growing.
——————
OFWs are concentrated in selected countries, with huge populations in the United States, Hong Kong, Singapore, United Kingdom, and the Middle East. In Dubai, UAE alone, there is an estimated 450,000 OFWs as of 2009. In the Aquino administration, OFWs played a huge part in powering the Philippine economy. Remittances have reached Php1.23 trillion pesos in 2014 alone. And with so much money pouring in from them, investing has become a crucial part in making their money grow.
The case of OFWs is quite different from the usual banking clients. This is mainly because they are not physically in the country where the money is being invested. This means they entrust their money either to their relatives or to banks. Banking institutions in the Philippines are clearly aware of their role in assisting OFWs in growing their money. That is why investing for OFWs is not so difficult to do. However, choosing the best investment platforms can be a make or break deal. If you are an OFW, and you want to decide on where to invest your money, here are some considerations.