The PCG (Philippine Consulate General) in Dubai and the Northern Emirates advises Filipinos working in the UAE  to avoid spearheading fund/charity drives without legal approval.
As decreed in 2015 by HH Sheikh Mohammed bin Rashid Al Maktoum, VP and PM of the United Arab Emirates and Ruler of Dubai, Decree No (9) states that "Collection of donations or advertising of fundraising campaigns without first obtaining prior written approval from the Islamic Affairs and Charitable Activities Department is prohibited".
Therefore, anyone who is thinking of giving back to the community where they reside within Dubai — whether it's for pet/animal cause, charity support or relief operations — must follow a set of guidelines to legally spearhead such campaigns.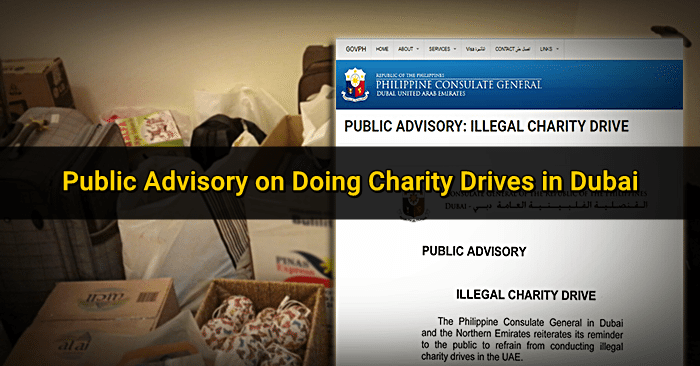 Avoid Operating Unlicensed Charity Events in Dubai
Why is this so?
The basic function of the decree is to safeguard the donations and to ensure that it goes to valid and reputable causes. The donors will have security, in the spirit of transparency, that the money they donated is properly audited and controlled, and that it reaches their intended purpose.
What must be done?
Any activity that involves raising funds (cash or in kind) and the advertising of it must have approval from the IACAD through any of its licensed charity groups. Licensed charities can be found on their site www.iacad.gov.ae.
To get approval from the IACAD is, fortunately, very easy: a couple of ways include 'Emirates Charity' App and sending an email to chevents@iacad.gov.ae.
Application is free. Turn-around time is within 2 weeks — however if all necessary and relevant information is furnished, it may be approved sooner.
As per a post from ExpatWoman on fundraising in Dubai, Necessary information for faster approval should include: purpose of the fundraising activity, location/areas for the collection of donations, names of people authorized, explanation on how to collect the donations, time-frame of the campaign, the recipients of the donation, and the target amount to be raised.
While the law may appear to discourage people from spearheading fundraising and charity events, let it not deter you. Above anything else, this decree aims to enhance and safeguard humanitarian and charitable works in Dubai and the UAE as this gives security and peace of mind to the benefactors willing to share what they have to those in need.
Source: http://dubaipcg.dfa.gov.ph/consulate-news/545-public-advisory-illegal-charity-drive