Filipinos abroad warned against the risks of doing visa runs. The Philippine Consulate General in Dubai and the Northern Emirates is sharing a public advisory from the POEA (Philippine Overseas Employment Authority) regarding the implicit risks of doing Visa runs which is considered as one of the means being used illegally by human traffickers and drug syndicates.
The DFA (Department of Foreign Affairs) has reported the continuing practice of undocumented Filipinos using the Visa Run mode in order to work in the ASEAN member states of Thailand, Myanmar, Cambodia, Laos, Vietnam, and Malaysia.
The public advisory by PCG states that the impacted areas are more on countries belonging to the ASEAN group. However, it is still important to note that as OFWs in other countries, we still need to be aware of the risks of these visa runs.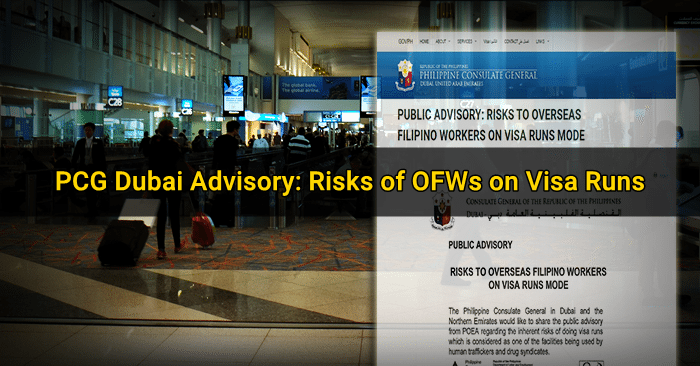 What is a Visa Run?
Visa runs, simply put, refers to the work-around process by which a foreign visitor continues to stay in a country by exiting through border control before their allowed period of temporary stay (normally 30 days) expires. They then return for a renewed period, usually for another 15 days or up to 2 or 3 months, depending on the type of Visa and the discretion of the boarder control officer.
What's the risk?
As Visa Runs is now commonly used illegally by human traffickers and drug syndicates as means to do business, the general public is strongly warned using this mode of entry/exit in order to avoid possible repercussions with Dubai authorities and other possible risks to their welfare and safety.
What needs to be done?
Prospective applicants, while seeking employment in the above-mentioned countries, are advised to take the legal processes and be very cautious in establishing the authenticity of employment offers by verifying the job orders with the POEA through phone (722-11-44 and 722-11-55) or through their website at www.poea.gov.ph.
View the full Advisory in PDF Form here: http://dubaipcg.dfa.gov.ph/consulate-news/543-public-advisory-risks-to-overseas-filipino-workers-on-visa-runs-mode