For today's, expat feature, we interviewed Jeev, a 29-year-old Sports Photographer based in Dubai. He is Filipino-Indian and speaks several languages, including Tagalog, Hindi, Malayalam, English, and Arabic! He has lived in Dubai most of his life; and having grown up in a Filipino-Indian household, he enjoys "the best of both worlds!"
Jeev studied Business Administration in the American College of Dubai, although his true passion lies in music production, writing, DJ'ing, and photography. When he's not at work, you will find him "out and about, taking pictures of anything and everything." He also enjoys composing and producing new songs. Indeed, he is a man of many talents!
Being able to visit family and friends in India and the Philippines, with Dubai — a multicultural city — as his home base, Jeev is certainly a "citizen of the world." You can just imagine his typical day: eating both Pinoy and Indian dishes, enjoying Bollywood and Hollywood films, spending quality time with family and friends from different cultures… and still having time to create great music and pictures! Keep on reading to learn more about Jeev's unique story in today's expat feature!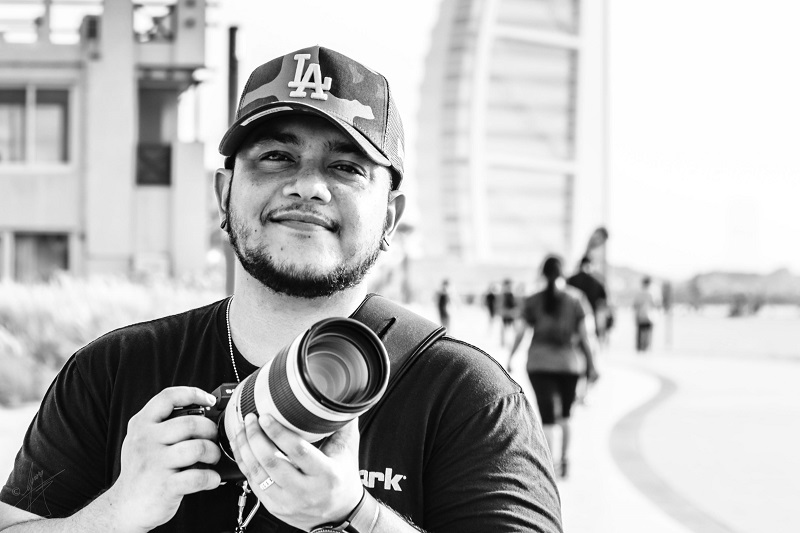 Expat Feature: Jeev, Filipino-Indian Photographer in Dubai
Name: Jeev George
Age: 29 years old
Current Profession: Sports Photographer
College Degree: Administration
Years in Dubai: Most of my life!
1. Tell us about yourself.
My name is Jeev George, my friends call me Jeevoh and I have a special nickname that only my family knows (LOL). I'm Filipino-Indian, 29 years old, and raised in the UAE. I am currently working as a Sports Photographer at a gym in Dubai. I studied Business Administration in the American College of Dubai, but my true passion lies in Music Production/Composing, Writing, DJ'ing, and Photography. I've been in the UAE for most of my life!
2. How is it like to be raised by parents from different cultures?
It's amazing! My little sister and I get the best of both worlds! I got both Indian and Pinoy traits and features. I watch both Bollywood and Pinoy movies. I love both Pinoy and Indian cuisine (my mom has mastered the Indian cuisine and my Dad loves Pinoy food!). I learnt a lot about both cultures firsthand. Being raised by parents from different cultures means you tend to look at yourself as a citizen of the world, rather than a citizen of a particular nation. It has broadened my perspective on how I view political and cultural differences.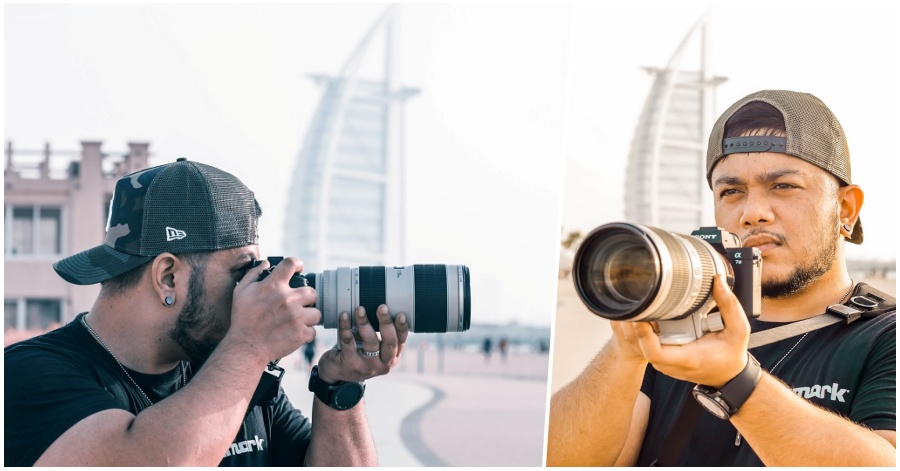 3. How many times have you been to the Philippines? How were your visits? Did you enjoy them?
I go home to the Philippines quite often. I studied for 2 years in the Philippines (Grade 2 and Grade 3). I love going home to the Philippines! I'm very close to my cousins and Titos and Titas. I just love the culture particularly in my hometown, Puerto Galera. There's no place like it! Whenever I think of an island paradise, I think of Puerto Galera. To me, it's more than just a tourist destination, it's literally home!
It's great having 3 different homes to go to (India, Dubai, and Philippines). The people are always warm and welcoming, not only relatives but other people, too. Whenever I feel like work stresses me out, I'd book a ticket and spend a couple of weeks in the Philippines.
4. Do you know how to speak Filipino Tagalog? How many languages do you speak?
Yes! I believe I'm about 90% fluent. I wasn't always fluent. That changed when I met my fiancée who is also from Puerto Galera, Philippines. She works as a Librarian in a Filipino school and she makes me read Filipino books. I do speak Hindi fluently as well. I do understand and speak a bit of Malayalam, which is my language from my Dad's side and enough Arabic that I can banter with my Arab friends!
5. What were your previous jobs?
I used to work in Marketing — handling Public Relations, Social Media Content, hosting interviews with high profile names in the DJ industry, organizing Music Production/DJ workshops and managing events for a DJ retail brand — before taking up photography full time. I've also been a part time DJ since I was 16 and I've DJ'ed a lot of private events like proms, weddings, birthdays and corporate functions apart from a few clubs. I've also engineered some recordings of local music talent.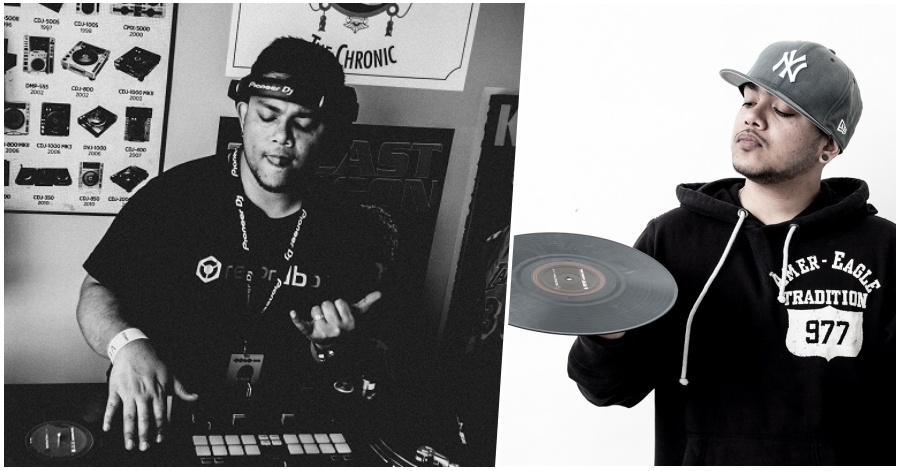 6. Are you able to save in Dubai? Why/How?
Luckily, since I do a lot of side work, I've been able to have some savings. I would always put 50% of my side income to my savings account. I spend the rest. It's important to save, but it's also important to treat yourself every once in a while.
7. Is it difficult to live in Dubai? What are your struggles? What's life like outside work?
That is very subjective. I've been here my whole life so I feel it is easy for me since I consider Dubai as my home base. But I'm sure it's not the same for expats who leave their families and come to earn money here. Right now my main struggle is juggling work, family, and social life.
Outside of work, I'm either with my family/friends, or I'll be out and about with my camera taking pictures of anything and everything. If not that, I'd be at my home studio trying to compose or produce a new song. I try to be as productive as possible, but there are days when it's just me and Netflix or PS4!
8. What do you like about Dubai?
I just love the fact that you can think of anything you want and you'll get it here in Dubai. Whether it's a particular type of food or entertainment or just about anything! And I love the cultural diversity. You see and meet with a lot of different faces from all walks of life in Dubai. You get to learn a lot about other kinds of people without travelling.
Another reason why I love Dubai is that it's the safest place I've ever been in. I'm never afraid to go out late at night in the city. You enjoy a particular kind of lifestyle that you don't find easily in other places. All of these and more are the reasons that citizens and residents alike admire their Highnesses – the Rulers.
9. What do you NOT like about Dubai?
This is a tough one. THE WEATHER! Not enough rain. I'd love for it to rain more in Dubai. Also, from an artist/musician's perspective, I believe there's not enough support or platform for homegrown talent. It's still a very small community.
Dubai has a lot of extremely talented homegrown artists and they have to work extra hard to be appreciated. Although it has been changing for the better for the past 10 years now.
10. What are your plans in your career/family/future?
Right now, I'm trying to pursue a successful photojournalism career. I love telling stories behind the pictures that I take. I also want to convince my parents to retire so they can finally relax and do the things that they've been planning to do but don't get a chance to. The only thing I want for my future is to be stable and content.
11. You have any tips for others when working/finding work/living in Dubai?
I read this phrase somewhere about having three different hobbies – one to help you make money, one to help you stay fit, and one to be creative. I believe this is true. Try to expand your portfolio. It's great that you have a degree from college, but try to learn other skills and you will never run out of jobs to look for.
And if you're in Dubai to make money to send back home, make sure that you take care of yourself, too. Your loved ones back home would be happier knowing that you're happy.

I've always had this dream of making an impact on my fellow Filipinos through my art. I've seen how Filipinos support their own and I'd love for my Kabayans to support me in my journey.
If there's anyone who'd like to help me achieve my dream of being a photojournalist hit me up! I've always wanted to work at a big time magazine/newspaper or be part of a talented and creative team. You can find and support my work by following me on Instagram (@jeevohtakespictures) or Facebook (Jeev'Oh) or you can send me a good old fashioned email on jeevoh.george@gmail.com. I'm always open to new opportunities. God bless!"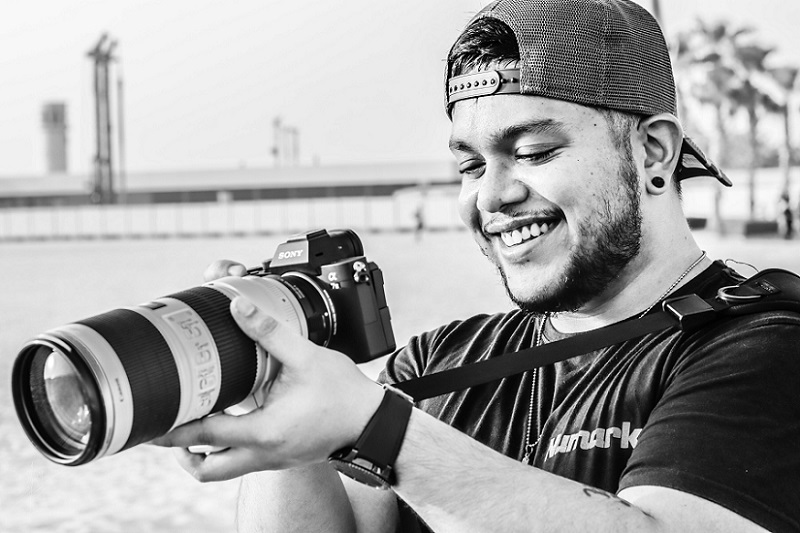 Connect with Jeev on Social Media
To know more about Jeev and his creative works, you may get in touch with him through his social media pages:
Facebook: Jeev'Oh
Instagram: @jeevohtakespictures
—————-
*Photos provided by Jeev
Are you an expat in Dubai? Do you want to be featured in the website? Send us an email telling us you want to be featured at admin@dubaiOFW.com and we will send you the set of questions! Let's help other people who want to come to Dubai understand what life in the UAE is like through your story.