A family of killer whales has been spotted about 70 kilometres off the coast of Dubai, near Moon Island. The last time they were seen in UAE waters was in 2008 — more than 10 years ago!
ALSO READ: First Arabian Eagle Owl Spotted in the UAE
An Emirati businessman, Ghaith Al Khaja, 27, was on his way home from a fishing tournament when he sighted the beautiful creatures. The family of whales, which are also called "Orcas," included a young calf — thus making it an unforgettable experience, indeed!
Whale Family Swims Near Dubai After a Decade
According to Al Khaja, he was returning to Abu Dhabi from a fishing tournament at Moon Island when he first saw the whales, The National reported.
"It was around 11.30 am," he recalled. "I couldn't believe my eyes seeing the smartest and strongest creatures of the sea, so I started filming them."
Al Khaja shared the video on Instagram, thus catching the attention of scientists in the UAE — including Georgina Gemmell, co-founder of the Northern Indian Ocean Killer Whale Alliance. The group studies killer whales across the northern part of the Indian Ocean.
"After analysing the footage that was forwarded by Dr. Ada Natoli, founder and director of the UAE Dolphin Project, researchers agreed that the group comprises of at least eight animals, including one calf and one adult male, and that some individuals are well known to the study and even have names," she stated.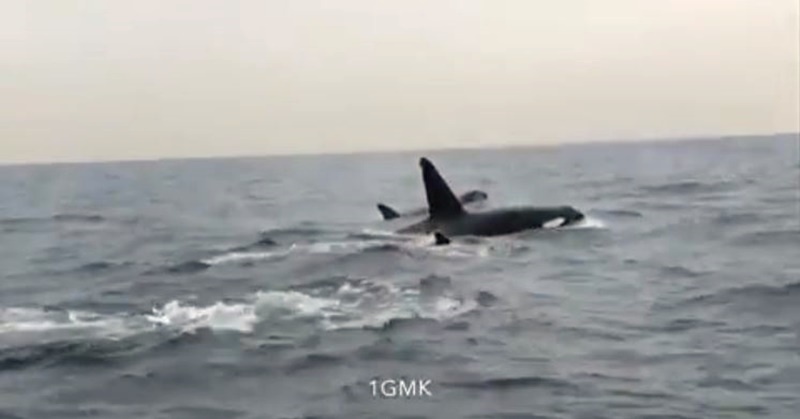 Gemmell added that three of the killer whales have been identified as members of Pod 11. Two of them were first spotted near Abu Dhabi in 2008, and then seven years later near Sri Lanka — almost 3,300 kilometres away! Meanwhile, the Fujairah Whale Project spotted a family of killer whales last February, and it could be the same group seen by Al Khaja.
"This movement between the Arabian Gulf and Sri Lanka provided the first ever record to show killer whales cross the Arabian Sea," Gemmell said. "This sighting is an important piece in an ever-shaping puzzle, demonstrating that this movement is not a one-off and that the same individuals seem to go back to the same areas."
Moreover, she explained that researchers are able to track animals by identifying unique features, such as dorsal fins, and even small scars or tears. Orcas, for example, have a distinctive white eye-patch that sets them apart from other types of whales.
Killer whales can be found in most oceans and seas worldwide, although most of them are in the northeast Atlantic and north Pacific areas, as well as the coast of Antarctica. Despite their "threatening" name, they actually feed on different kinds of fish, mammals, and sea birds.
Here is the video of the latest encounter with the family of killer whales, shared by Ghaith Al Khaja (@1gmk) on Instagram:
ALSO READ: Icebergs to be Towed from Antarctica to the UAE
It's not everyday that one sees killer whales or Orcas, and seeing them up close must be truly exciting, indeed! So keep your eyes open while sailing or strolling along the beaches of Dubai… because you just might spot something worth sharing on Instagram!