Dubai has plenty of beaches to offer. These Dubai beaches are located in the city so you won't have a hard time searching for a quick escape as they are within easy access.
Knowing that there are more sunny sky days than rainy ones in  Dubai, a beach is always a great and cheap place for some fun and recreation.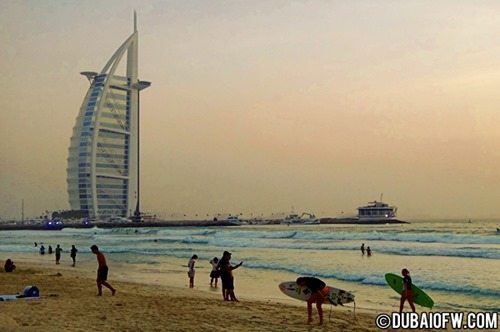 Umm Suquiem Beach – Burj Al Arab Beach
List of Top Beaches in Dubai, UAE
Not including private beaches like Palm Jumeirah, here's a list of the top public beaches in Duba. You can surely visit each one any time.
Jumeirah Beach Park
Hidden Beach
Kitesurfing Beach
Palace Beach / Media City Beach
Sunset Mall Beach
Mercato Beach
4×4 Beach
Jebel Ali Beach
JBR Beach
Al Mamzar Beach Park
Jumeirah Open Beach
Sunset Beach / Umm Suqeim Beach
You can just prepare a picnic and have snacks by the beach. Or play a round or Frisbee, volleyball on the shore. For the more adventurous, you can try jet skis and surfing – yes, there's surfing in Dubai!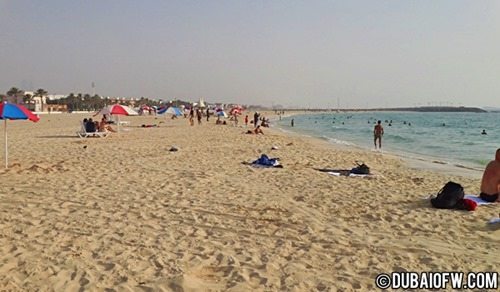 Jumeirah Open Beach near Al Satwa
There are plenty of Dubai Open Beaches, but please be advised to dress modestly as United Arab Emirates is a conservative country.
Sunset in Dubai's Top Beaches
What is always a great closing to an afternoon of frolicking under the desert rays is watching the sunset. In Dubai, the sunset is always beautiful! Chances are you will see its perfect round shape and you will just stare at it until it will set into the horizon.
Lastly, don't forget your sunscreen for protection. We have only visited a couple of Dubai's best beaches and we're rearing to go out to see some more. We hope to do that some time soon!