Earlier this week, OFW Mae Anne Olmidillo was recognized by the Dubai Police for her exemplary act of honesty for returning a bag containing cash worth AED 195,000 along with other important documents to its owner in Dubai.
To this, Foreign Affairs Secretary Teddy Locsin Jr shared his praises for the commendable Filipina in a tweet which highlights the contrast between her honesty and those who hold a seat in public office.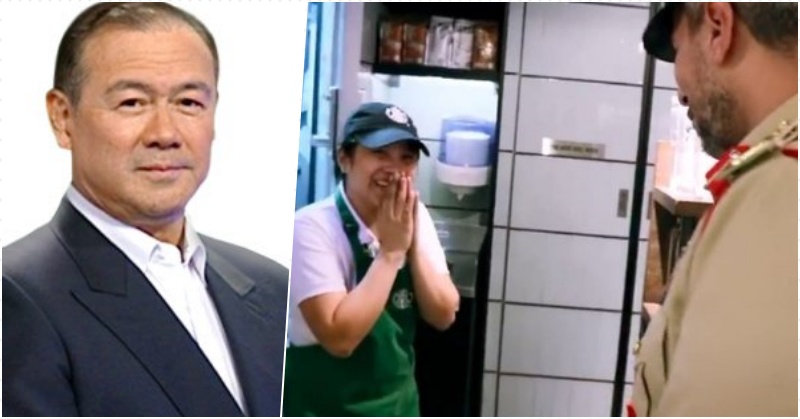 Locsin Hails Filipina Feted by Dubai Police for Honest Deed in a Witty Tweet
In a tweet shared by the feisty secretary, he said the country owes the Filipina "a world of gratitude" for exemplifying the "unshakeable honesty of Filipinos".
He then remarked that Olmidillo should be emulated by "Filipinos in government".
Dubai Police Hails Starbucks Employee for Honesty for Returning Customer's Bag Full of Cash THE FILIPINO RACE OWES HER A WORLD OF GRATITUDE FOR REAFFIRMING THE FUNDAMENTAL AND UNSHAKEABLE HONESTY OF FILIPINOS NOT IN GOVERNMENT BUT ABROAD WORKING. https://t.co/rsUOedEMOw

— Teddy Locsin Jr. (@teddyboylocsin) September 13, 2019
Olmidillo, who works as a barista in a global coffee brand in Dubai, made headlines across the globe last week after the Dubai Police paid her a surprise visit to her work and recognized her honesty. She found the bag full of cash and cheques left by a customer and decided to return it to him right away.
Olmidillo noted that the recognition is a source of pride and joy for her. In her own words, she shared: "Hindi po ako nagdalawang isip na ibalik yung pera sa nagma-may-ari. Hindi po akin yun at alam kong may return si God para sa akin. Maraming salamat po."
"I did not hesitate to return the bag to its rightful owner because it is the right thing to do, and I know God sees and will reward me for this. Thank you very much."
Stories like this not only make us proud but they also inspire us to do better at what we do and are reminded of the important values in life such as honesty, hard work, and other good traits which make Filipinos quality workers and commendable residents wherever they may be in the world.
Knowing the DFA Chief's penchant for colorful words, we're sure he means well – at least to our commendable OFW, Mae Anne Olmidillo. We salute you, Kabayan! We hope to have more citizens like you in the Philippines and elsewhere in the world!
ALSO READ: Wallet Test: How Honest is Dubai?