I was at work at The Dubai Mall when a colleague mentioned that a sandstorm was going on. I didn't know how a sandstorm looked like and I told him I wanted to go out just to see it for myself. I received a weird look because I was crazy enough to even want to witness this natural occurrence.
Sandstorm in Dubai
April 7, 2013
I thought it would only last a few minutes. But when I got out of the shop a few hours after, the sandstorm was still going on. I went to the Bus Terminus area to ride a number 29 bus that would take me home to Bur Dubai. Another colleague joined me as it was also his off and he was heading to the same route as I was.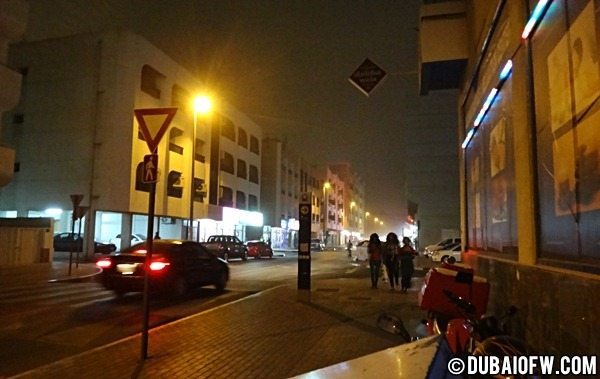 near Burjuman metro station
We stepped off the Dubai Mall with squinting eyes because we were afraid that the sand would hit our sight. We also covered our faces in order to protect ourselves from the sudden distraught.
I got into the bus and felt safe for the next half an hour. It took almost an hour to reach Bur Dubai from Dubai Mall, and after getting off at the Burjuman bus stop, the wind was still bustling hard. I could see a lot of trashes on the street.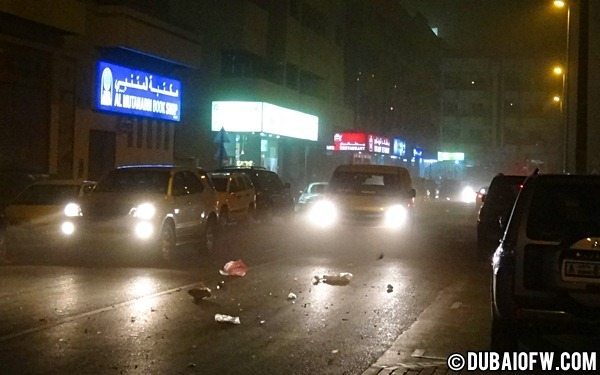 trash on the streets of Dubai during the sandstorm
I passed by a couple of blocks to reach the apartment building and I still couldn't bear to open my eyes wide open. Good thing as well that I had my sunglasses on that despite the dark atmosphere (since it happened at night), I was wearing my shades to prevent the sand.
It was pretty dangerous knowing that there were cars on the road. Vision has already been sacrificed and it was already dark so it's all the more reason to cause more accidents.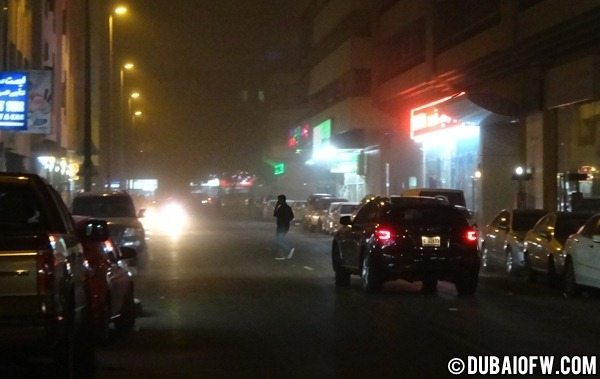 crossing the street was dangerous especially with the sand storm
I went inside a Choithrams grocery shop and bought food for dinner. I could see sand particles on the floor which made the supermarket dirty. But I was relieved that the storm stopped afterwards.
When I got out of the store, I saw cars lined up with dust and dingy dashboards. The sand and a bit of rain mixed and tainted these beautiful vehicles that I felt sorry for the window glasses and the overall exterior. I knew it would take awhile for them to be cleaned.

sandstorm victim, gonna take a while to clean this set of wheels, at least it was over
I could still see litter on the streets, but at least the the wind wasn't as harsh anymore. I went home all covered with sand that off they went into the laundry machine right away.
Just like bed bug attacks in Bur Dubai, this was my first time to experience this issue in Dubai. I'm not as excited to witness another incident like this next time.