Hi everyone, our next Overseas Filipino Worker interview is with Noemi, a travel representative and blogger in Dubai. She came to the UAE to become independent and she has been living independently for 7 years now!
This Filipina has also travelled to many places which is one of the benefits of her job. When not working, Noemi shares her stories of her adventures in her blog: www.pinayflyinghigh.com. Check out our interview below and don't miss out on practical tips she has shared to fellow Pinoys who want to work and live in this desert city.
Interview with a Pinay Travel Agent and Blogger in Dubai
OFW Profile: Travel Agency Rep
Name: Noemi
Education: BS Tourism Graduate
How Long in Dubai: 7 Years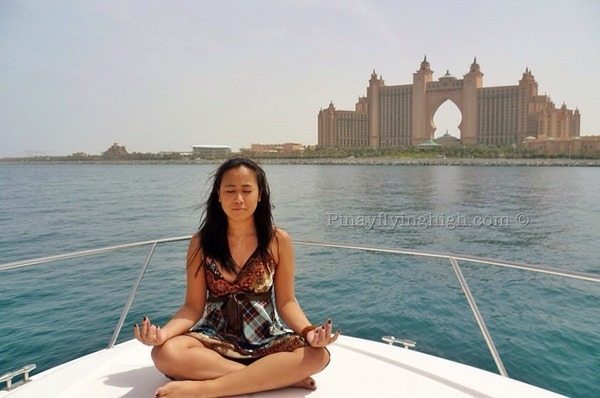 Noemi and Atlantis, The Palm
1. Tell me about yourself.
I'm Noemi and have been living in Dubai for 7 years now. I'm currently working as a travel agent which is actually a dream job of mine, well anything to do with the travel industry is a dream job for me. I graduated with a BS Tourism degree (against my family's will as they wanted me to be a nurse). My first job was credit card sales agent (I don't really remember what my actual title was for that job), I stayed there for only 6 months before I realized that I really wanted to pursue a career in the travel industry. After all, I didn't want to waste the 4 grueling years that I spent in college studying foreign language, city codes, airport codes and global distribution systems and not use any of it. The realization came to me when after 6 months of trying to convince people to apply for a credit card, I've never closed a single sale. Lol. So I left the job and became an airport staff at first (I stayed only 6 months as well in this job) and then as a travel agent. It's been 10 years now since that first travel agent job, yaiks! How old am I? Take a wild guess. 🙂
2. Why did you come to Dubai? What were your previous jobs?
To be very honest, my reason for coming to Dubai may sound a little off for some as it was basically just to run away from the suffocating love of my family. Don't get me wrong, I love my family and I will always be grateful to them as I won't be where I am right now if not for them. I just wanted to lead an independent life which is quite hard to do in the Philippines – being the youngest in the family. So then I looked for a job in the Middle East, a decision I made without consulting my family. They only found out about it when I already got an offer letter, by that time I was already packed and ready to fly. I asked my aunt (my aunt raised me) recently if she was at all surprised or angry for doing what I did, she actually said that she was proud of me as I actually had the guts to pursue my dream.
3. How do you find your current job? Are you happy/satisfied with it?
I have been with the same company since I arrived in Dubai. My job as a travel agent opens a lot of travel opportunities for me be it for business or pleasure. Last April, they sent me to Disneyland Paris and a colleague of mine was sent for a Caribbean Cruise last January – both for business trip. As part of our company benefits, I also get to have discounted tickets and hotel accommodations. Some people think that I'm earning a lot from this job with all the travels that I've done, that's not exactly the case as all of the travels I've made are mostly a part of the benefits that I get from the company. So yes, I can truly say that I'm happy and satisfied with my job.
4. Are you able to save in Dubai? Why/How?
Ah! The dreaded question, the answer to that is no. I'm not very proud of that because I've been in this city for almost a decade now and I was unable to save anything for myself in the future. I'm not a role model I know but the thing is, all I really want to do as of this moment is to be able to travel as much as I can. I don't know how long I'd be able to keep the job so whenever I am able to save something, I usually book the first ticket out of Dubai to see a new place. Dubai gives you an easy access to explore the world, with its proximity to Europe and Asia – the two continents that I'd really love to be able to explore in depth. Besides, a wise man once said "Traveling is the only thing you buy that makes you rich." I may not be rich financially but I am definitely rich in experiencing what the world has to offer, now that's a good excuse. Yes?
5. Is it difficult to live in Dubai? What are/were your struggles?
I've had some difficulties yes, during the first two years – I've lived a life which is more than what I could afford. I've maxed out my 2 credit cards with 5-digit limits in a span of two years, I suffered to pay that debt off. I lived a life of a millionaire for 2 years and suffered for 4 years. It was a lesson learned the hard way.
6. What do you do when you're not working?
What's life like outside work? I go out with friends, I used to be a party animal but I think I've had enough of that. Dinner and drinks with friends is kind of like a must for me on a Thursday night, just to bring me back to my senses that there is life outside of work. I also maintain a website – Pinay Flying High which works as a stress reliever for me. I love to write (isn't it obvious yet with this interview?) as I am better in writing than talking. I am able to express myself better in writing.
7. What do you Like about Dubai?
I like the fast pace of this city, there's always something new to explore/try. As I've earlier said, I also love the city's location – very close to the places I'd like to visit someday.
8. What do you NOT Like about Dubai?
It's actually the same as what I like about it, Dubai is too fast-paced that it's kind of hard to catch up with it sometimes.
9. What are your plans in your career/family/future?
I started saving for my future, (bravo!). It probably comes with age and maturity to realize that I am not getting any younger and that I have to lookout for what my life will be in the future. I'd still love to travel though so hopefully, I'd be able to do both. Career-wise, I'm not really after a promotion as I've never really dreamed of myself as being a manager or the CEO of a company. As long as I am enjoying what I'm doing, I'd be fine. So far, I'm still enjoying it. Family, no plans yet of having my own family. I still have a lot of things I want to do before settling down.
10. Tips for Kabayans when working/finding work/living in Dubai?
Don't make the same mistake that I did, falling into the credit card trap. Live a life that you can afford.
Try to find a job which you will actually enjoy doing. You always have the option to pursue your dream career – all it takes is courage and a lot of guts.
Always be positive, negativity won't make anything better.
Surround yourself with real friends, it's hard to find one in this city so when you finally find one – hold on to them. Life in a foreign city will be much easier if you know that someone's got your back.
Have a life outside of work, take up a hobby, go out and enjoy – just to take your mind out of the stress that you've been facing at work. You deserve it! Trust me, you do.
Pinay Flying High Blogger
Connect with Pinay Flying High
Website: pinayflyinghigh.com
Facebook: facebook.com/PinayFlyingHigh
Twitter: twitter.com/PinayFlyingHigh
Instagram: Pinay_Flying_High
Thank you so much for your tips and for sharing your experience with us, Noemi! Keep posting your travel stories in your blog!
———————–
Do you want to be featured in our OFW interviews? Send us an email at admin@dubaiOFW.com.