Musicians from 190 countries came together to perform an extraordinary rendition of "Ishy Bilady" ("Long Live My Country"), the UAE national anthem, WAM News Agency reported.
The orchestral performance is part of Expo 2020 Dubai's celebrations that mark the Year of Zayed, in honour of Sheikh Zayed bin Sultan Al Nahyan, founding father of the UAE. It also commemorates the 47th UAE National Day, and includes seven Emirati musicians, signifying the seven emirates.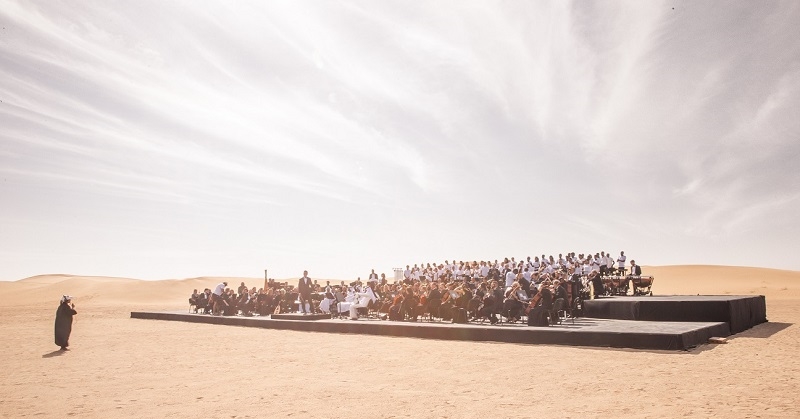 Musicians from 190 Nations Perform "Ishy Bilady"
The video begins with an empty stage, set in the beautiful Dubai desert. Seven Emirati musicians come to take their positions, followed by a multinational choir, and then an orchestra.
Led by the conductor, the choir and orchestra perform an outstanding rendition of the UAE national anthem, "Ishy Bilady." Meanwhile, a volunteer presents the lyrics in sign language.
The performance was filmed by award-winning Nayla Al Khaja, the UAE's first female director. The video could be a prelude to Expo 2020 Dubai, where 190 countries have confirmed their participation. This has surpassed the 180-nation commitment initially set out when Dubai won the bid to host the World Expo!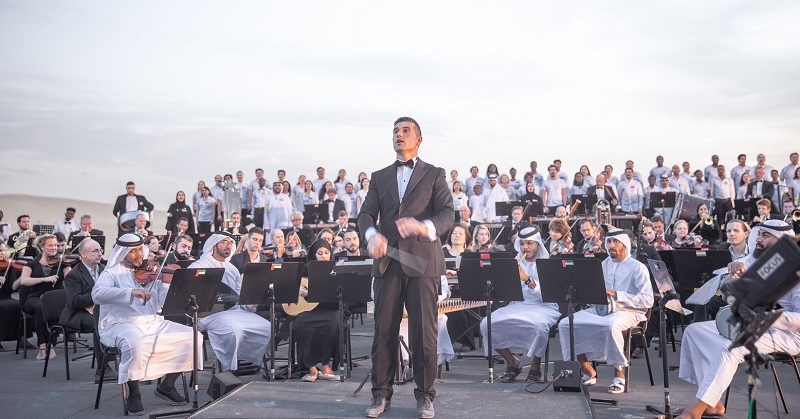 "Watching this beautiful rendition of our national anthem was so moving," stated Dr. Hayat Shamsuddin, Vice President for Arts & Culture, Content & Programming of Expo 2020 Dubai. "Nayla Al Khaja has captured the spirit of tolerance and unity that exists in the UAE, where more than 200 nationalities live in perfect harmony."
"This year's UAE National Day carries additional significance, given that 2018 also marks 100 years since the birth of Sheikh Zayed bin Sultan Al Nahyan," he explained. "We wanted to create something special and impactful that honours our founding father and showcases the welcoming nature of the UAE. This production is a wonderfully fitting ode to our great nation."
Meanwhile, Nayla Al Khaja commented: "The film was on a completely different scale than anything I've ever worked on. The sheer size of the production was astounding. I absolutely loved the challenge."
The director said that she managed and directed around 190 musicians, and watched three camera set-ups to ensure that all the right shots were captured. "This experience was the most fun I have had on a project. I'm grateful to Expo 2020 for trusting me and giving me this opportunity to direct a rendition of the UAE national anthem," she shared.
Here is the video of the orchestra's performance, shared by Expo 2020 Dubai on Facebook:
ALSO READ: HH Sheikh Mohammed Visits Expo 2020 Dubai Site
With less than two years to go, Dubai is definitely getting ready for the biggest event of the decade. We are truly excited, that's for sure! We can hardly wait to see people from many nations coming together at Expo 2020 Dubai! Hope to see you there, too!