Looking for a new kind of movie experience? Well, you're in luck because Urban Entertainment has announced on social media that they are bringing back the Urban Outdoor Cinema to Habtoor Grand's Beach Lawn in Dubai Marina this month.
ALSO READ: City Centre Deira Launches "INDOORS" Hangout Place
Starting October 20, guests will get to enjoy movie screenings every Saturday, Sunday, and Monday beginning at 7:30 p.m. The event is part of Urban Entertainment's Urban Outdoor Cinema Series in Dubai.
Dubai Marina's Outdoor Cinema is Set to Return this Month
On its first opening weekend, guests will be treated with the box office hit musical, The Greatest Showman (October 20), followed by major classic films Top Gun (October 21) and Notting Hill (October 22).
And while films are scheduled to begin between 7:30 to 7:45 p.m., doors open as early as 6:30 p.m. so you can pick a nice, cosy spot for the movie. Also, come in early so you can chill out and take advantage of the only cinema in Dubai with a fully licensed bar while enjoying some great food and drinks, as well as music by the beachfront.
The following weekend will feature a series of Halloween specials with A Quiet Place (Oct 27) set to start things off, followed by Shaun of the Dead (Oct 28), and then capped off by the Lost Boys (Oct 29).
The last two months of the year will feature a schedule packed with big screen hits, which will include Harry Potter, Pretty Woman, and Romeo and Juliet, among others.
You may purchase tickets at the gate or online; these are priced at AED 75 per guest. Seats are on first-come-first-serve basis, and waiters are on hand to get you your usual movie snacks, as well as pizza and tapas. Available refreshments come in softdrinks, wines, and beers.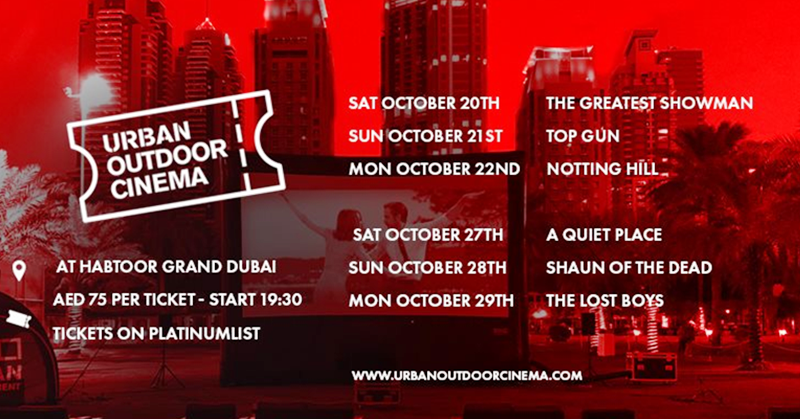 To know more about the Urban Outdoor Cinema Series and the upcoming movie screenings, you may check out their official website and Facebook page.
ALSO READ: List of Theme Parks in Dubai