Nowadays, all eyes are on the Coronavirus disease (COVID-19) as it continues to rampage and claim the lives of hundreds and thousands of people all over the world. However, COVID-19 isn't the only deadly disease that many people deal with every day. There are also those considered as silent killers such as Parkinson's Disease, which affects the brain of its victim. 
Also Read: How to Apply for Health Insurance in Dubai
Living with Parkinson's Disease can be one of the hardest experiences for any patient and even for their families as the disease progressively becomes worse if not treated appropriately. That said, treatment is still very limited these days. But one treatment offered in King's College Hospital in Dubai has shown remarkable and promising results.
DISCLAIMER: This is not a sponsored post. The information posted here is based on a story shared by a Filipina whose family member has been suffering from Parkinson's Disease. If you are suffering from the same condition or if you have similar experience, please seek medical advise from authorized doctors for your specific case.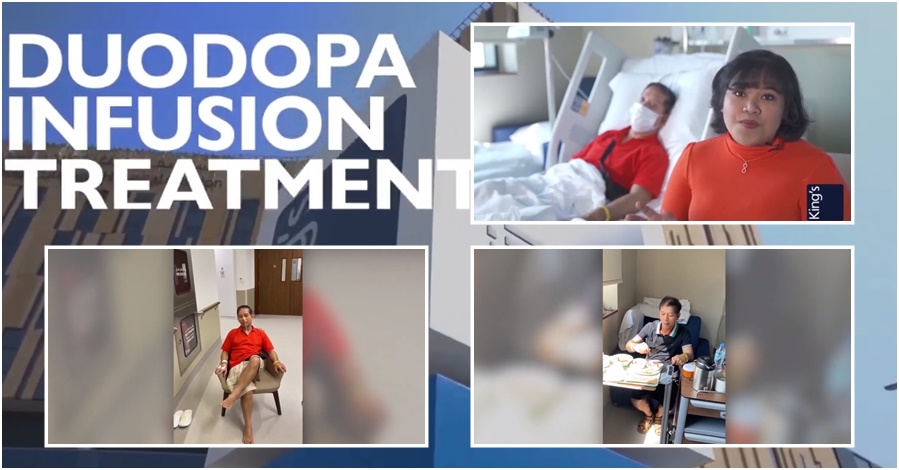 Filipino in Dubai Suffering from Parkinson's Disease
This has been seen in the case of Mr. Felerman Villanueva, a Filipino living in Dubai, who has been suffering from Parkinson's Disease for 13 years now.
According to his daughter, Felizsa Lynne "Zsazsa" Villanueva, Mr. Felerman had once been a jolly and sociable man before the disease had set upon his body. Since then, she noticed that her father has changed completely and has become withdrawn, shy, and self-conscious.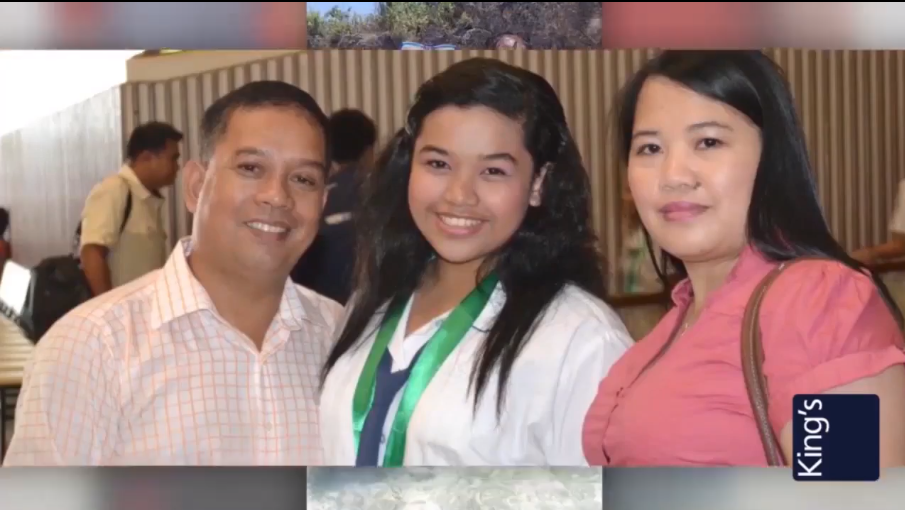 Zsazsa also shared that after her dad was diagnosed with Parkinson's Disease in the Philippines, they sought all kinds of treatment for his condition, but to no avail. All of the doctors they had met only told them that other than medications, there's no known effective treatment for his disease. 
ALSO READ: OFW's Wife Donates Kidney to Save Husband
Visiting Dubai for Parkinson's Disease Treatment
Feeling disheartened, Zsazsa and their family decided to bring their dad to Dubai where their mom is currently working. They did not decide to do this for the sake of finding treatment for their dad, but they were lucky enough that he was granted residency through a wife visa, with the help of his wife's company in the UAE.
And just when you think things couldn't get any worse, upon arrival in the country, Zsazsa's dad later on tested positive for COVID-19. Little did they know that this would eventually turn out to be a huge blessing in disguise as they had to seek medical help at King's College Hospital in Dubai. 
When Mr. Felerman was being treated for COVID-19 at King's College, a nurse happened to interview Zsazsa and looked into her dad's records to find out more about his condition. And upon learning of his health history, she referred them to Dr. Vinod Metta, a consultant at King's College who specializes in Parkinson's Disease. 
At first, ZsaZsa was quite skeptical about what else they could possibly offer to them to treat her dad's condition. She also shared that they have already seen more than 10 specialists for Parkinson's, and all of them said the same thing – that her dad would only be given medications for his treatment, with not the slightest hint of him fully recovering or going back to the way he used to be.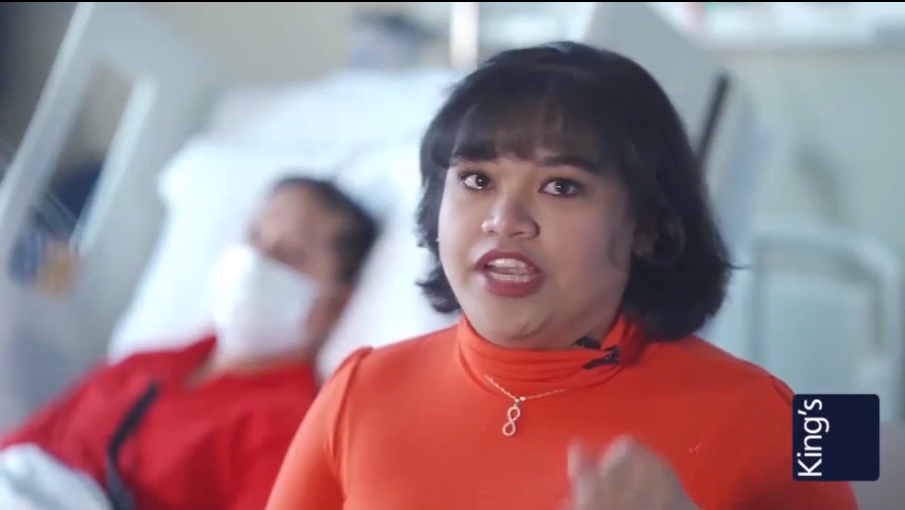 Despite all her doubts and reservations, Zsazsa's mom told her that Dr. Vinod is different because he takes the time to assess his patients; spends time with them, noting their improvements and setbacks in their recovery; and even dealing with all the questions of the patient's family and loved ones. He carefully explains everything there is to know about the condition. 
Duodopa Infusion Treatment
Feeling reassured, they went to see Dr. Vinod for her dad's treatment. After her dad was evaluated, Dr. Vinod recommended for him to undergo the duodopa infusion treatment, which is a procedure that will infuse levodopa (the gold standard for treatment of Parkinson's Disease) through an externally administered tube which goes in through the mouth into the stomach and the small bowels (jejunum) and another through an externally fixed pump that delivers the drug at a precise rate into the duodenum through the guidance of an endoscope, from which the drug is absorbed straight into the blood and gives the patient the ability to overcome Parkinson's symptoms – motor and non-motor, within 24 hours. 
In the video, Zsazsa's dad is seen to be extremely fatigued and involuntarily shaking and twitching due to the effects of his condition before the treatment. However, after several sessions, and in a month, they were able to see marked improvements in his gait, balance, strength, and overall condition. It was like a miracle to see Mr. Felerman, who was at one point, almost bedridden to be able to walk, run, and even do push-ups.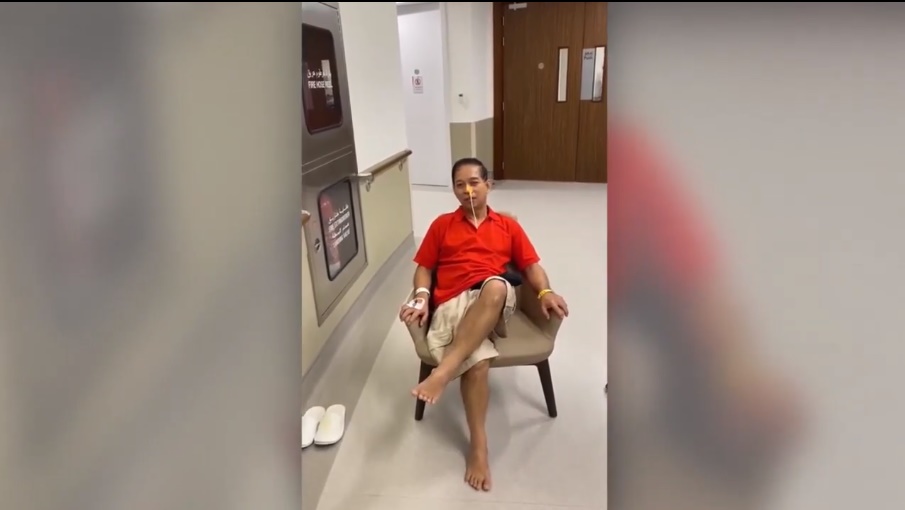 After seeing the effects of the treatment, Zsazsa and the rest of their family expressed their gratitude to Dr. Vinod and the rest of the team at King's Dubai College for the chance that they had given their dad, Felerman, to be able to do what he used to and to live his life in the best state of health he could ever have.
Duodopa Infusion at King's College Hospital
Mr. Felerman's treatment was the second successful case using the duodopa infusion treatment conducted at King's College Hospital in Dubai according to Dr. Vinod. 
Now that an effective treatment for her dad's condition is available to them, Zsazsa shared that her dad intends to go back to teaching at the university, as he had been an economics professor before his illness took over his health. 
Watch the featured story of Zsazsa and her dad, Felerman, in this clip posted by King's College Hospital in Dubai: 
With this remarkable story, Zsazsa wants to share the hope that they had found in the treatment offered to them by Dr. Vinod and his team at King's College in Dubai – that Parkinson's Disease can be treated. 
Zsazsa said that she wants their story to give hope and encourage other people suffering from Parkinson's Disease, as well as their families to seek help from the experts at King's College in Dubai. 
King's College Hospital Contact Information
Website: kingscollegehospitaldubai.com
Address: East Exit – Alkhail Street – Al Marabea' St – Dubai Hills – Dubai
Phone: 04 247 7777
Email: info.ddh@kch.ae
Hours: Open 24 hours
To learn more about the Levodopa Infusion Therapy at King's, you may give them a call at +971 04 247 7777 or send them an email via info.ddh@kch.ae. Alternatively, you can fill out their contact form at https://kingscollegehospitaldubai.com/contact-us/ for your queries regarding the treatment and the other services they can offer you.   
Google Map Location
Below is a map guide to the location of King's College Hospital in Dubai: