In just a couple of years, millions of people will be coming to Dubai — tourists, business executives, government officials, and many more! Their destination? Expo 2020 Dubai, of course! This global event is based on the theme, "Connecting Minds, Creating the Future."
Did you know? Around 190 countries have confirmed their participation at Expo 2020 Dubai. This means that we can expect to see numerous pavilions, each representing their country's culture and products. And some of these countries have revealed their pavilion designs!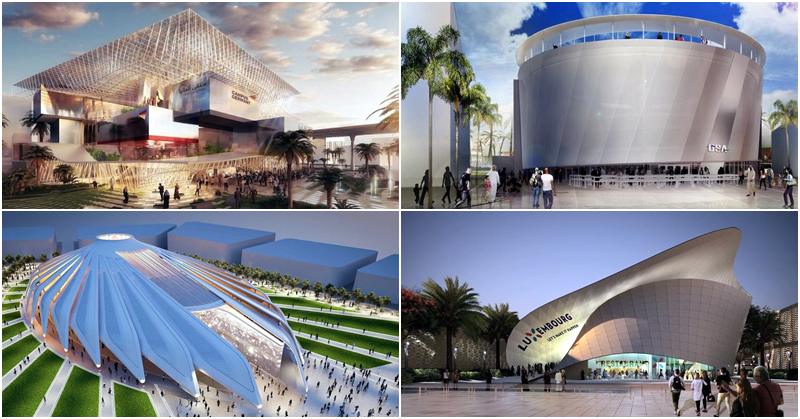 Revealed: Country Pavilion Designs at Expo 2020 Dubai
At the Expo 2020 Dubai site, each pavilion would be located at the Sustainability, Mobility, or Opportunity "Districts," which are based on the three sub-themes of the World Expo. Several countries have already revealed what their pavilions would look like, and the designs are pretty cool!
First of all, there's the pavilion of the host country, the UAE. It was designed by Santiago Calatrava, a renowned Spanish architect.
Just recently, the USA revealed its pavilion design. Check out those other walls, which would actually serve as one big giant screen!
Meanwhile, here's the unique design of the Luxembourg pavilion, with its catchy theme, "Let's Make it Happen:"
The Polish pavilion, on the other hand, was designed to resemble the graceful movement of migrating birds:
The Swiss pavilion definitely stands out. It features an inverted pyramid of mirrors. Amazing!
Of course, we shouldn't miss seeing the architectural designs featured below:
The beautiful Austrian pavilion:
The pavilion of the Czech Republic, with its "spring" design:
The elegant Finnish pavilion:
Germany's spectacular pavilion:
The serene-looking Japanese pavilion:
The gorgeous pavilion of New Zealand:
Oman's magnificent pavilion:
The UK pavilion, which is bound to catch everyone's attention, indeed!
ALSO READ: A Virtual Tour of Expo 2020 Site
Which of all these pavilion designs do you like? Also, has your country revealed its pavilion design for Expo 2020 Dubai? Without a doubt, everyone is excited to see how everything will turn out! Share with us your thoughts and suggestions in the comments below!