The two Philippine Overseas Labor Offices (POLOs) together with the two Overseas Workers Welfare Administration (OWWA) offices in Abu Dhabi and Dubai have recently recognized 14 Filipino nurses as part of the International Women's Month and in line with Manila's Department of Labour and Employment (DoLE) women empowerment programme.
READ NEXT: VIDEO: Filipina Nurse in Dubai talks to Sheikh Mohamed bin Zayed and shares experience as a frontliner
The recognition ceremony came by way of the "Marilag Awards" in collaboration with the Philippine Embassy and the Philippine Consulate General. The ceremony was done in partnership with the Abu Dhabi and Dubai and the Northern Emirates chapters of the Filipino Nurses Association in the Emirates (FNAE).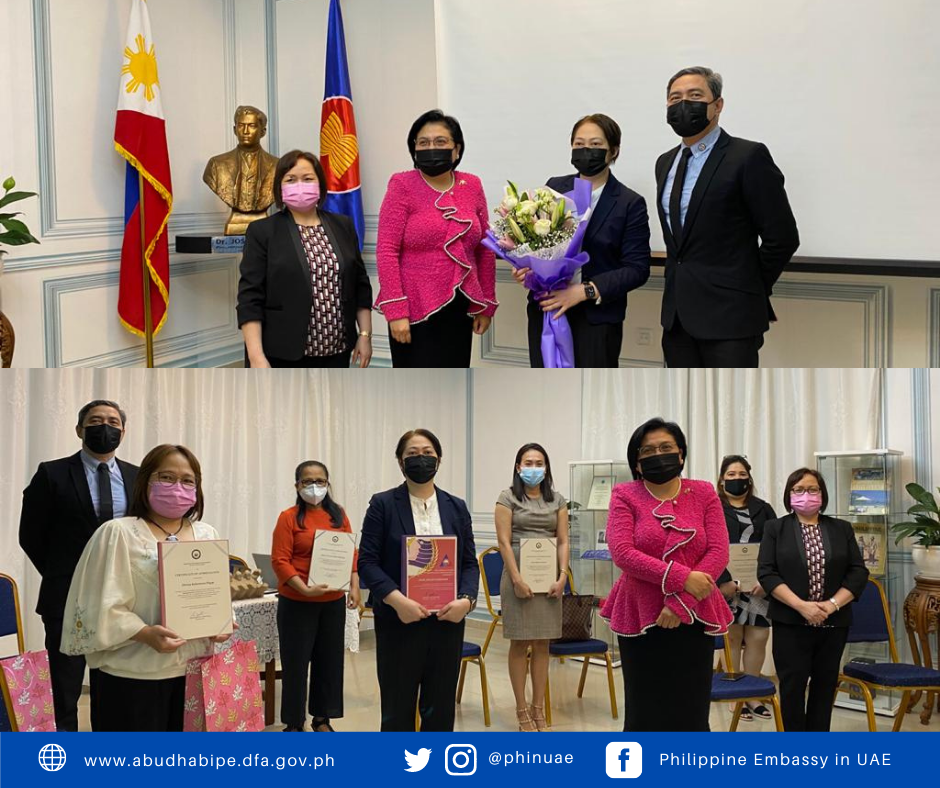 14 Dedicated Filipino Nurses in UAE Recognized by POLO, OWWA
The "Marilag (Tagalog for beautiful, splendid and magnificent) Awards" is an annual prestigious recognition given out since 2019 by the DoLE and OWWA "to returning Filipina migrant workers with extraordinary work, sacrifices, dedication and advocacy to the community they belong," the Gulf Today reported.
On Saturday, Labour Attache Felicitas Bay shared that the 2021 edition under the theme "Juana, Laban sa Pandemya, Kaya!" ("Jane, Determined Against the Pandemic!") was harking to these women "who have contributed significantly and made an impact during the time of the pandemic."
The labour attache also said that the guidelines for the selection process and the nominations were made by the nurses themselves through the FNAE-UAE Chapters are the crucial role combined with significant changes they had introduced, engagement in various activities that inspire individuals, and have become "agents of change during the pandemic."
A simple ceremony held at the Sentro Rizal witnessed the conferment of the 'Marilag Award' to nurse Joan Asejo Florendo, who shared her insights and experiences that she encountered during the height of the pandemic in the UAE.
For his part, Consul General for Dubai and the Northern Emirates Paul Raymund Cortes on Saturday said: "The six finalists were recognised for their dedication and commitment to their profession and to humanity as it grapples through the worst of our history. That they have risen beyond the challenges and constraints of the pandemic reflects the best of women, the best of professional nurses, and the best of humanity. They are exemplars of what a true human being must be."
The OWWA 'Marilag Awards' celebrate the contributions of Filipina OFWs who have created an impact within their respective communities and highlight how they engaged in various activities to empower others, most especially during the time of the pandemic.
During the awarding ceremony, the efforts of seven more individuals: Ms. Ma. Victoria Domingo, Ms. Divina Digap, Ms. Maricel Villanueva, Ms. Mary Grace Companero, Ms. Felyn Espina, Ms. Amna Beloria, and Ms. Lorraine Alvarez who were nominated by the Filipino Nurses Association in the UAE (FNAE) represented by Nurse Joel Hualde, were also recognized.
READ NEXT: Sheikh Mohamed Lauds Cop for Timely Help to Motorist