In a recent video shared on his official Instagram Page, His Highness Sheikh Hamdan bin Mohammed bin Rashid Al Maktoum, Crown Prince of Dubai and Chairman of The Executive Council of Dubai recently posted a video of himself on top of Ain Dubai, the world's largest Ferris Wheel.
In the video, the prince can be seen sipping coffee in a mug while on the roof of one of the cabins of Ain Dubai. The video was simply captioned with the hashtags #AinDubai and #Dubai.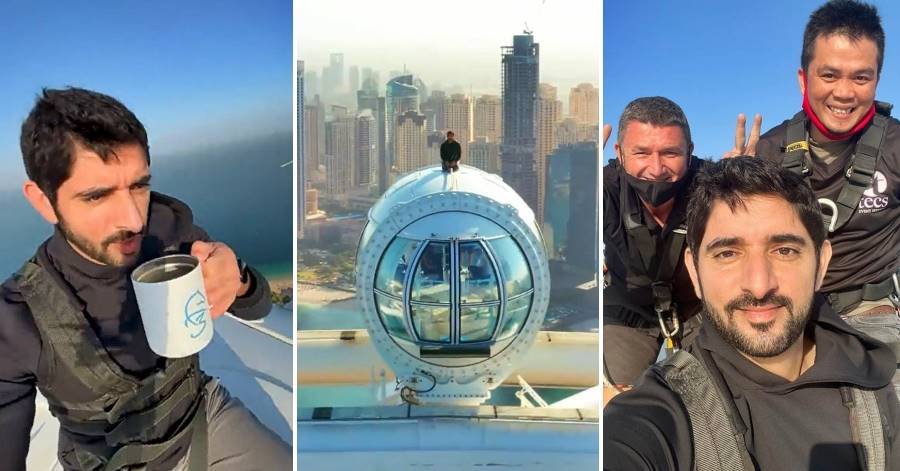 Check out this video of the Crown Prince of Dubai below:
#aindubai 🎡 #Dubai pic.twitter.com/gslt7CHGHB

— Hamdan bin Mohammed (@HamdanMohammed) October 21, 2021
The video initially shows the Crown Prince drinking coffee from his mug, but then the shot immediately zooms out and reveals that he is sitting (with a harness) on the center of the roof of one of the cabins of the Ferris Wheel. It's such a clip to behold which might leave you breathless given the height and immensity of the stunt. This reminds us of an Emirates advertising stunt a month back.
Before posting the video that has since gone viral, he shared a teaser photo of him without giving away too many details. Here's the picture below: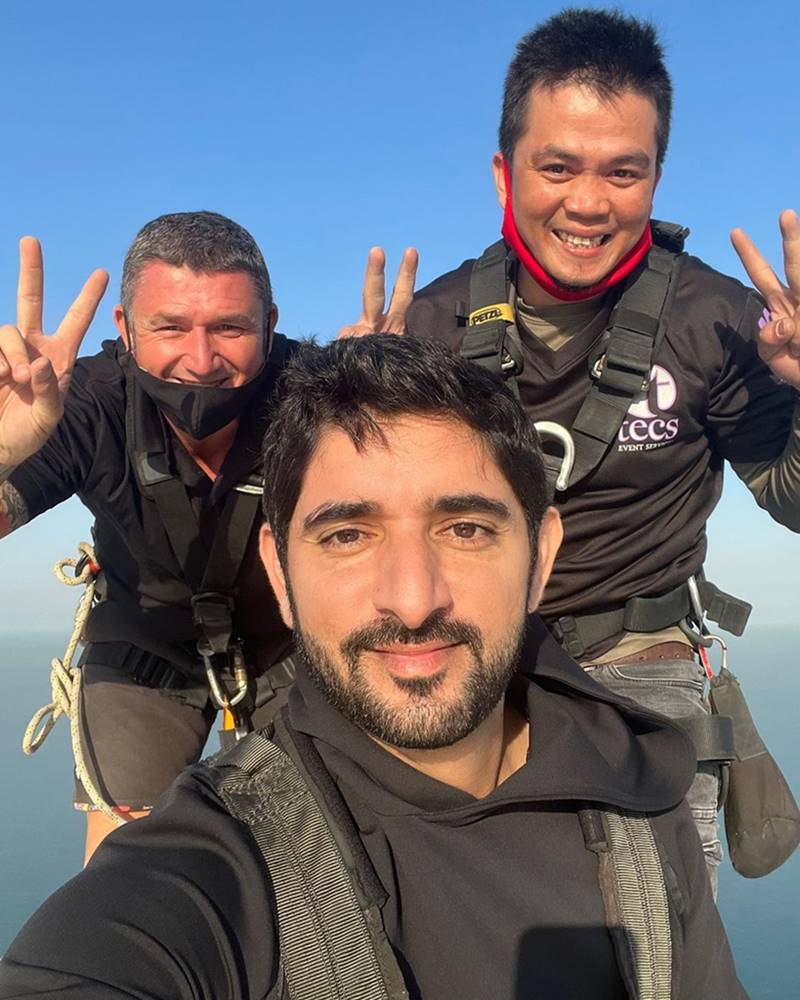 Ain Dubai, the world's biggest Ferris Wheel is now open.
Ain Dubai is the latest addition to the extensive Dubai Holding entertainment portfolio and plays a strategic role in supporting Dubai's long-term vision as set by His Highness Sheikh Mohammed bin Rashid Al Maktoum, Vice President, Prime Minister and Ruler of Dubai, to strengthen its global position as a key tourism hub, continuing to build on the emirate's reputation as a leader in the global leisure and entertainment landscape.
From sundowners, dining in the sky and exclusive celebration packages to bespoke corporate and event offerings, Ain Dubai brings 19 truly unique and customisable experiences, all against the backdrop of Dubai's dazzling skyline for breathtaking land and seascapes. Open both day and night, Ain Dubai visitors will experience two very different sides of Dubai from stunning Bluewaters views to a host of night-time entertainment. Gaze at the sunset's golden rays glittering across the skyscrapers or watch Dubai's spectacular LED lights switch on as darkness falls.
Offering unique views of Dubai's iconic landmarks from indoor, air-conditioned cabins and a huge range of entertainment to keep visitors coming back for more, the experiences are split into three main categories: Observation Cabins, Social Cabins and Private Cabins, with experiences starting with one rotation of approximately 38 minutes, up to two rotations of approximately 76 minutes.
The Observation Cabins provide the perfect platform for those never-seen-before Instagrammable 360-degree views of Dubai as guests climb steadily through the sky on the world's tallest observation wheel to create a magical photobook memory of one of the world's most iconic cities and all its incredible landmarks.