Great news! The long wait is over as the world's tallest observation wheel, Ain Dubai, will open its doors to guests starting October 21 – but tickets go on sale today, August 25.
Not a fan of heights? That's okay, you might start to overcome this fear once you see the breathtaking sights 250 meters above the ground. That's twice the height of the London Eye – a new record in the world.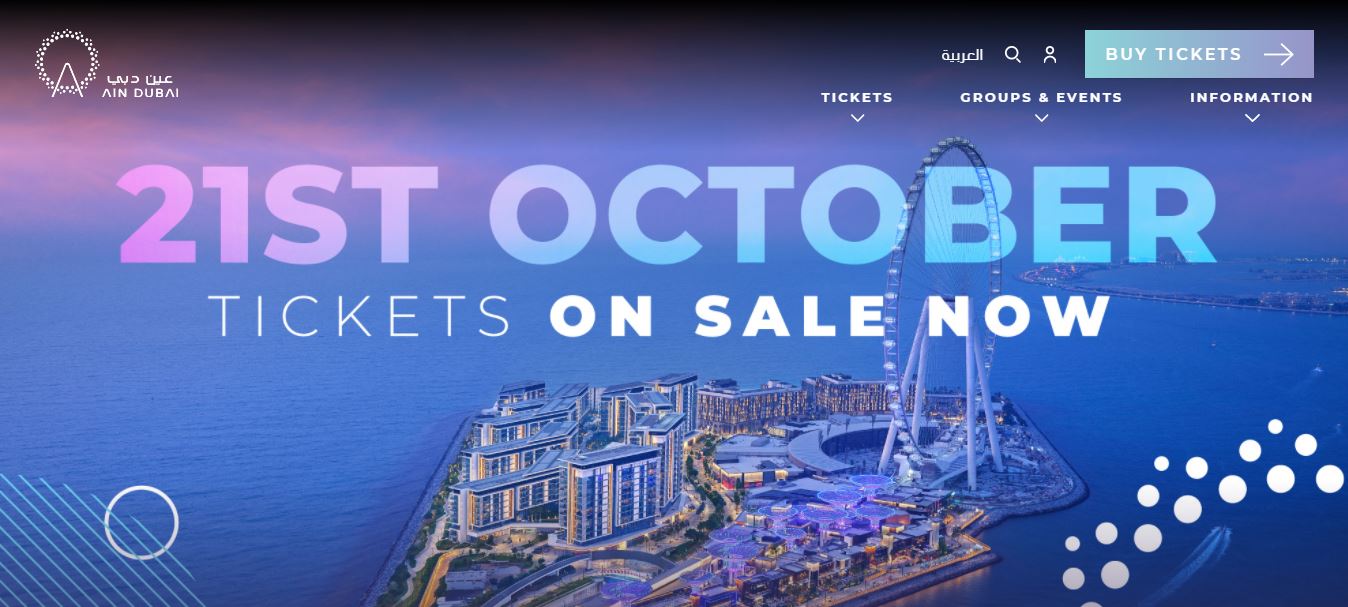 Book Your Tickets Now To Ride The World's Tallest Observation Wheel In Al Ain Starting October 21
Each leg of the wheel is 126m high, tall enough to fit 15 London buses. The newest towering attraction is located on Bluewaters Island. Tickets are priced at 130 AED.
The observation wheel's assembled hub and spindle weigh just like four A380 aircraft, with each glass-enclosed capsule rising up to 820 feet in the air, offering a 360-degree panoramic view of the Dubai skyline.
The new Dubai sensation will eclipse Las Vegas' High Roller standing at 167 meters and the soon-to-rise New York Wheel at 190 meters in Staten Island.
If you're wondering what you can expect when you ride the observation wheel, here's what the Visit Dubai website mentioned: "There are three different pod experiences on offer, starting from AED130: observation cabins, social cabins, and private cabins. Visitors can enjoy the 38-minute journey, unbeatable views, and photo opportunities in the observation cabins, with family-friendly options available."
A total of 1,750 visitors can get on the air-conditioned passenger cabins to enjoy Dubai's most breathtaking sceneries in one revolution.
To know more about the new tourist attraction in Dubai, you may visit their website at https://www.aindubai.com/en/ and order your tickets now.
READ NEXT: Check out these 10 Newest Attractions in Dubai this 2021
—————–
We first wrote about Ain Dubai (Eye of Dubai) a few years ago, in 2017. Back then, construction had just passed the halfway mark, but it was clear that the attraction was set to become the largest Ferris wheel in the world! Measuring 210 metres high, Ain Dubai is taller than the 167-metre High Roller, which opened in Las Vegas in March 2014 and holds the current world record. Ain Dubai also stands higher than the New York Wheel, which measures 190.5 metres tall and is planned for Staten Island, New York.
Ain Dubai is the centrepiece of Bluewaters Island, a popular lifestyle destination in Dubai featuring premium residences, retail shops, dining concepts, and entertainment options. The Ferris wheel itself is surrounded by restaurants, malls, and a souk, making it an exciting destination for the millions of residents, tourists, and visitors that come to Dubai.
Ain Dubai will be the Biggest in the World
Ain Dubai is brought to us by Meraas, a private company headquartered in Dubai that is into real estate, retail, tourism, entertainment, hospitality, and healthcare options. Among its popular real estate projects are Bluewaters Island, City Walk, La Mer, and Dubai Harbour. Meanwhile, the company's retail division has outlets at Al Seef, Boxpark, Last Exit, The Outlet Village, and many other places.
Construction of the Dubai Eye was supposed to have started in June 2013 and finished by 2015, with an estimated cost of USD 1.6 billion for the whole Bluewaters Island project. Notably, Hyundai Engineering & Construction and Starneth Engineering had been appointed as the main design and construction contractors for the structure.
Due to unforeseen delays, however, the making of Ain Dubai started almost two years behind schedule. Construction began in May 2015, with mid-2019 as the target completion schedule. Still, further delays postponed the opening to October 20, 2020, which is the same date as the opening of the much-awaited Expo 2020 Dubai.
But then the coronavirus pandemic happened. Expo 2020 Dubai is now set to take place in October 2021, so we can expect Ain Dubai to be opened at around the same time as well. Interestingly, the first passenger capsule was installed on the Ferris wheel on August 21, 2020, while the remaining 47 passenger pods had been scheduled for gradual installation.
Despite all the delays, one thing is clear… building the Dubai Eye is no easy feat, with no less than two of the world's biggest cranes doing the heavy lifting. Each crane has a 180-meter long boom, which can lift materials weighing as much as 3,000 tonnes. That's almost equal to 11 Airbus A380 planes!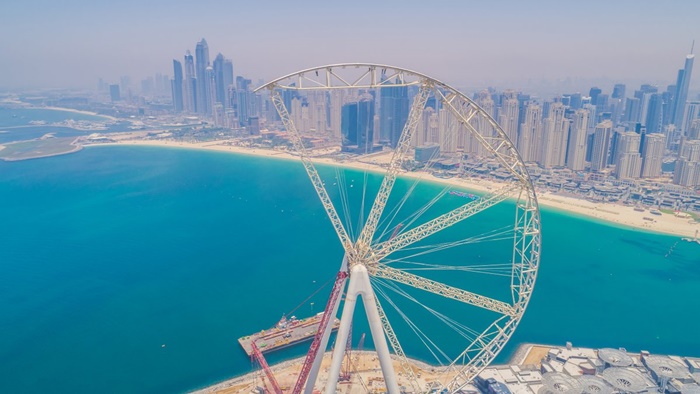 Amazing Facts about the Dubai Eye
Aside from becoming the biggest Ferris wheel in the world, the Dubai Eye will:
Have a full rotation of 48 minutes;
Feature 48 capsules that can carry up to 1,400 visitors at a time;
Be able to fit 15 London buses inside each leg;
Have wheel rim with a weight equal to 16 Airbus A380s;
Feature permanent spokes, each of which is longer than a football pitch;
Contain 25 percent more steel than the iron used to construct the Eiffel Tower;
Be called "Ain Dubai," from the Arabic letter "Ayn," which also means "eye;" and
Be the centerpiece of Bluewaters, a man-made island that will also include residences, restaurants, shops, and entertainment zones.
What's more, while riding Ain Dubai, visitors will be mesmerized by breathtaking views of the Dubai skyline. From the top, you will see the city's iconic landmarks, including Palm Jumeirah, Burj Al Arab, and the world's tallest tower, the Burj Khalifa. At the base of the Ferris wheel, there will be an exciting entertainment zone, plus a huge, 80-metre LED screen mounted on the wheel. The screen will serve as a platform for broadcasting shows, ads, and other information.
A Truly Spectacular Attraction
"Once completed, Ain Dubai will emerge as an engineering masterpiece, the first of its kind in the industry, and a truly spectacular, must-visit attraction," stated Omar Delawar, Meraas' Chief Projects Officer. "[It will be] adding a unique experience and vantage point to the list of things to do in Dubai."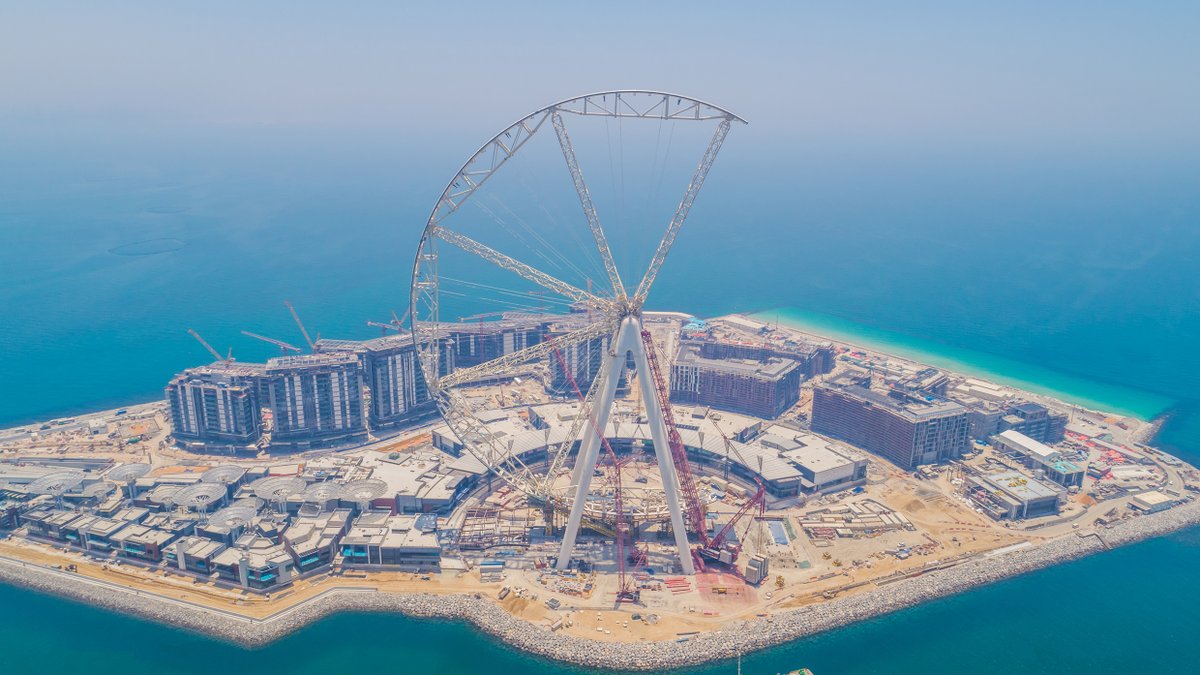 As the Dubai Eye nears its completion, we can look forward to riding the world's biggest Ferris wheel, right here in the UAE. That would be an exciting and spectacular experience, indeed!
Opening Hours
Ain Dubai is set to open daily, from 10:00 am until 9:30 pm. Let us all stay tuned for more information and updates about the grand opening! In the meantime, we can simply enjoy the view every evening, as the Ferris wheel lights up at night with amazing colours!
Contact Information – Ain Dubai
Address: Bluewaters Island, Dubai, UAE
Telephone: +971 4 371 3999
Website: http://www.bluewatersdubai.ae/
Google Map:
Video – Ain Dubai Construction
Check out this video featuring highlights of the construction of Ain Dubai. Without a doubt, building the gigantic Ferris wheel is not an easy feat, as shown in this video posted on fam Properties Dubai YouTube Channel:
At present, Ain Dubai is nearing completion, and will soon join the list of Dubai's tallest attractions. Of course, there's the magnificent Burj Khalifa, which reaches up to 555 metres high, as well as the shimmering Dubai Frame in Zabeel Park, standing at 150 metres high.
Pretty soon, we can expect new additions to the Dubai skyline as well. Among these are the Palm Tower, which reaches 210-metre high and includes an infinity pool; the Palm360, a 260-metre high tower on The Palm; and the upcoming Burj Jumeira, which will reach up to 550 metres!
Aside from having all these towering structures, Dubai, Abu Dhabi, and the rest of the 7 emirates are also known for breaking world records. So while we wait for the opening of the world's biggest Ferris wheel, let us get to know more about these Guinness World Records in the UAE. These include the world's largest flower arrangement/structure, the world's largest stencil, the world's largest standing lantern, the world's largest dancing fountain, the world's largest hand-woven carpet, and many other amazing feats!
Image Credits: @DXBMediaOffice on Twitter