2020 hit the whole world like a curveball – totally unexpected. Though the news would tell you that everything has gone wrong (and in some way, it has); there are, still, silver linings that people can look forward to as we approach life post-pandemic.
Despite the difficulties and tragedies brought about by the unexpected global outbreak, governments and visionaries, never let go of their ideas to make the world, still attractive – especially for those living in Dubai. In this guide, we list ten of the newest attractions to check out this year (with precautionary measures and all, of course!)

10 Newest Attractions Worth Checking Out in Dubai this 2021
If you're looking for new spots to bring the whole family to, then make sure to bookmark this page for reference. Dubai is one of the best places to bring your family on a trip, mainly because of its welcoming environment, world-class technology and accessible facilities. With over a year holed up in the house, there's plenty of good reasons to look beyond the four corners of the home and see what's hot and new in the thriving emirate.
1. Arena Games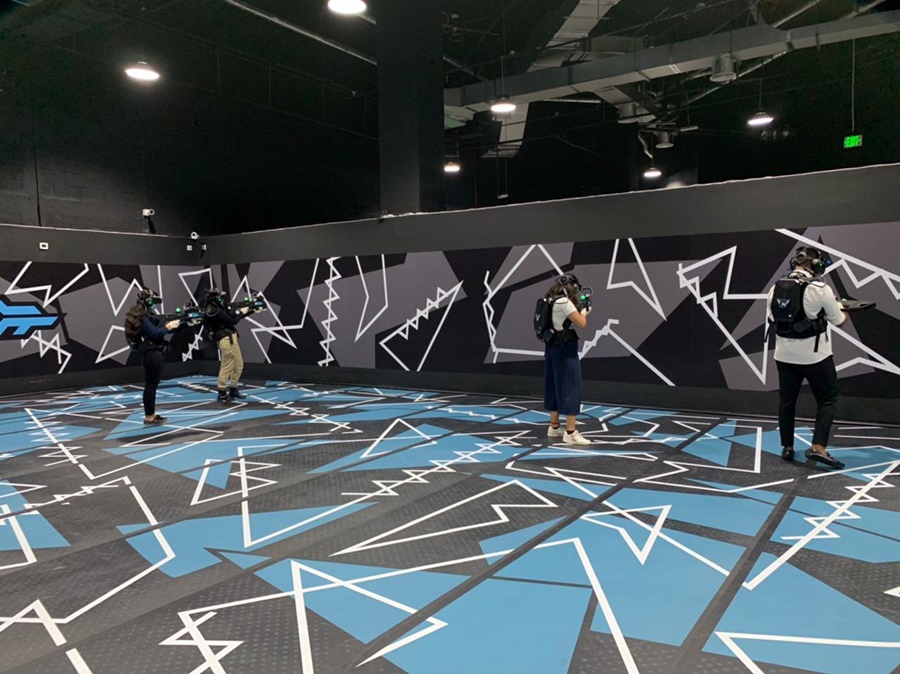 At this adrenaline-pumping gaming attraction on DIFC's Gate Avenue, virtual reality gaming takes on a whole new level. Arena Games reimagines multiplayer gaming by transporting players on mind-bending excursions over limitless realms in free-roaming and immersive VR games. In Engineerium, you can defend against zombie invasions or rogue killer robots in a secret military space station, or visit a fantastic fantasy realm.
According to one of their recent guests, Shikky Ann John: "If you ever wished to kill off zombies in the real world (almost).. this is the place !!
best premium experience guaranteed for gaming and VR lovers. They do have a wide variety of games to choose from. Even if you have zero experience gaming – still recommended. One of the top activities to do in Dubai this summer. Staff is super helpful too :D"
Fees: Prices start at 90 AED for arena games and other facilities available starting at 60 AED for booking in-venue
Opening Hours: SUNDAY – SATURDAY (12:30 PM – 10:00 PM); Times may change during holidays
Address: Gate Avenue, Zone D, Ground Level – DIFC – Dubai – United Arab Emirates
Tel No: +971 4 546 7748
Website: https://www.thearenagames.com/
Google Maps Location:
2. Bla Bla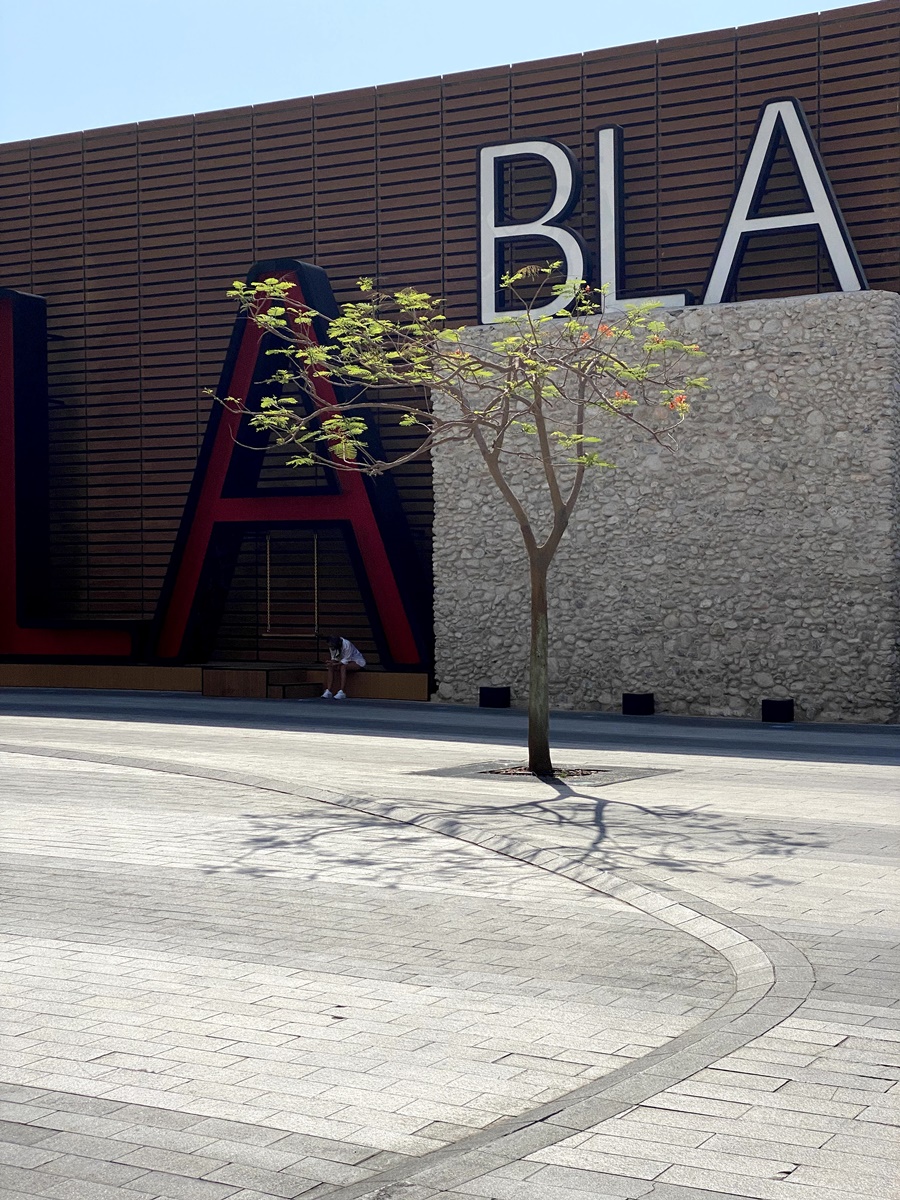 Dubai, with its brilliant blue waves and sparkling sunshine, can never have too many beach clubs. Everyone is talking about Bla Bla, an exciting new concept that blends ideal sunny lazing with foodie thrills, with no less than 20 lounges, three restaurants, and one beach club to enjoy. It's in Jumeirah Beach Residences, near Bluewaters Island, so you'll have views of both the sea and the famous Dubai Eye. We'll see you on the beach!
Here's a positive review from one of their satisfied guests, Tamara Sonje: "Great ambience and you can be there all day because they have a beach bar, pool and restaurant. The food is very tasty and everyone will find something for themselves as they have three types of cuisine. The staff is very friendly and our waiter Tom has a special greeting."
Fees: See their menu
Opening Hours:
BEACH CLUB: Every day 10am to sunset
BEACH BAR: Every day 10am to 2am
THE TENT & THE BACKROOM: Sun-Thurs: 6pm to 2am, Fri-Sat: 4pm to 2am
Address: 5101 Messer Street Beach by Meraas Mall – Jumeirah Beach Residence – Dubai – United Arab Emirates
Tel No: +971 58 606 3535
Website: https://blabladubai.ae/
Google Maps Location:
3. Foundry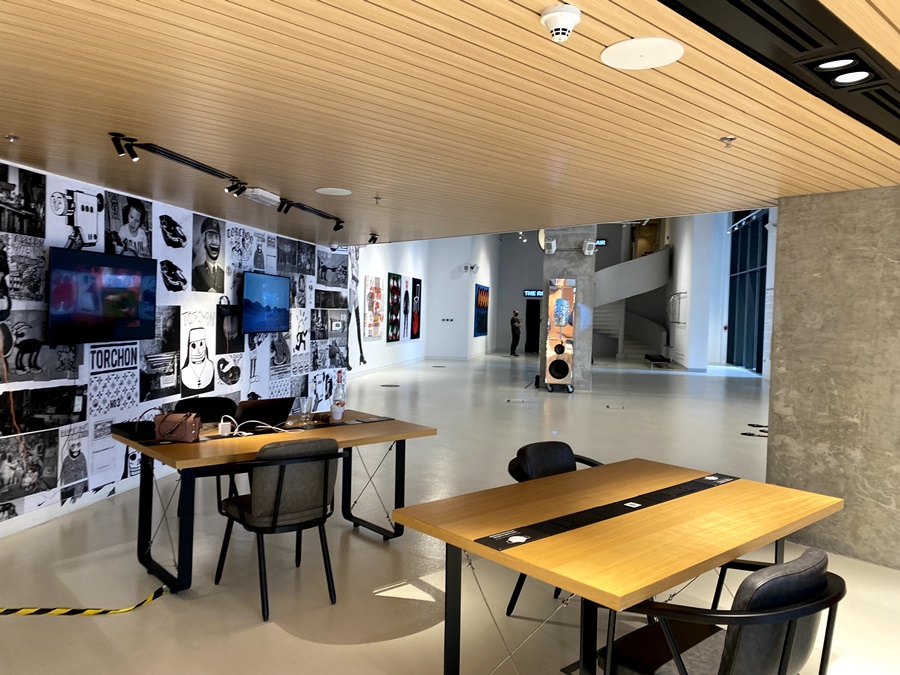 Downtown Dubai has made way for Foundry, an innovative hybrid venue. Part art gallery, part co-working space, it celebrates the city's burgeoning creative sector with sculptural works and murals by local artists, as well as a dedicated podcast area for audiophiles. While you can set up shop with your laptop and charger, there's plenty to do in the meantime thanks to the venue's weekly art tours, movie nights in collaboration with Cinema Akil, seminars, and community pop-ups.
One of their satisfied guests, Hydz R, shares her experience: "Another favorite Art gallery – place for art savvy. Happy place. They have a coffee shop and a very lovely working space. Always a great idea to work from here.
Art viewing is FREE!
Free Parking is at the basement ( park near 10, go by stairs and it's directly to Foundry)."
Fees: Free Entry
Opening Hours: Saturday – Sunday (10 AM to 10 PM)
Address: Boulevard Crescent – Sheikh Mohammed bin Rashid Blvd – Downtown Dubai – Dubai – United Arab Emirates
Tel No: +971 43 673 696
Website: https://foundry.downtowndubai.ae/
Google Maps Location:
4. Hatta Dome Park (Wadi Hatta Park)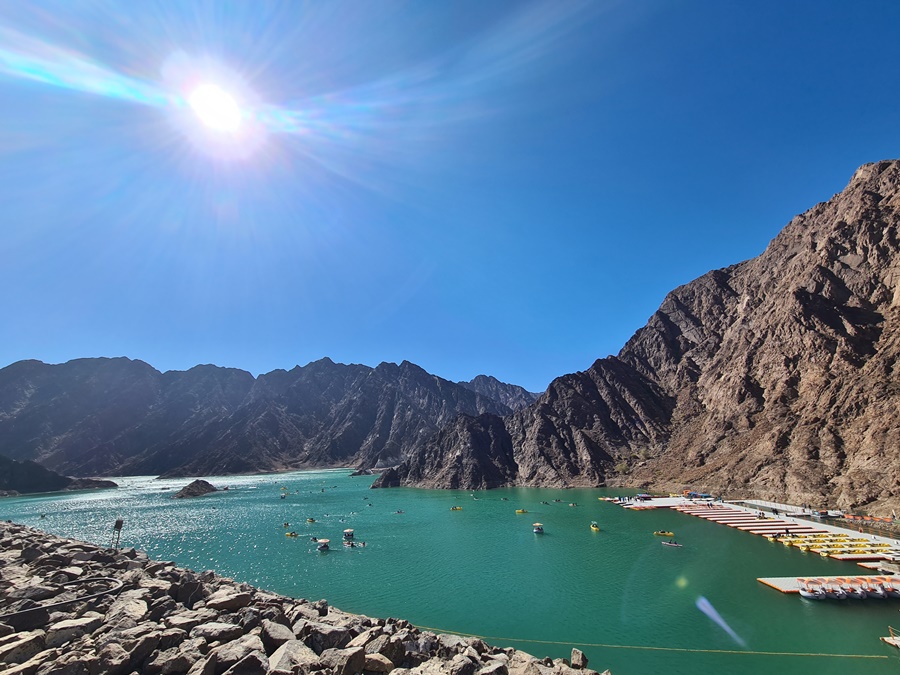 At Hatta Dome Park, a glamping experience developed with elegant minimalism in mind, settle in for a night beneath the stars. The park's 15 tents have panoramic windows, a private outdoor terrace, and many of the facilities found in a hotel.
According to Heshan Gunawardhana, one of the park's happy vistors: "One of nicest location in Hatta, where you can go with your family to have some fresh air. Recommended to go in weekdays. Weekend might be too crowded the park.
Note: Follow the rules and guidelines of the park and adhere to the covid-19 safety measures."
Fees: Free Entry
Address: Wadi Hatta park – Dubai – United Arab Emirates
Tel No: +971 48 522 200
Google Maps Location:
5. Palm West Beach
Sunbathers and seagoers can find enough to do on the Palm Jumeirah's Palm West Beach. Prepare to have a good time with your friends and family – and your pets! – with all-day beachside entertainment, water sports, and the best Dubai skyline views on the 1.6km of promenade and beachfront. Get your daily dose of fitness by walking or running the walking and running trail, or create sandcastles against the backdrop of picture-perfect sunsets. Water sports enthusiasts will enjoy kayaking, VR diving, stand-up paddle boarding, electric hydrofoil surfing, sea bikes, catamarans, and other activities.
Here's what J Dre thinks about their visit: "An amazingly beautiful boardwalk with gorgeous scenery. The vibe is chill, even with the start of summer season there was a welcomed breeze coming off the water. You can see the Dubai Wheel in the background (not opened yet). It would be a nice walk to the other side and pedestrian bridge over. Plenty of beach area to explore and find your perfect space. Tons of restaurants to enjoy, although most are connected to hotels. The hotels are often gated since many aren't Oceanside but separated by the boardwalk. Don't be afraid to walk up and enter the small gates. We opted for the Frevo the Brazilian at the Fairmont but could have easily went for Miss India, also at the Fairmont, which kept a crowd. Plenty of photo opportunities up and down the beach. Enjoy!"
Fees: Free Entry
Opening Hours: Saturday – Sunday (10 AM – 12 AM)
Address: West Palm Beach – The Palm Jumeirah – Dubai – United Arab Emirates
Tel No: +971 48 522 200
Website: https://www.westbeach.ae
Google Maps Location:
6. The Palm Fountain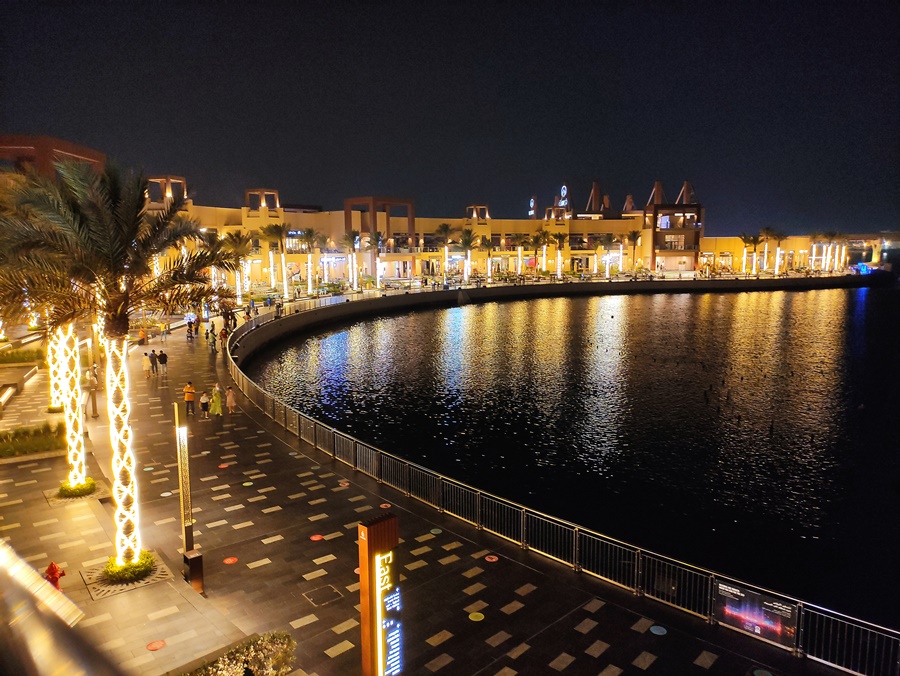 The Palm Fountain at The Pointe sways to the beat of the music. The Palm Fountain, which covers an area of 14,000 square feet, is also Dubai's only multicolored fountain. More than 3,000 LED lights create a dynamic visual extravaganza in which colorful water jets fly 105m into the air and dance to popular Khaleeji, pop, classic, and worldwide music. The Palm Fountain comes to life every day, with shows every 30 minutes from sunset to midnight. For the greatest views, arrive early to spend the day at The Pointe or have supper at one of the venue's waterside restaurants.
According to one guest, Shamna K Moidutty, "Nice ambience and worthy to spend some peaceful time. Fountain show nice and different from Dubai Mall.
There is no entry fee, but for car parking 20 AED for first hour and then 10 AED each for each extra hour."
Fees: Free Entry
Opening Hours: Saturday – Sunday (6 PM – 12 AM); timings may differ during holidays
Address: Frond H – The Palm Jumeirah – Dubai – United Arab Emirates
Tel No: +971 800 625 4335
Website: https://www.thepointe.ae/
Google Maps Location:
7. The View at The Palm
The View at The Palm offers unparalleled vistas of one of Dubai's most talked-about attractions. The observation deck, which is 240 meters high, offers never-before-seen 360-degree views over Palm Jumeirah, the Arabian Gulf, and the Dubai skyline in the distance. The View at The Palm is located on level 52 of The Palm Tower, which also has a café, a creative display highlighting the island's evolution, interactive aquarium-themed tunnels, and a gift store.
Here's what Amin Reimoo thinks about the place: "In my opinion one of the best view of the palm. It is beautiful and definitely must visit. I would highly recommend the place especially during sunset. From beginning to the end it is a fantastic experience.
Just one suggestion to people visiting during the day. Please bring your sunglasses"
Fees: Book a ticket at 89.09 AED
Opening Hours: Sunday – Saturday (10 AM to 12 AM); timings may vary during holidays
Address: The Palm Jumeirah – Dubai – United Arab Emirates
Tel No: +9718008438439
Website: https://www.theviewpalm.ae/
Google Maps Location:
8. Theatre of Digital Art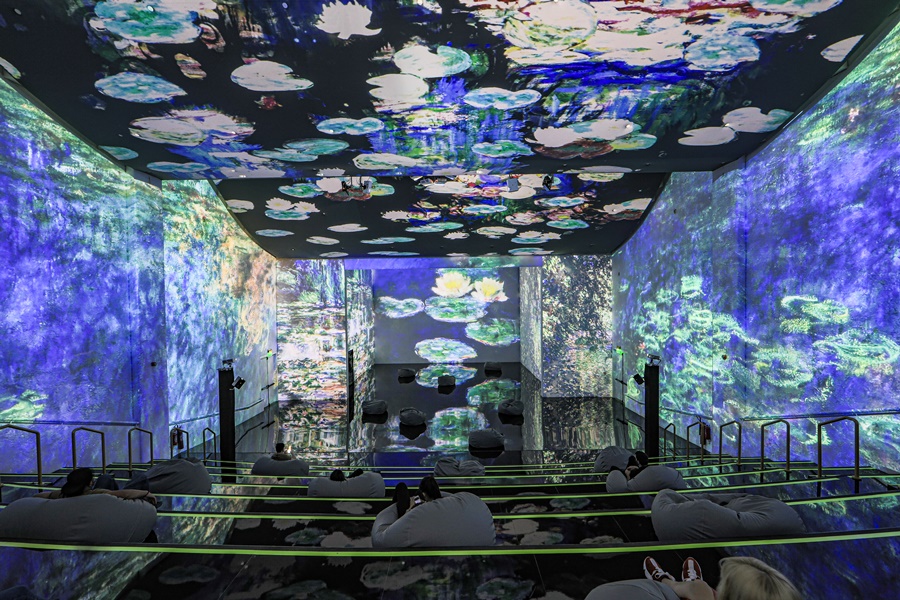 With advanced technology and engaging storytelling, the Theatre of Digital Art at Madinat Jumeirah gives famous artwork a modern touch. It blends three digital art genres, including multimedia exhibitions, modern immersive installations, and virtual reality art, and spans 1,800 square meters, exhibiting digital shows of classical art accompanied by music, visual effects, and surround sound. The inaugural exhibition includes works by nine well-known artists, including Claude Monet, Vincent Van Gogh, Paul Cézanne, Wassily Kandinsky, and others.
Here's what Veena V thinks of this place: "Had a good experience.. watched Being Van Gogh.. Theatre had a good ambience and comfortable seating with bean bags.. and the show was also splendid… the narrative was a big dragging but overall had a good time here…"
Fees: Book a ticket for 2 hours at 89.06 AED
Opening Hours: Sunday – Saturday (12 AM to 11 PM); timings may vary during holidays
Address: Souk Madinat Jumeirah Dubai – United Arab Emirates
Tel No: +97142774044
Website: http://www.toda.ae/
Google Maps Location:
9. Time Out Market Dubai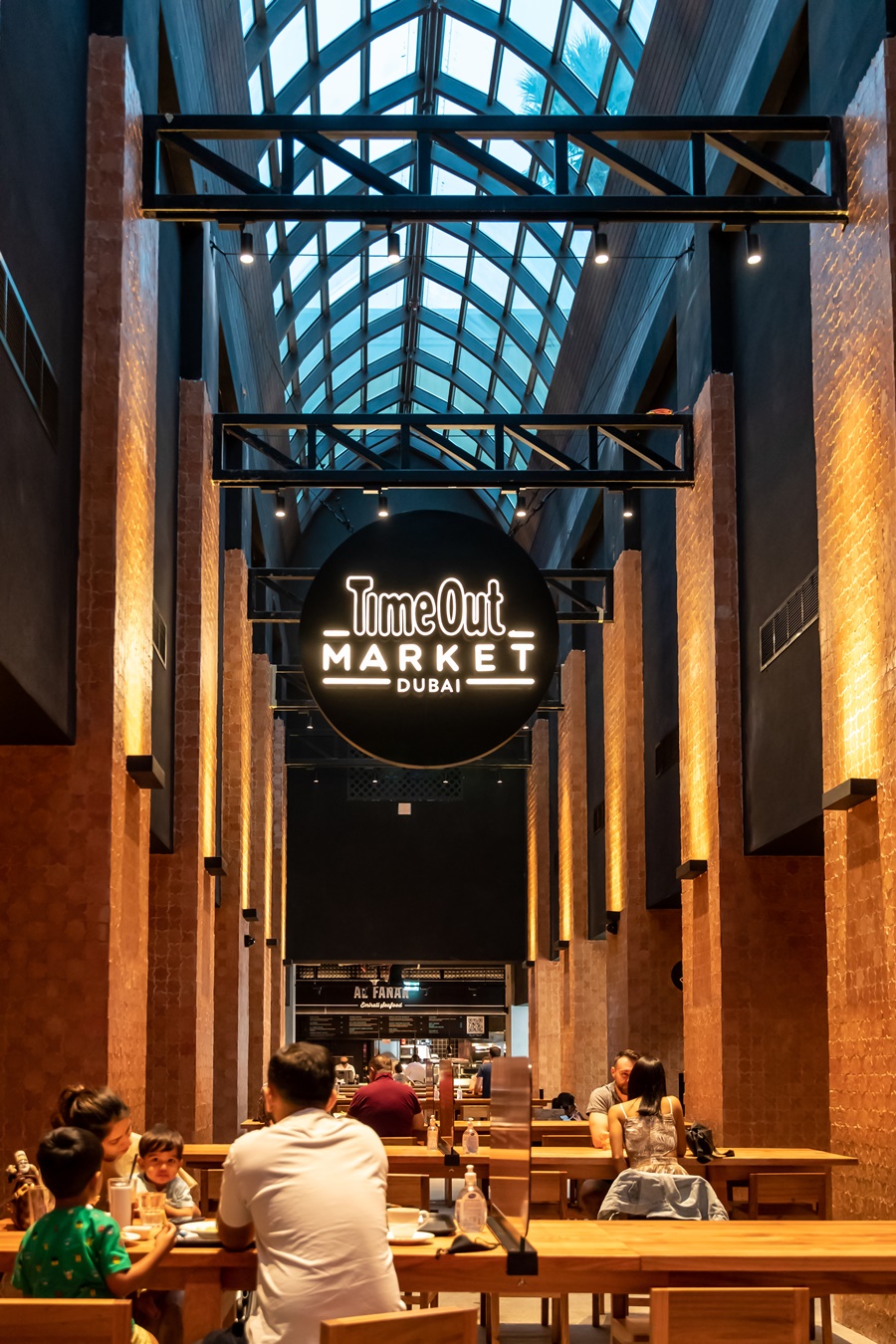 Time Out Market, a dining destination unlike any other, has brought its tempting food hall concept to our shores. The Market's wraparound outdoor terrace, which takes pride of place at Souk Al Bahar, offers amazing views of the Burj Khalifa and The Dubai Fountain, while inside it's teeming with local cooks serving up distinctive delicacies. Because it's all meticulously handpicked by Time Out Dubai editors who know the city inside and out, you can expect only the greatest flavors here. The menu includes 17-star local eateries, three lounge experiences, and four new ideas available just at the Market.
According to one of their recent guests, Andy T, "What a gem right in the middle of downtown! Nicely tucked away within the souk area of Dubai Mall is Time Out Market, which has locations around the world. I haven't had a chance to try all the food yet, but of the 4-5 places that I have been to, I have been super impressed! Local restaurants are represented here and prices are marginally more expensive given the prime location. Make sure you get here early to get a table! Note that there is a dry area and an area where you can have alcoholic drinks. Apart from having a few interesting beers on tap, their mock tails are also decent! Will be back. Cheers! 🍻"
Opening Hours:
Monday: 12pm to 12am
Tuesday: 12pm to 12am
Wednesday: 12pm to 12am
Thursday: 12pm to 1am
Friday: 12pm to 1am
Saturday: 12pm to 12am
Sunday: 12pm to 12am
*Concessioners close 30-min before the Market closing time.
Address: Downtown, Souk Al Bahar – Downtown Dubai – Dubai – United Arab Emirates
Website: http://www.timeoutmarket.com/dubai
Google Maps Location:
10. Topgolf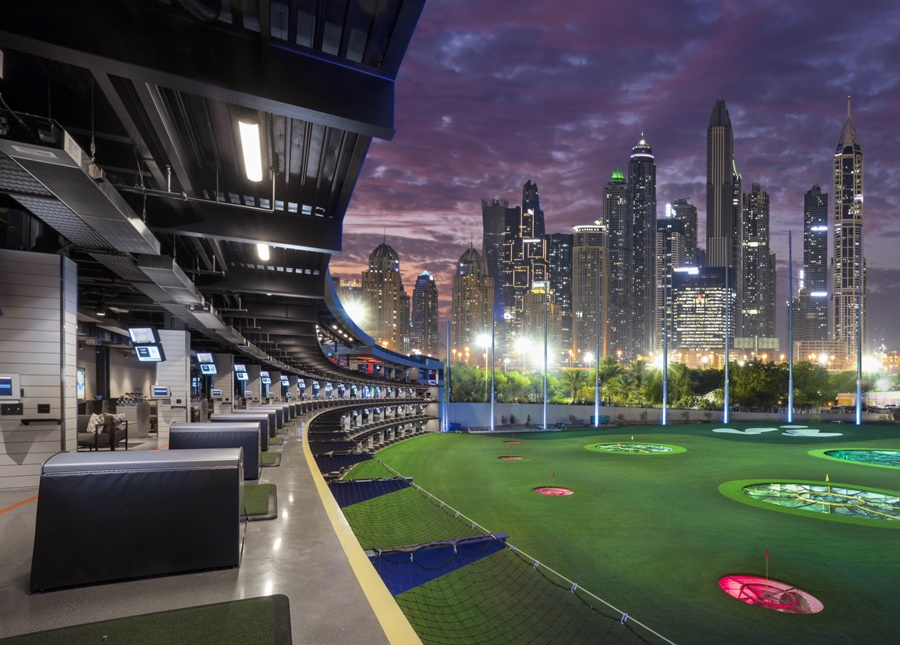 Topgolf, which has locations in the United States, the United Kingdom, and Australia, places its latest flag on the map of Dubai with a three-story entertainment zone at Emirates Golf Club. You don't have to be a golfing enthusiast to enjoy this mega-fun complex, which has 90 temperature-controlled hitting bays, three casual eateries, wide-screen televisions, and even some retail shops to keep the whole family entertained. You can select games based on your skill level, so whether you're a future golf champion or just getting started, you'll find a challenge that suits you.
One of their satisfied guests, Ajo Matthew shared: "Went here as a newbie to Golf, but returned back with some basic knowledge. Eager to do it again. The staff here are very friendly. The food served here is of top quality as well. If you're looking for some good quality time with family and friends, I'd recommend this place."
Fees: Bays are rented by the hour (per bay, not per person), and 1-6 people can play the game in a bay. Check out their latest price list here.
You can hit unlimited golf balls during your rental.
Opening Hours:
Sunday – Thursday (10 AM to 1 AM)
Friday (9 AM – 1 AM)
Saturday (9 AM – 2 AM)
*Timings might differ during holidays
Address: Golf Club – Dubai – United Arab Emirates
Website: http://www.timeoutmarket.com/dubai
Google Maps Location:
There you have it! Suppose you're one of the many residents who've had a long while before going out in the UAE. In that case, with this guide on hand, we hope you can take the chance to have high-level family entertainment in the emirate (while still keeping safe always, of course).
READ NEXT: Top Family-Friendly Attractions in Dubai