If you're lookin' for a hip-and-happenin' place to chill after work, while enjoying good eats, cool drinks, and great music, head to NARA Pan Asian Restaurant at Jumeirah Lake Towers in Dubai.
Featuring Chinese, Japanese, Thai, and other Asian cuisines, NARA Pan Asian Restaurant serves popular dishes like Thai Green Curry, Kung Pao Chicken, Mongolian Beef, Baked Asian Salmon, and much, much more. It also offers a wide selection of non-alcoholic and alcoholic beverages, making every moment at the restaurant a "Happy Hour" indeed!
WEDNESDAY HUMP BRUNCH OFFER: NARA Pan Asian is offering a Wednesday Brunch with UNLIMITED starters and UNLIMITED Drinks. Their "Hump Brunch" takes place every Wednesday evening from 8pm to 10pm for AED 280, and if you have The Entertainer App, you can also use the 2 for 1 offer.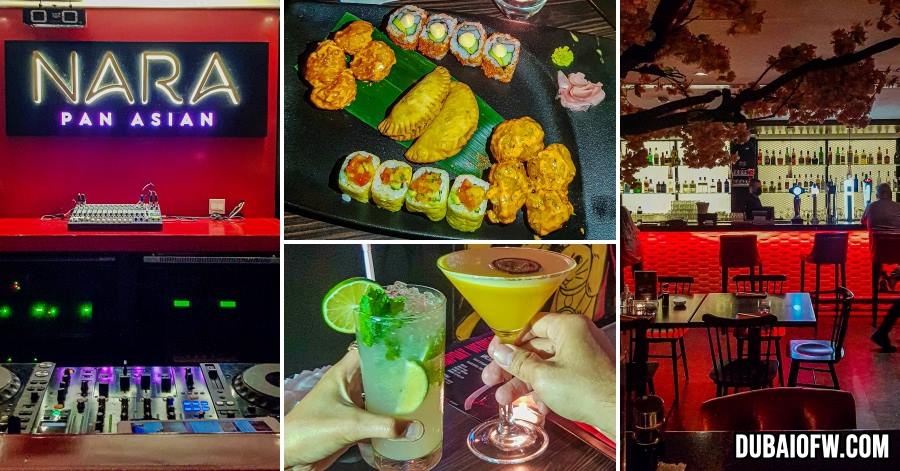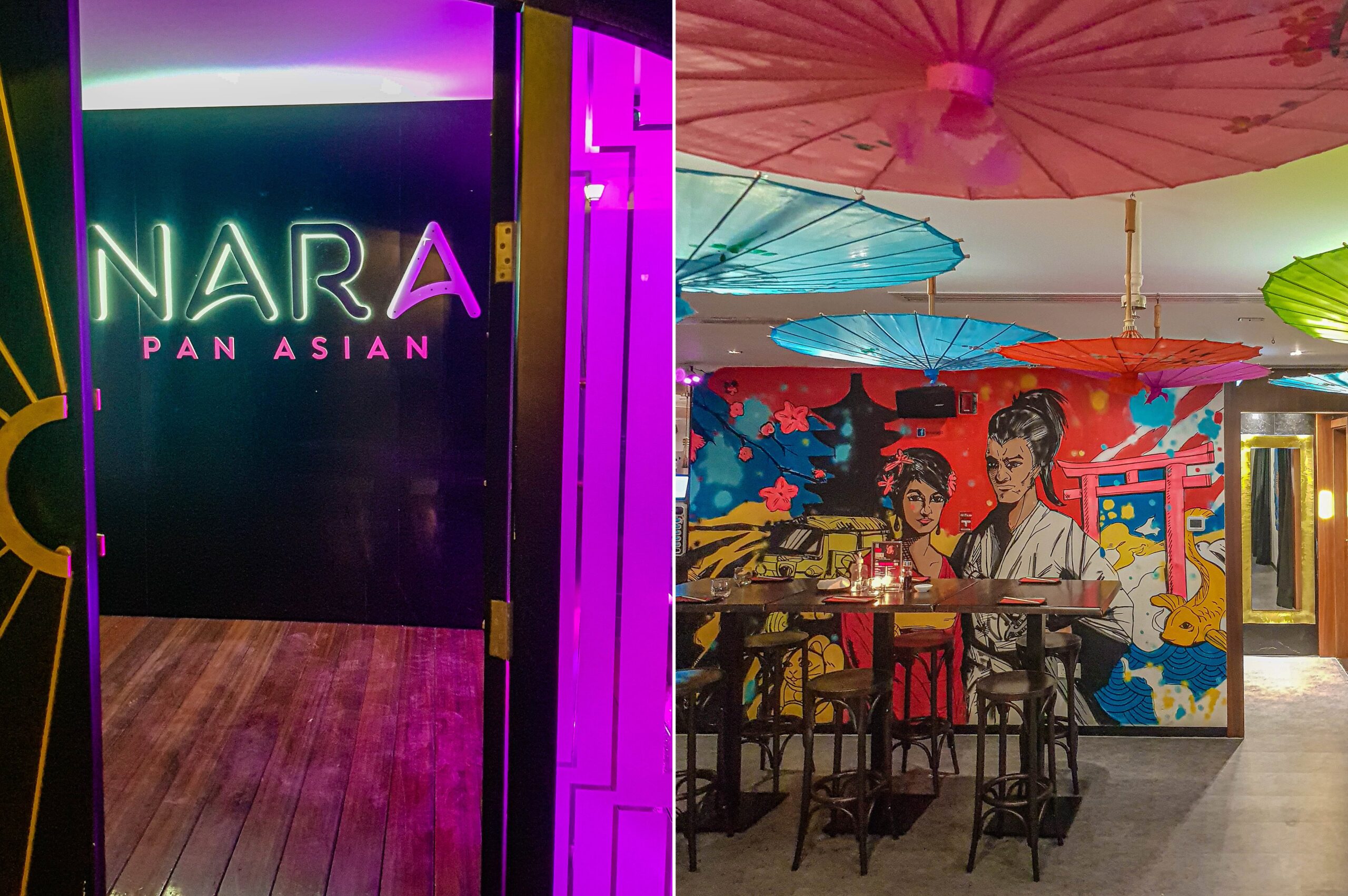 NARA in JLT
Wednesday Nights are Hump Brunch Nights at NARA Pan Asian Restaurant in Jumeirah Lakes Towers
Located at Jumeirah Lake Towers, NARA Pan Asian Restaurant is open daily for lunch, dinner, brunch, and drinks. There's a large bar and lounge seating, making it the perfect place to hang out after work or during the weekends. Now, let's take a look at the menu!
The restaurant serves a wide array of Asian flavours, including Spring Rolls, Dynamite Broccoli, Seafood Tempura, Chicken Satay, and other appetizers. Sushi lovers can choose from tasty California Rolls, Salmon Rolls, and Spicy Tuna, while Dim Sum favourites include Schezwan Chicken, Veg Gyoza, Edamame and Truffle, and Prawn Har Gao.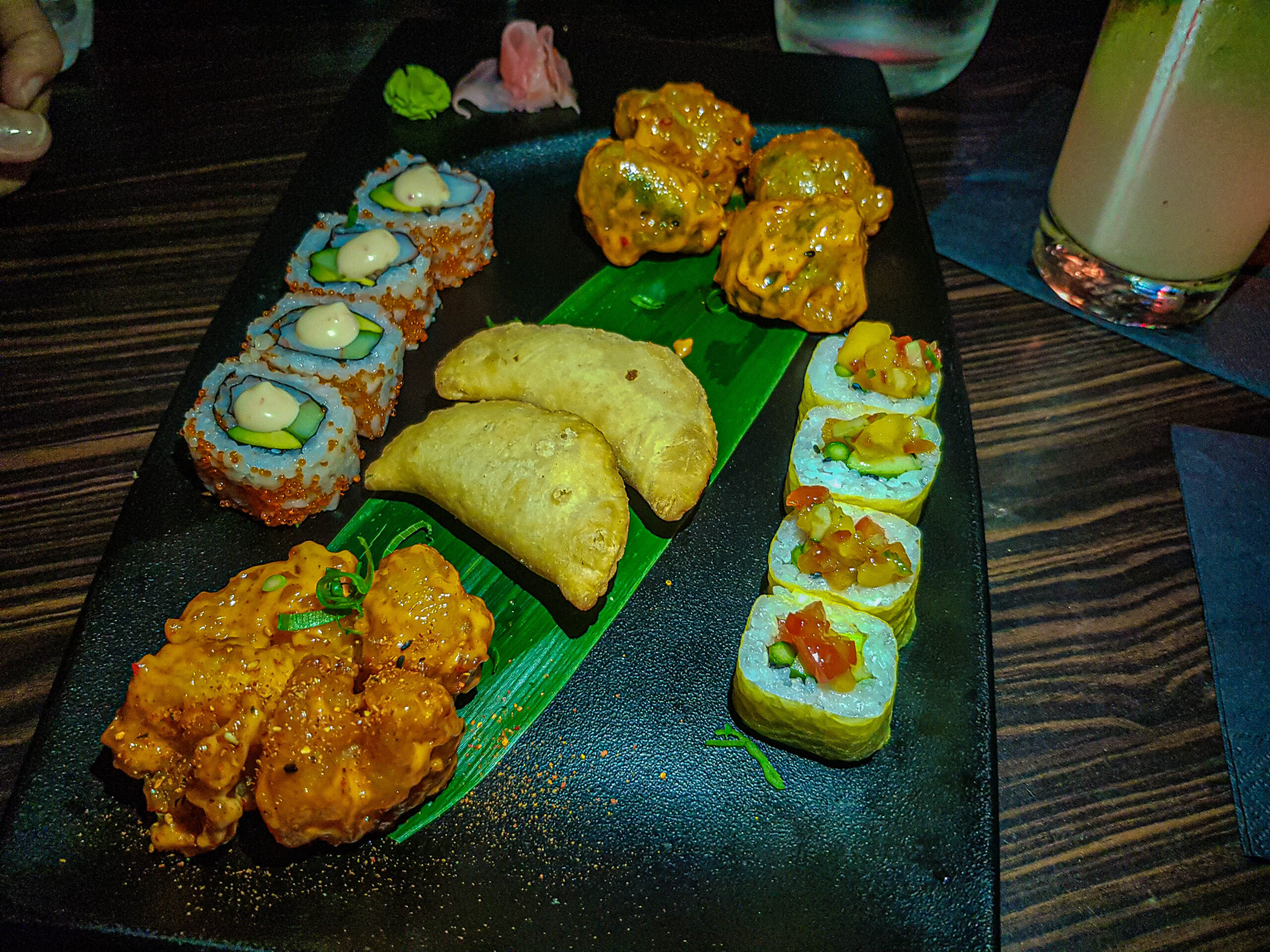 sharing platter during their Wednesday brunch
appetizing food and drinks
Likewise, salad buffs would be delighted to see healthy options, such as Pomelo Salad, Thai Papaya Salad, Thai Beef Salad, and Grilled Chicken Salad on the menu. Wok Noodles, Pad Thai, Nasi Goreng, Fried Rice, and Steamed Jasmine Rice are also available.
As for the main dishes, NARA Pan Asian's bestsellers include Thai Green/Red Curry, Mapo Tofu, Crispy Chilly Chicken, Kung Pao Chicken, Vietnamese Fish, Massaman Beef Curry, and Baked Asian Salmon… all tasty and infused with Asian flavours, of course!
For dessert, the menu offers a variety of sweet treats: Creme Brulee, Ice Cream, Mango Sticky Rice, and NARA Chocolate Gateau. Drinks include coffee, tea, fresh juices, and sodas. There's also an impressive selection of beer, wine, vodka, and other alcoholic drinks. During Happy Hour, cocktails like Mexican Sunset and Long Island Ice Tea are a huge hit!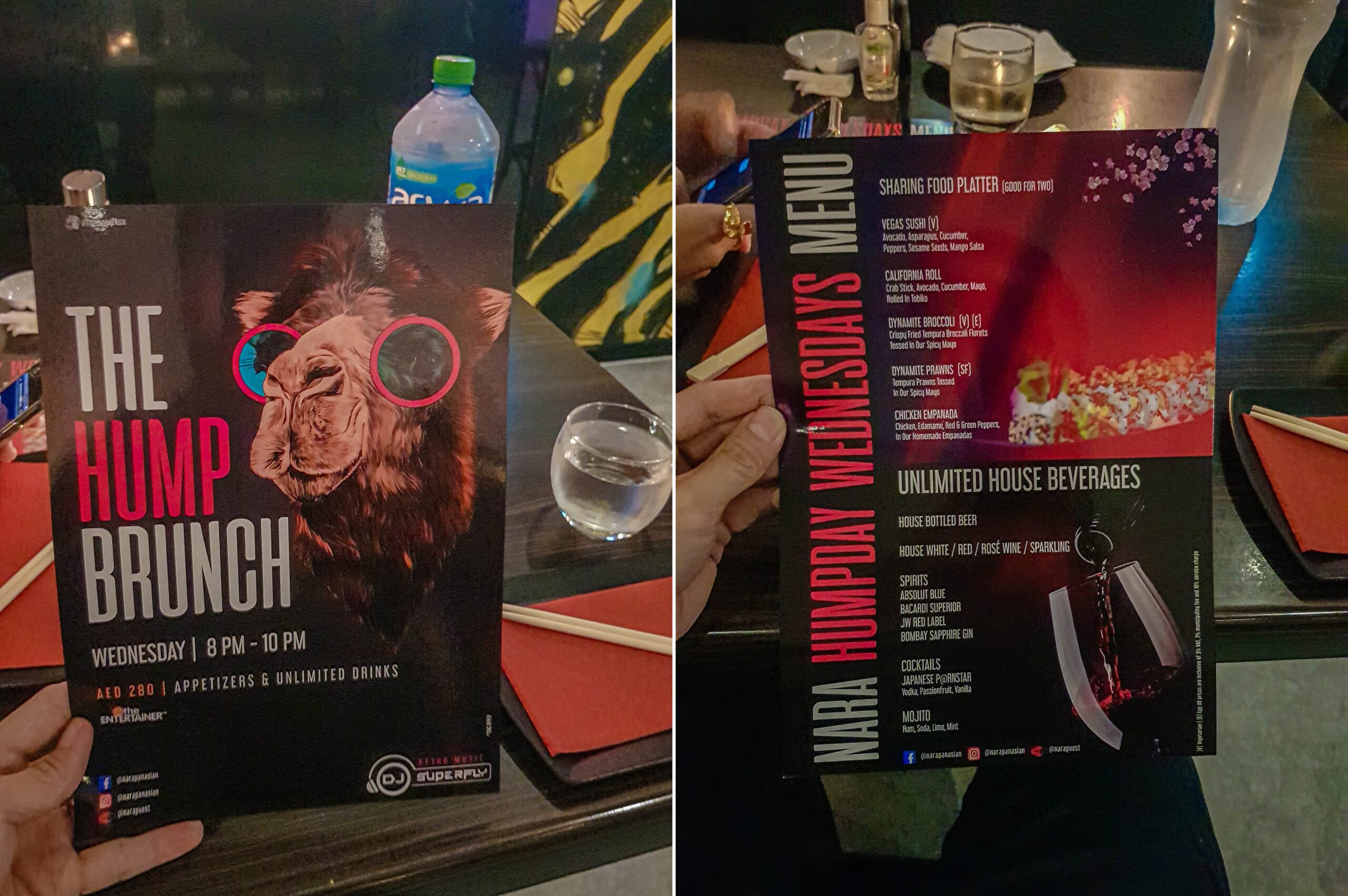 Wednesdays are Hump Brunch nights!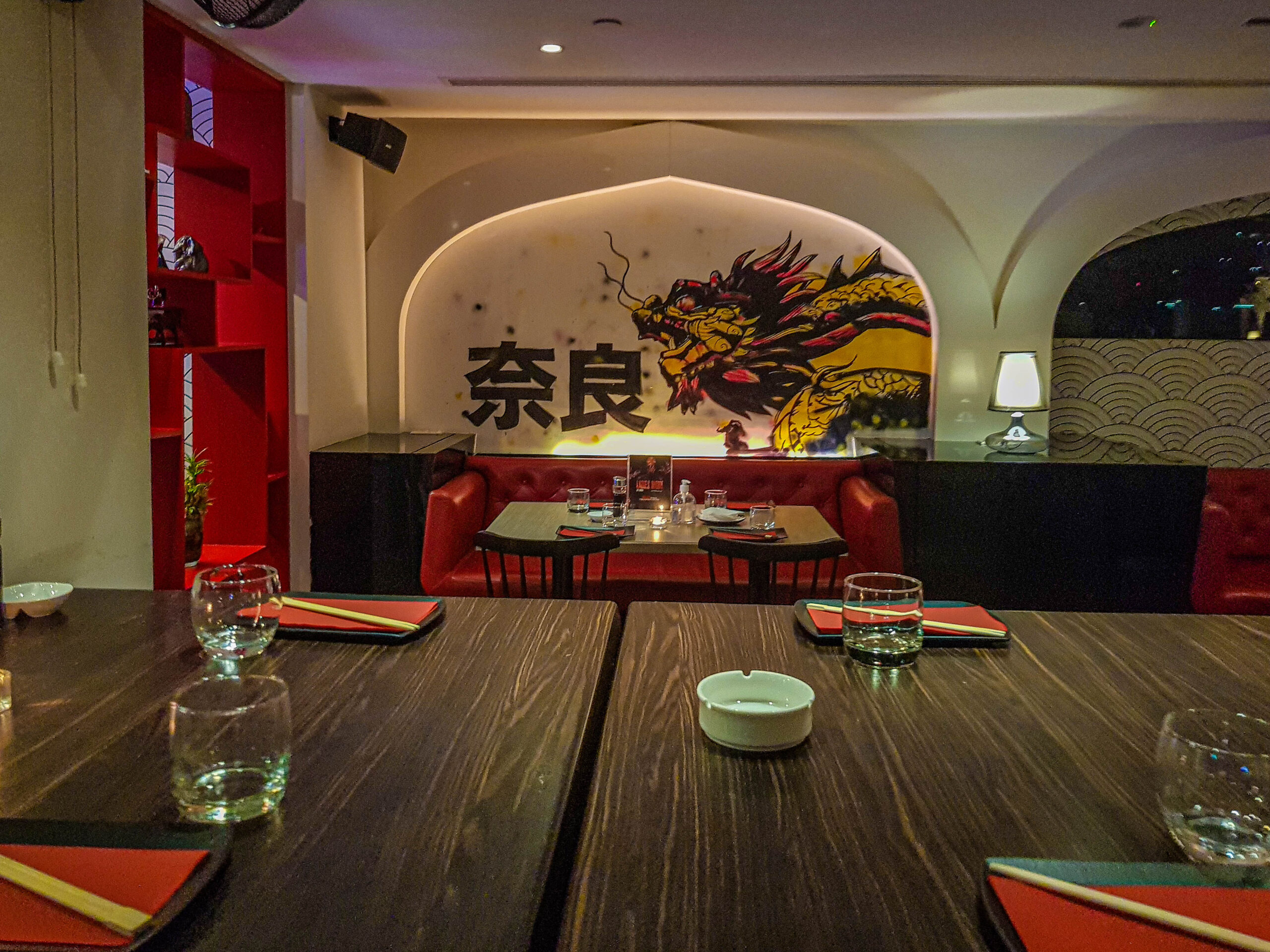 enjoy brunch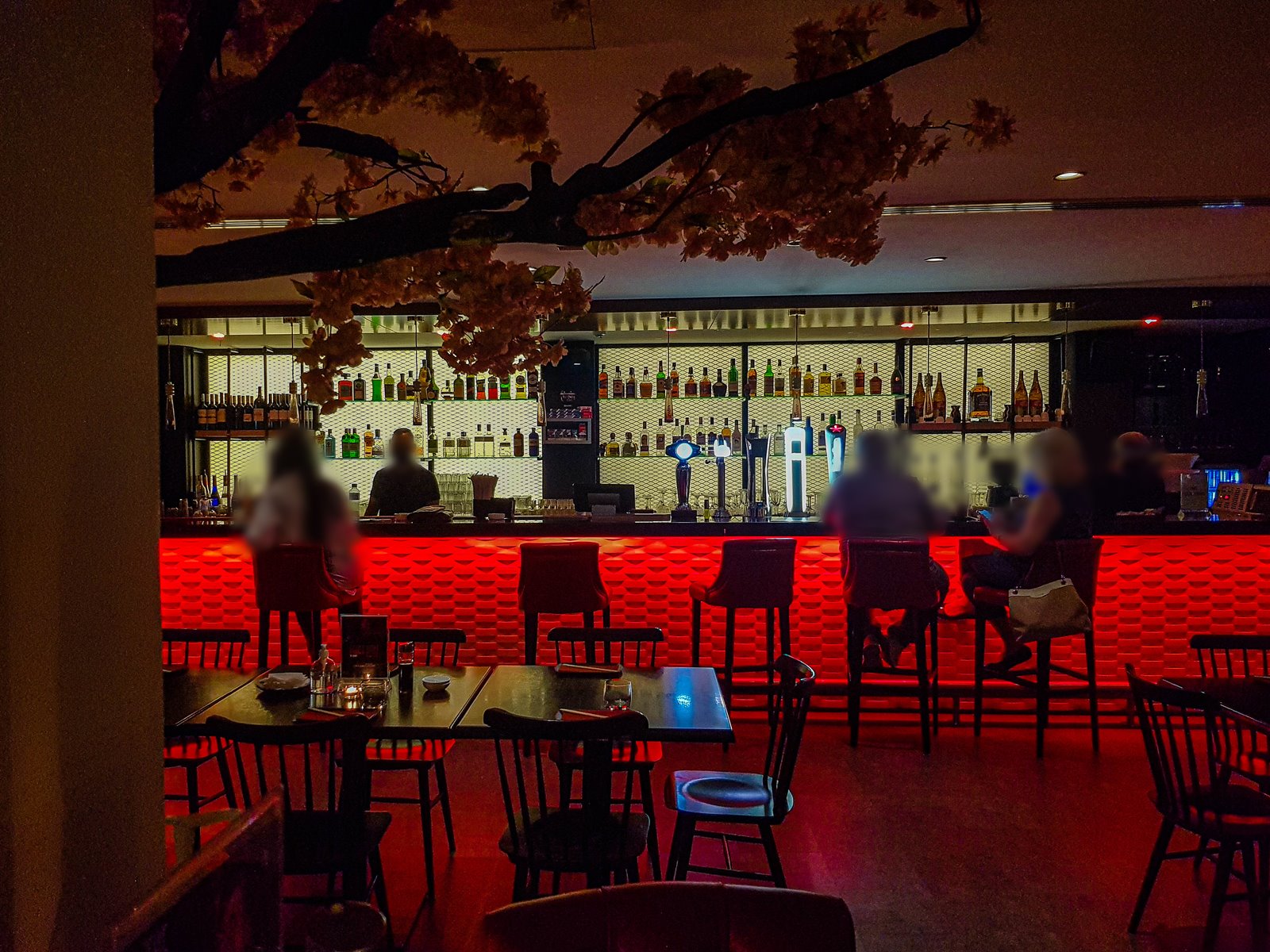 NARA bar, lounge, restaurant
Opening Hours and Prices
NARA Pan Asian Restaurant is open daily, from 12:00 noon to 1:00 am. On average, you can expect to spend around AED 240 (without alcohol) for two persons. What's more, the restaurant offers exciting promos throughout the week, including:
Daily Happy Hour (12:00 pm to 8:00 pm). With drinks starting from AED 25, guests can enjoy choice beverages during the 8-hour long Happy Hour!
Ladies' Night (Tuesday, 7:00 pm to 10:00 pm). Ladies, get ready to let your hair down and enjoy a girl's night out every Tuesday. This promo includes a 2-course set meal and 3 free drinks for just AED 129 per person.
The Hump Brunch (Wednesday, 8:00 pm to 10:00 pm). Make every Wednesday an exciting Hump Day at NARA Pan Asian Restaurant. For AED 280 per person, guests can enjoy appetizers and unlimited drinks. You heard that right… unlimited drinks. Yay!
Thursday & Friday Brunches. Aside from these offers, the restaurant also offers other weekly promos, such as Thursday Night Brunch, Friday Afternoon Brunch, and Friday Night Brunch.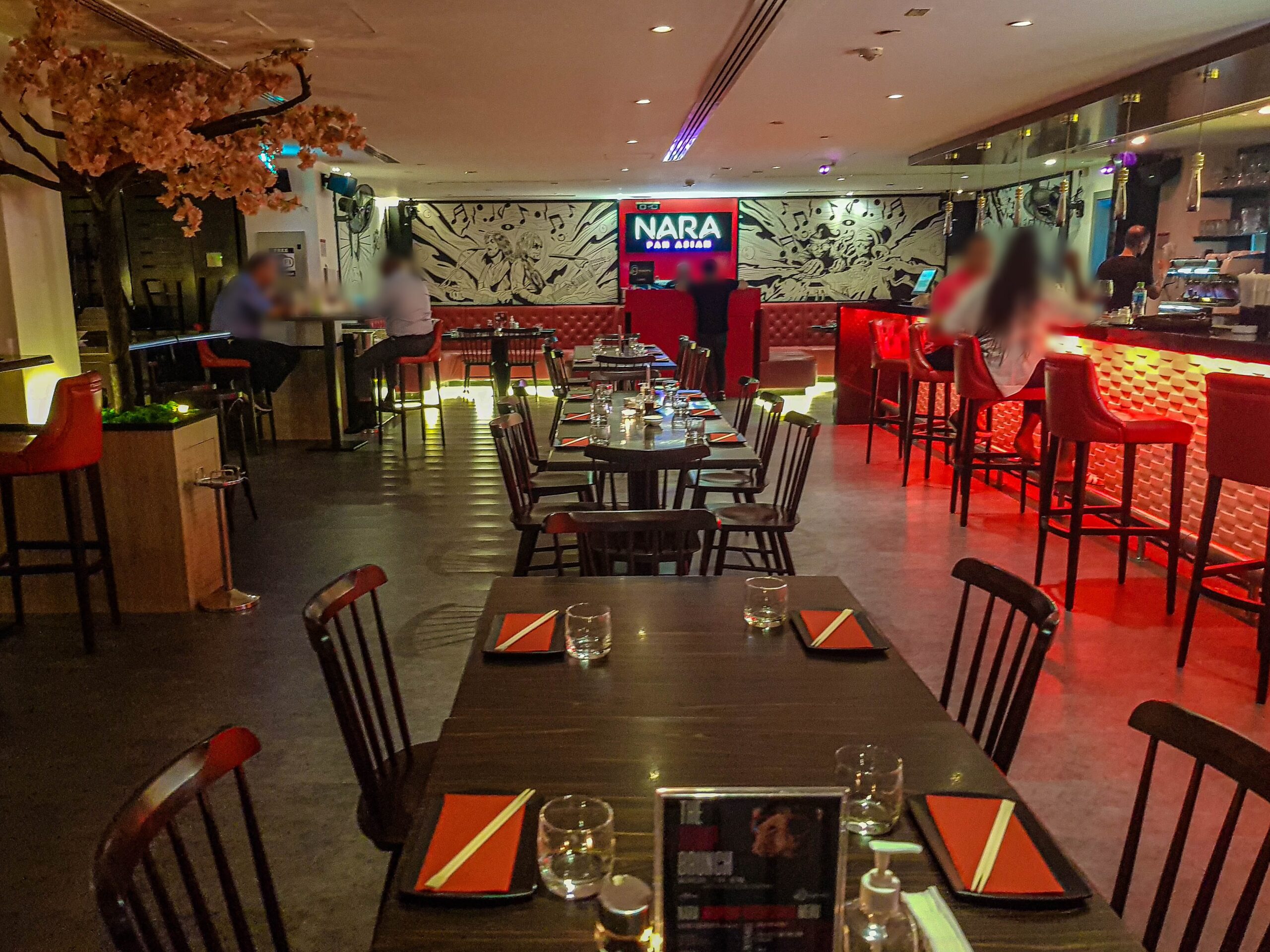 NARA Dubai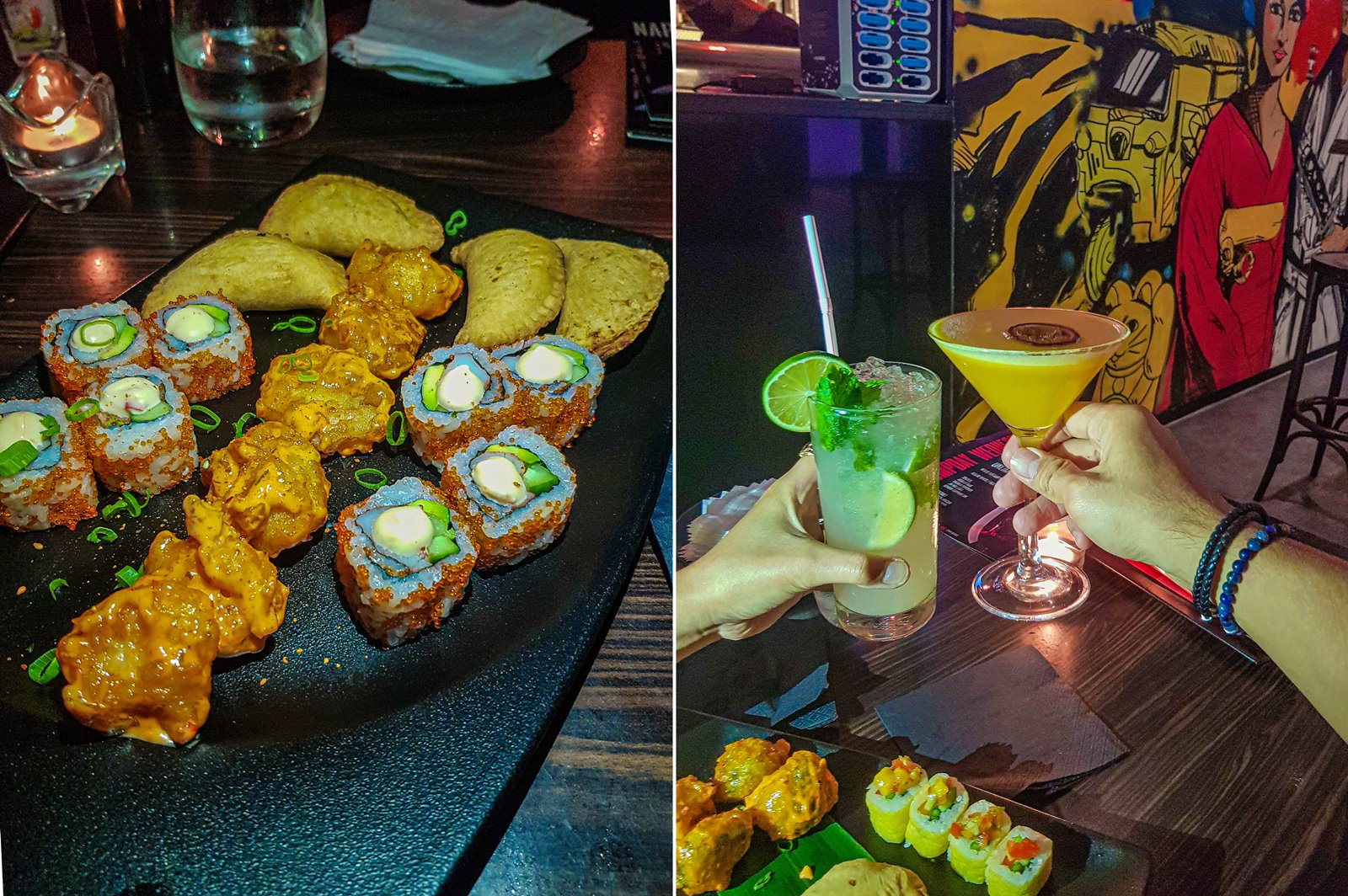 brunching in Dubai at NARA Pan Asian restaurant
Video – The Hump Brunch
Speaking of The Hump Brunch, check out this video about the restaurant's awesome offer every Wednesday, as shared via their Instagram page:
 

View this post on Instagram

 
Photos of Nara Pan Asian in JLT
Here are some pictures of the NARA Pan Asian Wednesday Brunch for your reference:
Contact Information – NARA Pan Asian Restaurant
For bookings and information, you may contact the restaurant through these details:
Address: Next to Movenpick Hotel, Jumeirah Lake Towers Cluster A, Dubai, UAE
Telephone: +971 4 421 1356
Zomato: https://www.zomato.com/dubai/nara-pan-asian-1-jumeirah-lake-towers
Instagram: https://www.instagram.com/narapanasian/
Google Map Location
NARA Pan Asian Restaurant is situated next to Movenpick Hotel at Jumeirah Lake Towers Cluster A. Below is the restaurant's location on Google Maps:
When you find yourself craving for delicious Asian cuisines, refreshing drinks, and great music, NARA Pan Asian Restaurant at Jumeirah Lake Towers is definitely a place to see and be seen. It's a nice place to hang out, meet with your friends… and make new ones!
READ NEXT: 26 Best Instagrammable Places in Dubai