Watch out Dubai tourists! The world's largest observation wheel, Ain Dubai, will be launched sometime ahead of the opening date of the Dubai Expo 2020 set on Oct. 20, 2020. 
We hope you're not afraid of heights as you take a bird's eye view of Dubai from a height of 250 meters.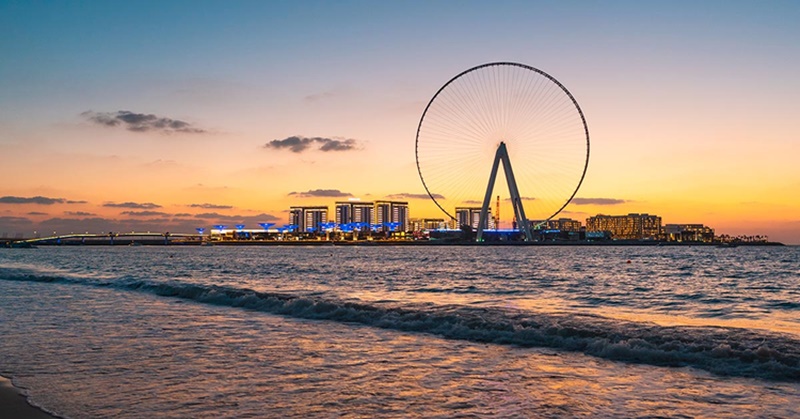 Ain Dubai: "World's Largest Ferris Wheel to Open in Dubai Next Year
To create a point of comparison, the Al Ain will surpass the 167 meter High Roller observation wheel in Las Vegas, and the 135 meter London Eye.
At present, the Ain Dubai is in the final stretch of its construction – the eighth and final 450-tonne temporary spoke was removed from the structure and the last of the permanent spoke cables installed.
.@MeraasDubai confirms Ain #Dubai will be completed next year for #Expo2020 Dubai celebrations. Standing at over 250 metres high, the structure will be over 200% taller than the first-ever Ferris wheel.https://t.co/em0viM4QFb pic.twitter.com/9Z9JVCeImA

— Dubai Media Office (@DXBMediaOffice) April 17, 2019
In a statement, Meraas shared, this "marks the first time the modern observation structure has been one complete wheel since construction began." (The eight temporary spokes and braces were originally installed to hold the rim segments in place during the construction of the wheel.)
In a city such as Dubai with super-high structures, Ain Dubai will remarkably stand tall. In the vicinity, the Dubai Frame in Zabeel Park stands at 150 meters, and there is the observation deck on the Burj Khalifa, which is at 555 meters up in the sky. Another vantage point to take in the Dubai skyline will come atop the Palm Tower, with an Infinity Pool set at a height of 210 meters.
If that's not impressive enough, there will be another new tower on the Palm, standing up to 260 meters, called the Palm360. That's not all – the Jumeirah neighborhood will eventually have the 'Burj Jumeira', soaring all the way to 550 meters.
But with its circular structure, Ain Dubai will prove to have a special place in Dubai's skyline. Though its opening was initially scheduled for late 2018 or early 2019, now an opening day ahead of the Expo 2020 certainly makes for a high-visibility occasion.
Ain Dubai is situated at Bluewaters, the island destination by Meraas that has recently opened its doors to visitors. 
At present, Bluewaters Island has become a hub of activity on the freehold site. Direct from developer sales are rated as "robust", according to GCP, with prices of a one-bedroom from AED 2.1 million, two-beds at AED 2.6 million and above, and three-beds from AED 3.5 million. Residents have already moved into some of the apartment blocks.
ALSO READ: Now Open: Nakheel Mall, the Heart of Palm Jumeirah Island