A new shopping destination in Dubai has opened and is located at the heart of Palm Jumeirah Island. Nakheel Mall is a AED 1.2 billion retail, dining, and entertainment destination and is the centerpiece of the world famous island.
Also Read: The Dubai Mall
On November 29, 2019 was the grand launch of this exciting new shopping destination and this was officially opened by Ali Rashid Lootah, the Chairman of Nakheel.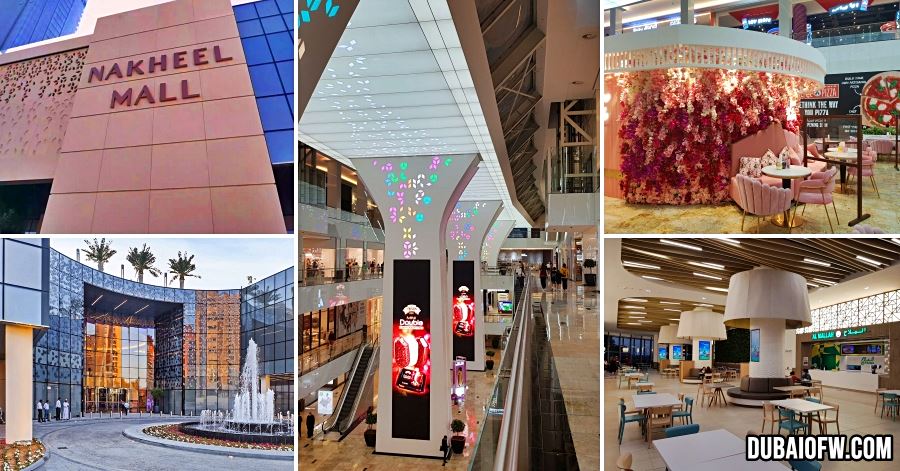 Nakheel Mall in the Heart of Palm Jumeirah Island
Nakheel Mall makes it more convenient for over 78,000 residents of the Palm Jumeirah Island to have a place to hang out, relax and enjoy. This also provides a new place for millions of tourists who visit Palm Jumeirah island every year.
What to Expect inside Nakheel Mall
Nakheel Mall offers first-class retail facilities with a focus on entertainment and leisure. It has 5 levels of shops, restaurants and attractions, including a 15-screen Vox Cinemas complex, Trampo Extreme, Fabyland, Waitrose supermarket, Depachika Food Hall, H&M, Fitness First and many more.
One-Stop Shopping and Lifestyle Destination
When it comes to shopping, Nakheel Mall has it all — women's, men's, and children's fashion, beauty products, jewellery, electronics, home furnishings, toys, books, and much, much more. It features fashion brands such as American Eagle, Gant, Giordano, Giulio Twist, IVY, Rosa Clara, Sacoor Brothers, Splash, and St. Tropez, along with accessories and jewellery from Elie Saab, Fayendra, Galerie Hindam, and Pandora.
For your banking and finance needs, no need to worry because Nakheel Mall includes branches of Al Fardan Exchange, Al Ghurair International International Exchange, Emirates Islamic Bank, Emirates NBD, and First Abu Dhabi Bank. If you're shopping for groceries, simply head to the Waitrose Supermarket to buy food, snacks, and other daily necessities.
Planning to get some exercise? Look no further because there's a Fitness First gym at the mall. In case of medical emergencies and other health concerns, you can go to the Dubai London Clinic, also within the area, for treatment and consultation.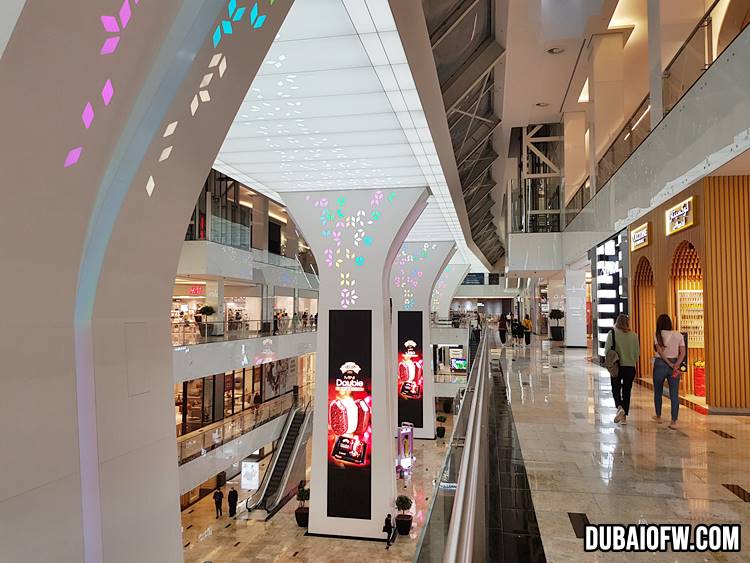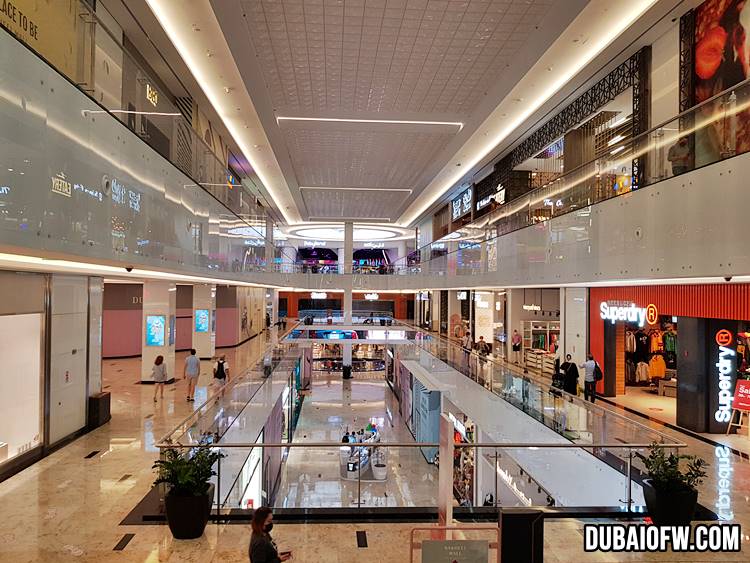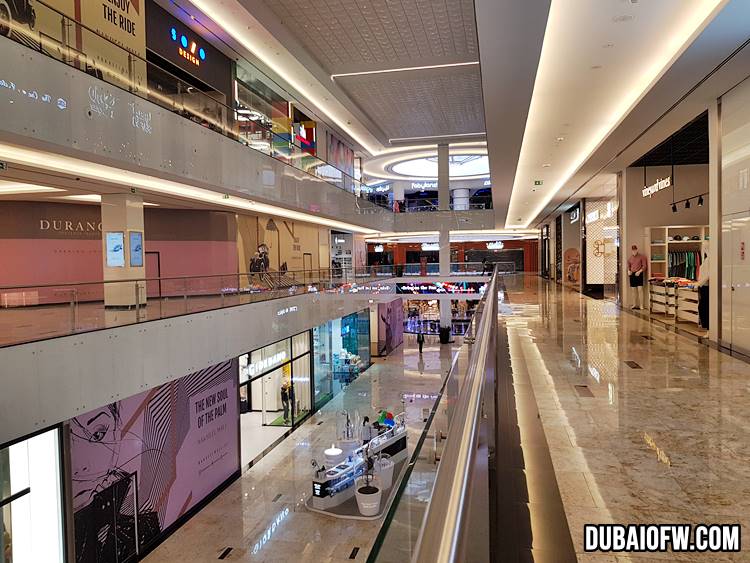 Cafes, Restaurants, and Fine Dining Options
There's a wide array of dining options to choose from, anytime of the day. Cafes at Nakheel Mall include Cafe Bateel, Cofee Island, Gloria Jeans, Pinkberry, Shakeaway, and Starbucks. Meanwhile, the food court features Chinese Palace, Hatam, KFC, McDonald's, Pizza Hut, Subway, The Crepe Factory, Wok to Walk, and Wendys, among others.
For casual dining, the mall houses several restaurants, namely Din Tai Fung, Freddy's, KRIS KROS Lebanon, Shake Shack, Spiky Chicken, The Noodle House, Russo's New York Pizzeria, Urban Seafood, Vapiano, and more. Likewise, if you're celebrating a special occasion, head to Crab Market Restaurant and Lounge for a fine dining experience!
Non-Stop Entertainment for All Ages
Aside from multi-screen VOX Cinemas, Nakheel Mall features entertainment destinations for the whole family. Firs of all, there's Fabyland, an indoor playground with plenty of rides and attractions, promising a day of fun and excitement for everyone! Fabyland is open from 10 am to 10 pm every Sunday to Thursday, and from 12 pm to 12 am every Friday and Saturday.
Secondly, there's Trampo Extreme. As the name suggests, it has top quality trampolines that both kids and adults will definitely enjoy. Aside from this, it also features interactive wall climbing, "extreme" dodge ball, and other thrilling adventure activities!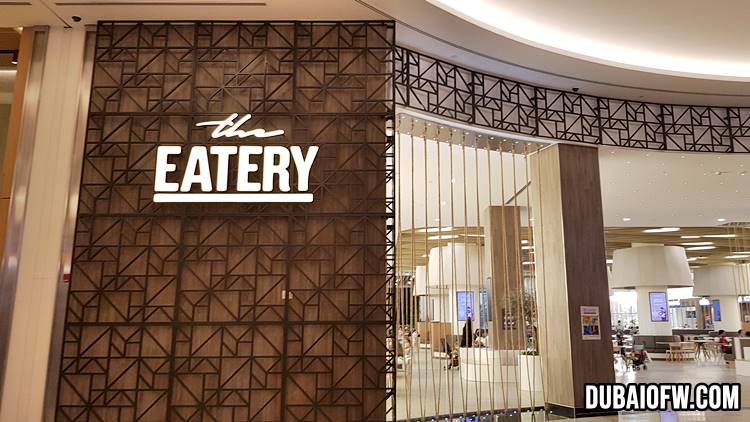 The View at The Palm: Observation Deck
Nakheel Mall is also the access point for The View at The Palm, a public observatory perched on the top of the neighbouring Palm Tower, 230 metres above the island.  The View will open in 2020. This is going to be another exciting attraction to see the shape of The Palm islands from a high vantage point.
Nakheel Mall operational hours are 10 am to 10 pm on weekdays, and 10 am to 12 midnight on Thursdays, Fridays and Saturdays.
Safety Measures at Nakheel
Due to the current pandemic, Nakheel Mall has installed health measures, in line with government protocols to help prevent the outbreak and ensure everyone's safety.
For guests and customers, the mall follows and recommends these safety tips:
Temperature screening for all guests;
Wearing of masks inside the mall at all times;
Physical distancing (2 metres) at all times; and
Smart (or cashless) payments when making purchases.
In addition, Nakheel Mall practices 24-hour sanitisation, virus testing for all customer service desk staff, and regular cleanliness inspections by government authorities.
Photos: Nakheel Mall
Here are pictures of what you can see when you visit Nakheel Mall based on our visit on a weekday: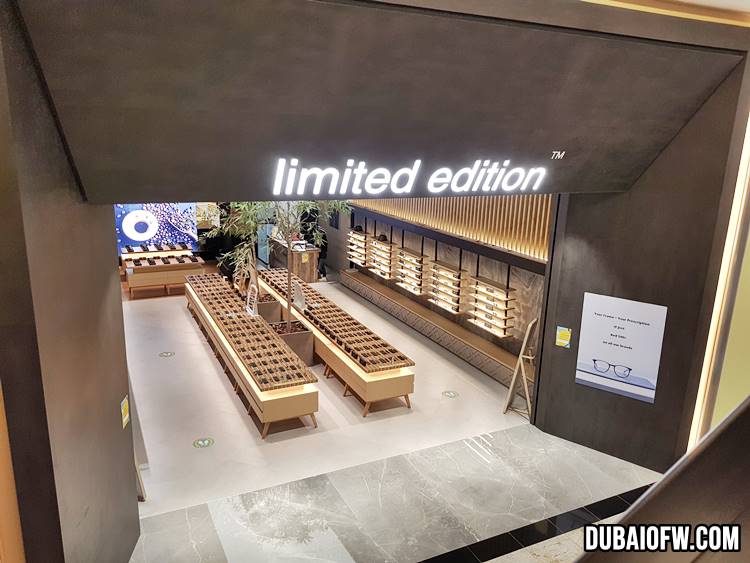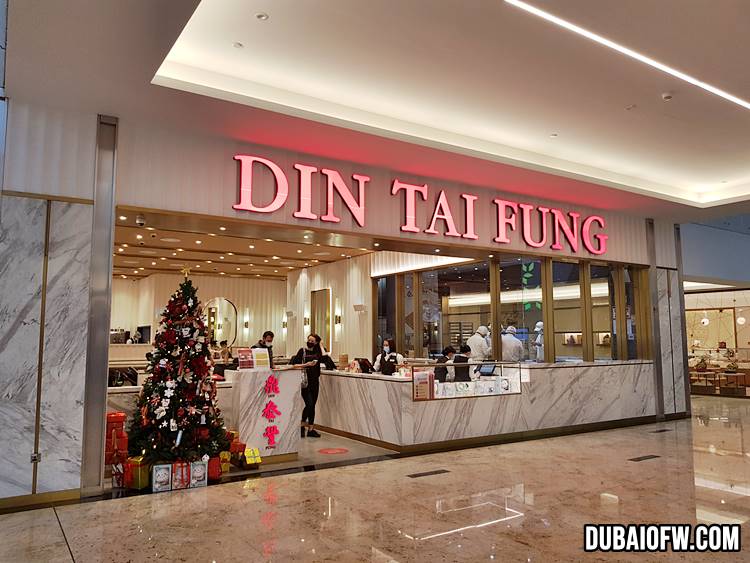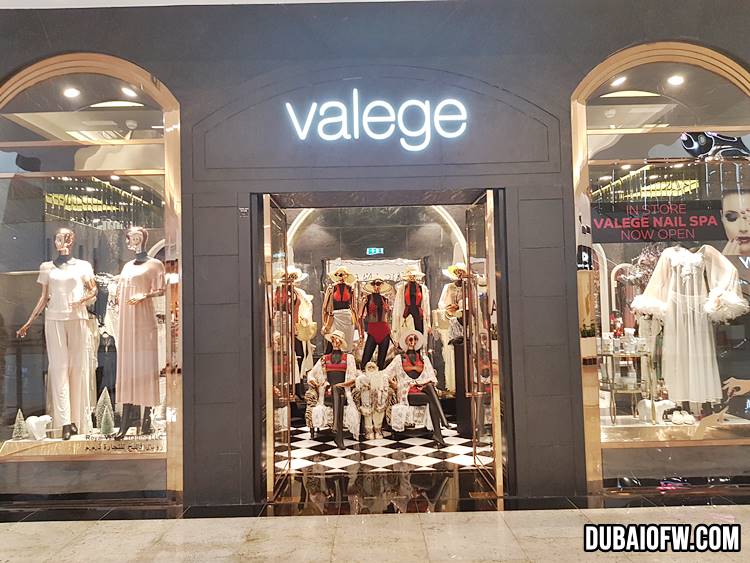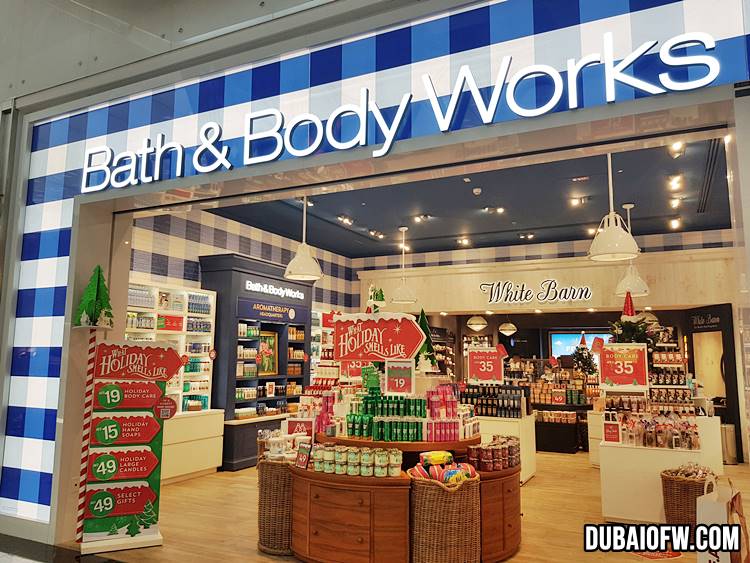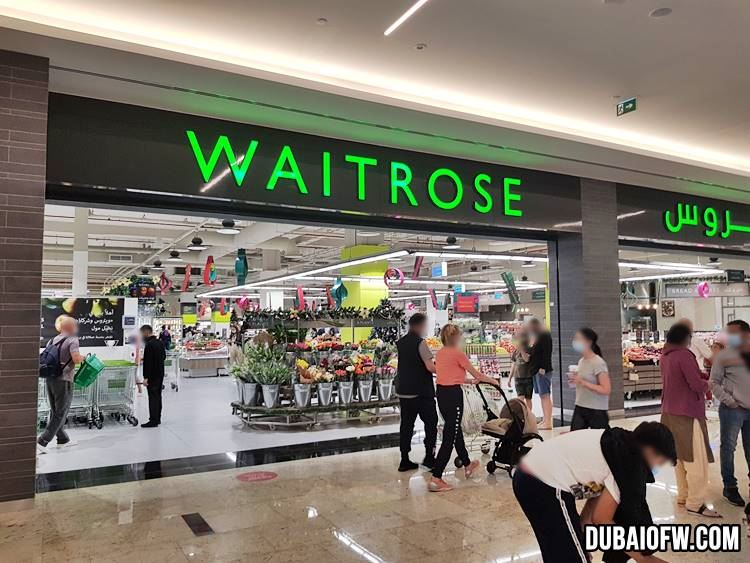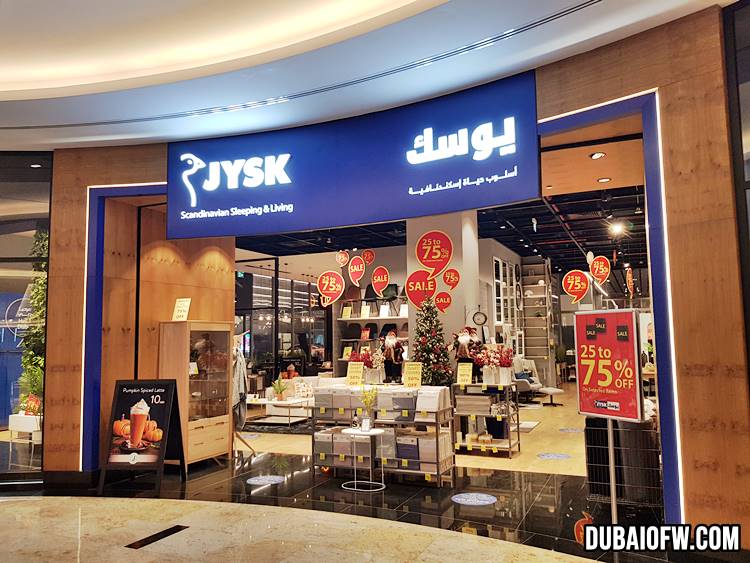 ]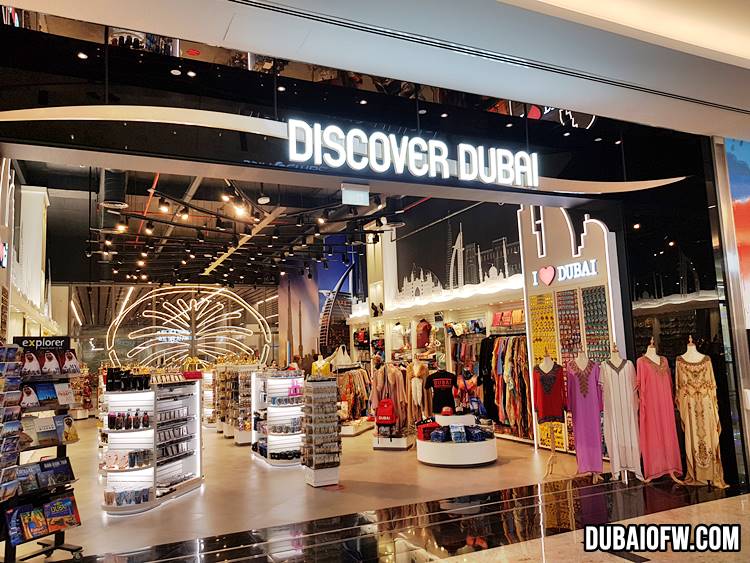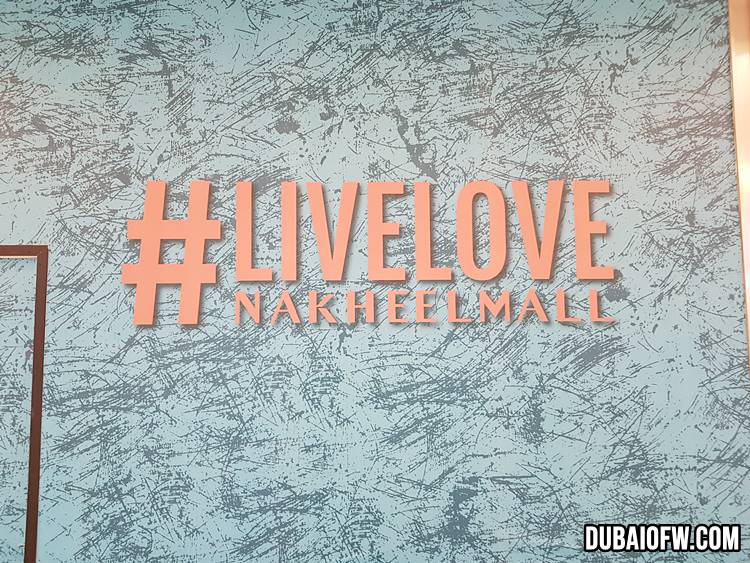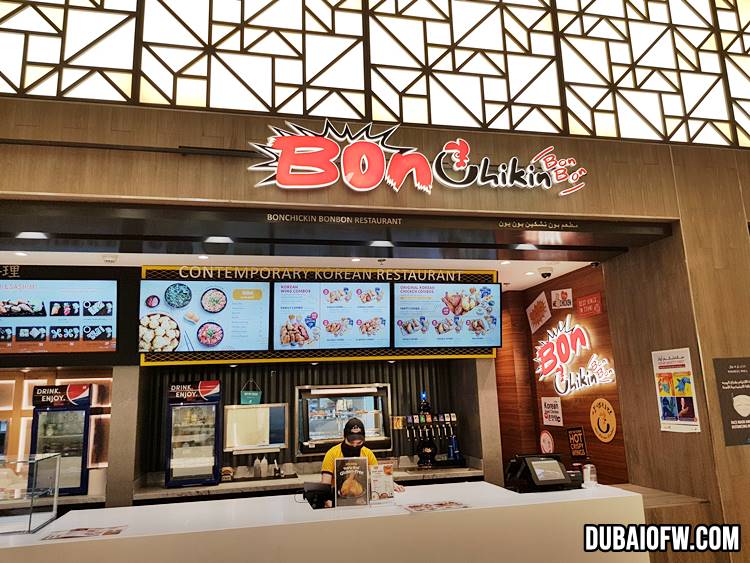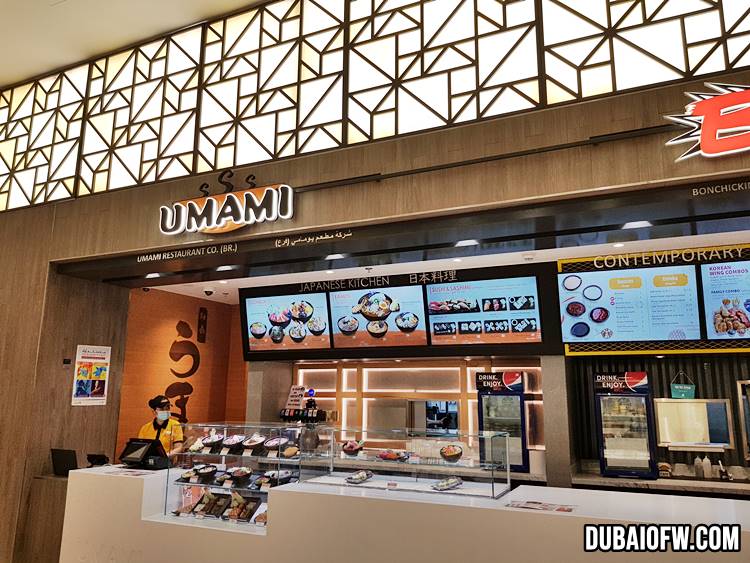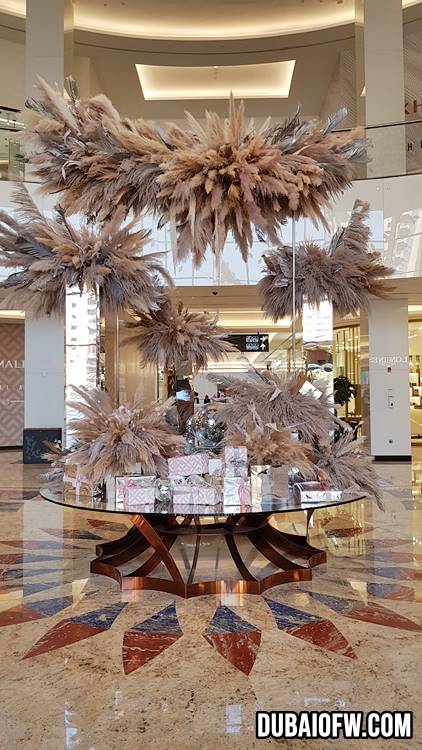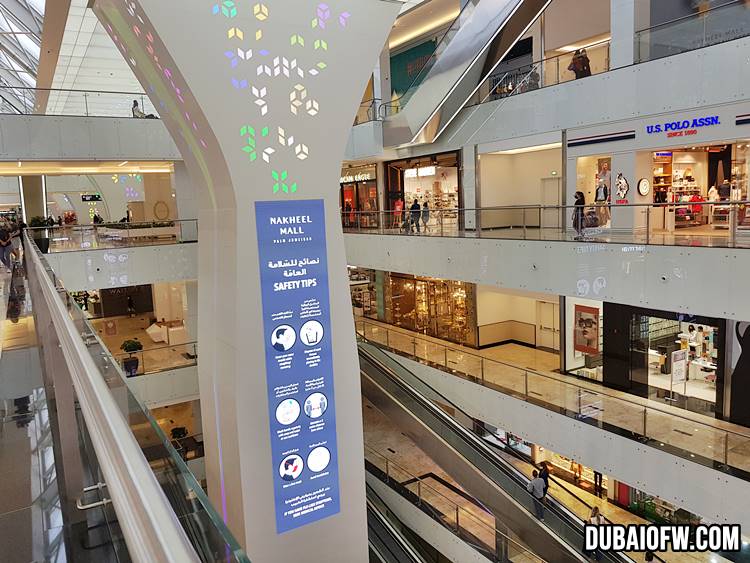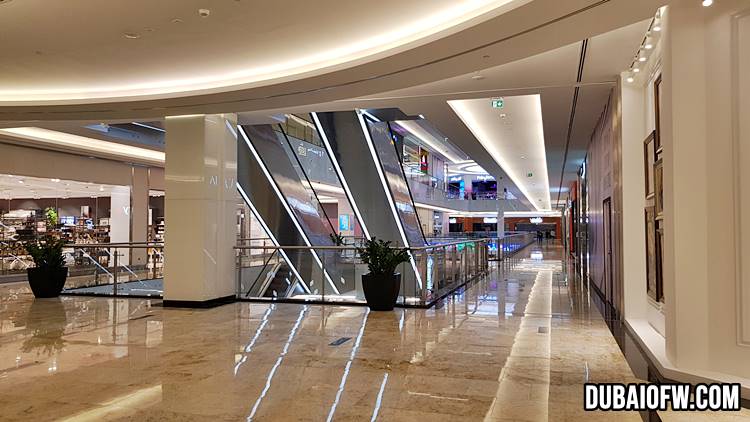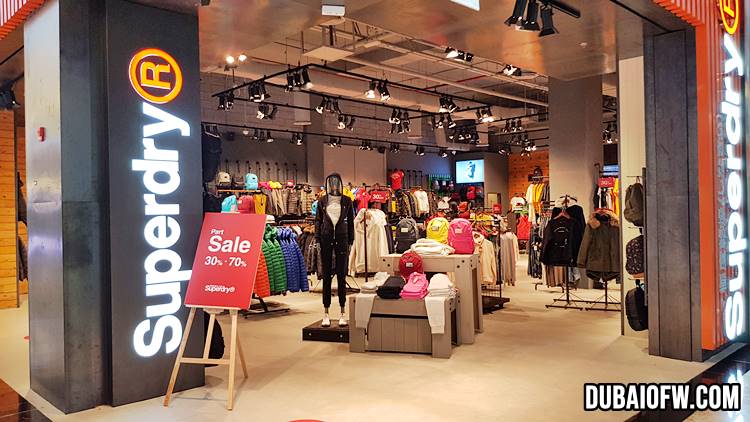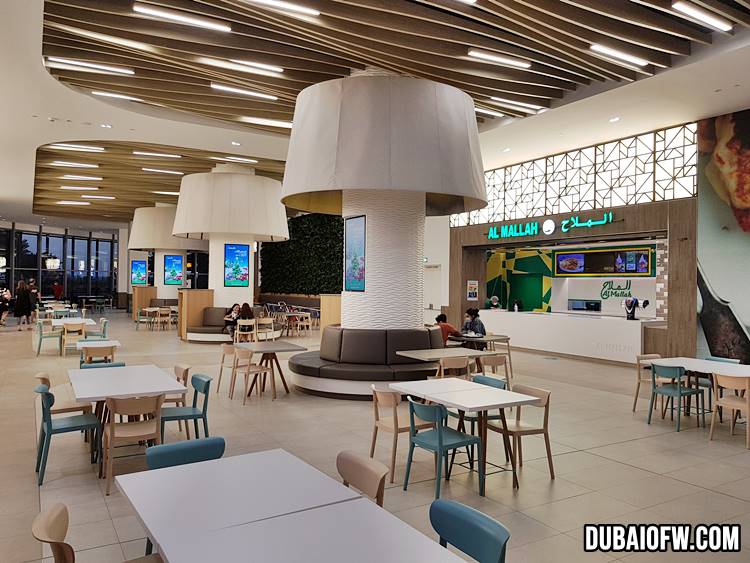 Video: Nakheel Mall Shopping Destination
Check out this video tour of Nakheel Mall based on our visit. We hope this will give you a better idea what to expect inside this mall for your reference.
How to Get There
The mall is accessible via drive, and it has its own Palm Monorail station as its public transport (TIP: Palm Monorail offers FREE trips to the mall until February 2020!!). A multi-story car park is also available.
Opening Hours
Saturday to Wednesday – 10am to 10pm
Thursday and Friday – 10am to 12 midnight
Contact Information
Address: Palm Jumeirah, Dubai, UAE
Telephone Number: +971 4 390 9999
Website: http://nakheelmall.ae/
Google Map Location
Below you can find a map guide to the location of Nakheel Mall in case you plan to drive there.
World-class dining, shopping, and entertainment await guests at Nakheel Mall. So if you happen to be near the area, why not make a day of it and spend a relaxing day at the mall! In the meantime, here's a list of shopping malls in Dubai, for your reference.