The world's largest mobile maze, Wonder Maze, reopens in Dubai with a cool deal as they offer FREE Entry to all Parents accompanying their Kids.
This gives families the added incentive to spend some quality fun time solving the challenges of the Wonder Maze together! The offer will be valid till 30th November 2020 at the Dubai location of the Wonder Maze at Riverland, Dubai. Opening times: 11:00 AM to 9:00 PM. No need of pre-booking.
——————
The list of family-friendly attractions in the UAE has just gotten longer! The largest mobile maze in the world, "The Wonder Maze," opened to the public last month in two locations: Al Ain Zoo, and Riverland Dubai at Dubai Parks and Resorts. Yay!
ALSO READ: Jumble, First Indoor Urban Maze Opens in Dubai
Owned and managed by The Wonder Maze Amusement LLC, The Wonder Maze spans an area of over 25,000 square feet — promising hours of fun and excitement for the entire family!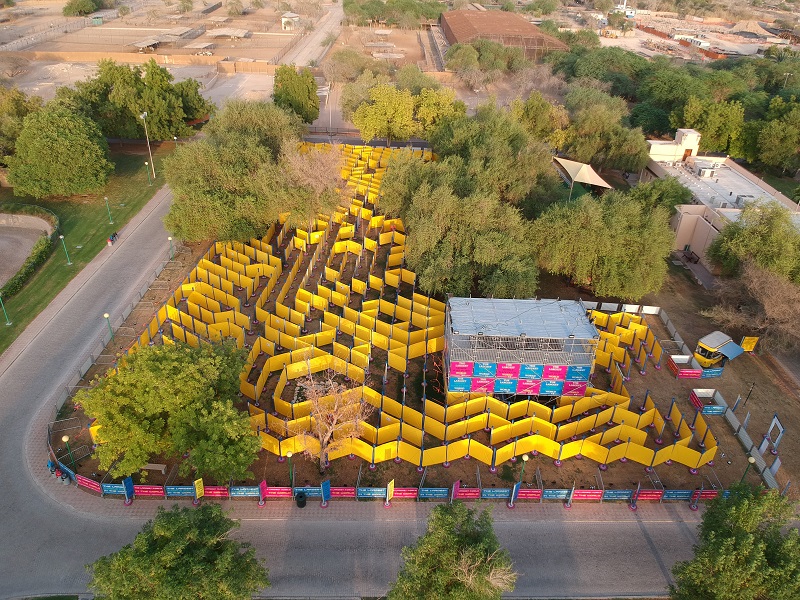 Wonder Maze Opens at Riverland Dubai – What to Expect
After a production time requiring thousands of man hours, The Wonder Mazes at Al Ain Zoo and Riverland Dubai have been installed and opened to the public last month.
Amazingly, The Wonder Maze consists of:
25,000 square metres of tarpaulin
8,000 metres of rope
3,000 metres of paths and grids (total length)
1,700 metres of column pipes
5 metre-high viewing platform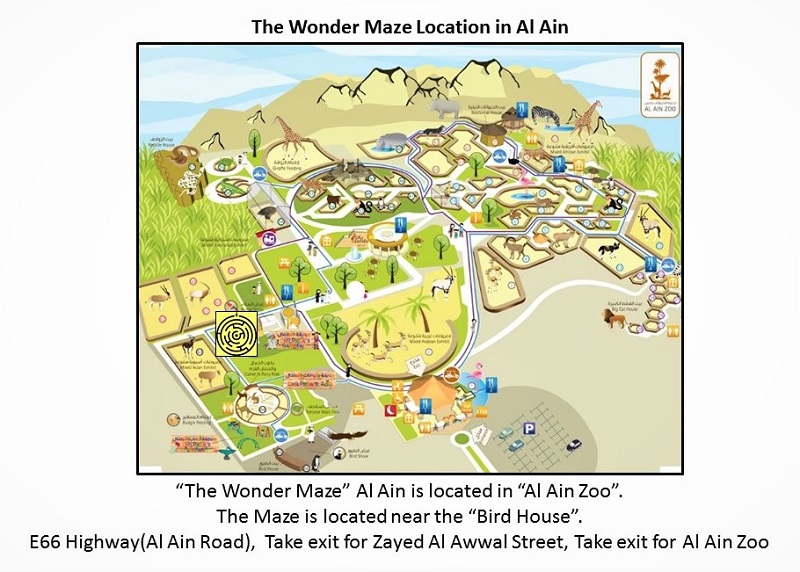 As the name suggests, The Wonder Maze is not an ordinary maze where you simply need to find your way out! Along the way, guests would have to solve puzzles and participate in educational games. On average, the entire "journey" takes about 45 to 60 minutes of fun!
Basically, The Wonder Maze offers:
An exciting outdoor learning environment;
The opportunity to develop children's key competencies; and
Amazing challenges and fun experiences for kids and kids-at-heart!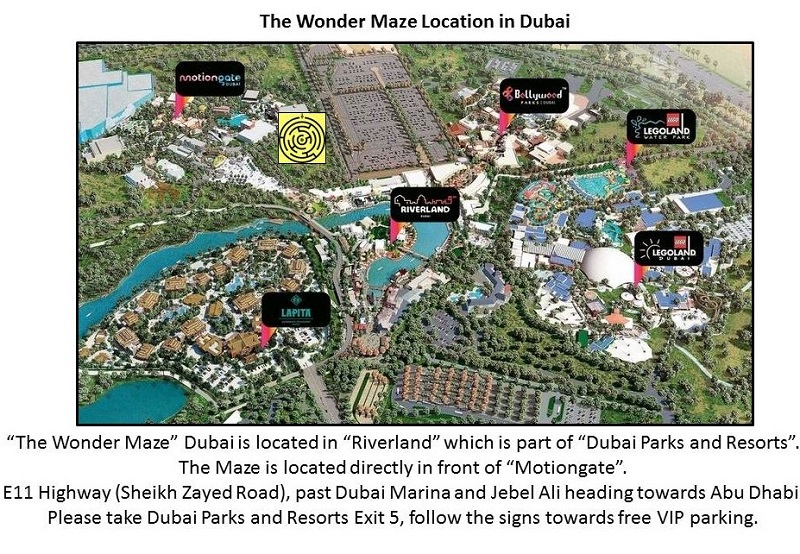 "We are absolutely delighted to bring 'The Wonder Maze' to Riverland, Dubai Parks and Resorts and Al Ain Zoo; the most popular family destinations in Dubai and Al Ain, respectively," according to Lee Holmes, Manager of The Wonder Maze Amusement LLC.
"We are confident that this spectacular maze will appeal to every age group, from small children to grandparents; anyone with an inquisitive mind and who wants to discover what's around the next corner will love it!" Holmes added. "The Wonder Maze will assist in increasing team-building skills and use critical thinking."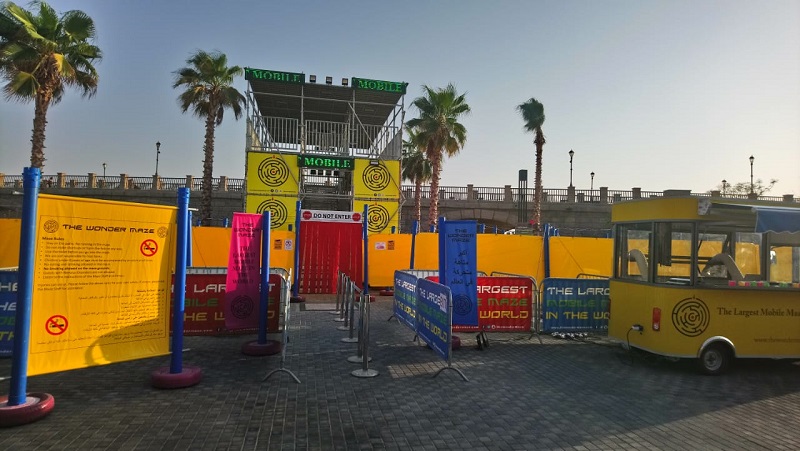 Entrance Price and Timings
Entrance to The Wonder Maze costs AED 35 each for adults and children. Meanwhile, children below 100-centimetre height can enter the maze for free.
The timings for the new locations are as follows…
The Wonder Maze at Riverland Dubai, next to Motiongate:
Sunday to Thursday – 2:30 pm to 10:00 pm
Friday to Saturday – 10:00 am to 10:00 pm
The Wonder Maze at Al Ain Zoo, next to the Bird House:
Daily – 10:00 am to 7:00 pm
If you're looking for a fun, educational experience… bring the whole family to The Wonder Maze at Al Ain Zoo or Riverland Dubai! What's more, let us wait for the opening of new attractions in Dubai, including a zombie theme park that promises lots of thrills and chills!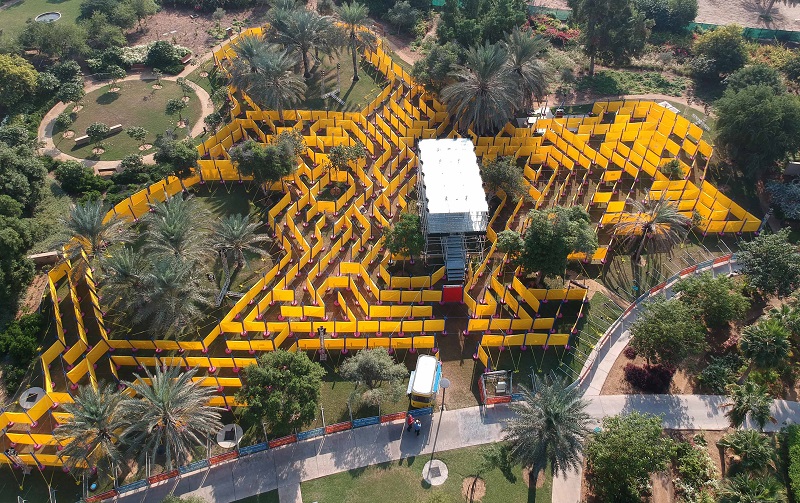 Video: The Wonder Maze Dubai
Check out this video below of what you can expect from Wonder Maze UAE. Take note that the maze in the video is in their Abu Dhabi location:
Contact Information
Wonder Maze Dubai
Address: Riverland, Dubai Parks and Resorts, Dubai
Email: info@thewondermaze.com
Website: http://www.thewondermaze.com/
Facebook: @thewondermaze
Instagram: @thewondermaze
Google Map Location
Below is a map guide to the location of Wonder Maze Dubai in Riverland Dubai: