If you're looking for fresh juice drinks, you can check out Pulp Juice Bars shops in Dubai. This is a shop that specializes in mixing cold drinks to quench your thirst especially in this Middle East desert heat.
Related Article: Juice World Has Arrived in Al Rigga, Dubai – UAE
Restaurant: Pulp Juice Bars in Deira City Center
Location: 1st Floor, Deira City Center – beside Paul Cafe Resto
Pulp Juice Bar Dubai Menu
They have three classifications in their menu to suit your taste:
Freshly Squeezed Fruit – for fresh fruit mixes
Yoghurt Ice Cream – for yoghurt enthusiasts
Smoothie Blends – Fruity Favourites, Dairy Classics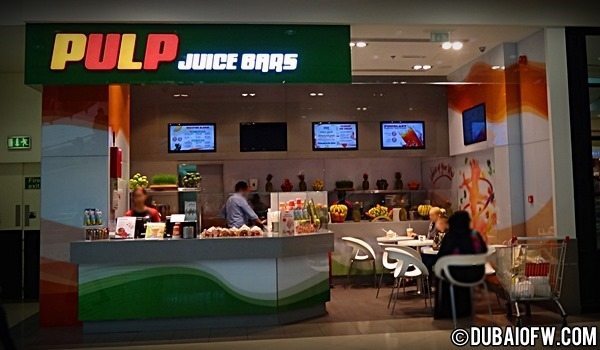 Pulp Juice Bar in Deira City Center, Dubai
Oranges & Lemons Juice and Body Builder Smoothie
Whenever I have the colds due to the change of season, I look for a good citrus fix , I always have the juice bar staff mix an Orange & Lemon drink. It couldn't get any fresher than that!
Otherwise, I order a BodyBuilder Smoothie which contains strawberries, bananas, skimmed milk, frozen yogurt and Whey protein. This is my favorite!
Other Pulp Juice Bars Menu
Pulp Bar Juice also offers fresh fruit salads, wheat grass, ginger shots and sugarcane juice. So for those healthy fixes, I suggest you go to this juice store located in key areas in Dubai. Juice up your life!
How to Get There
Restaurant: Pulp Fresh Juice Bars in Deira City Center
Location: 1st Level – Deira City Center
Metro: Take the Metro Station (Red Line) to Deira City Center Station
Pulp Juice Bar Branches in Dubai, UAE
Deira City Center – 04 295 6136
Mall of the Emirates – 04 341 4644
JBR, The Walk – 04 436 4192
Dubai International Airport Concourse A – 04 259 4225
Dubai International Airport Concourse B – 04 220 3350