According to a weather bulletin shared by the UAE's National Center of Meteorology (NCM), there's a chance of freezing rain in UAE from January 12 (Sunday) with rainfall expected till January 15 (Wednesday) and a probability of snow over the mountain peaks of the UAE.
IN PHOTOS: Dubai's Response to Fix Road Disruption During Unstable Weather
The rough weather experienced in the region over the weekend, which flooded roads and canceled flights, eased up on Monday, with a chance of "some rain" forecasted till Wednesday in parts of the country.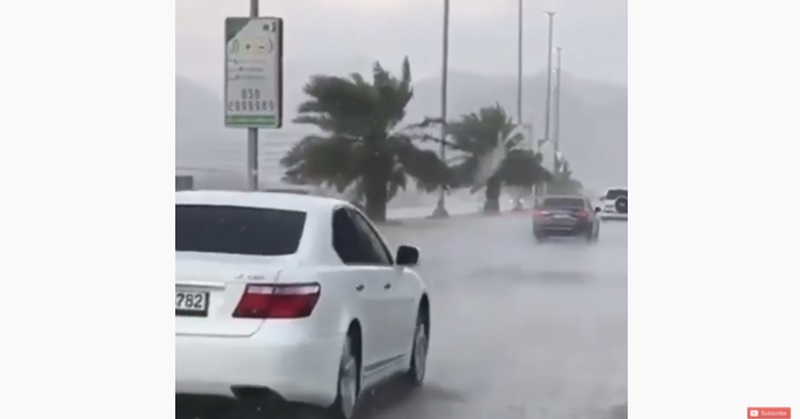 UAE to Continue Experiencing Rain til Wednesday – NCM
In an update from the NCM's weather bulletin on Monday, "Partly cloudy to cloudy skies with a probability of some rain – particularly over the islands, and some coastal, northern and eastern areas – are expected till Wednesday," as shared in a report by the Gulf News.
Meanwhile, Thursday and Friday are forecasted to see fair, partly cloudy weather, with no mention of rain in the bulletin.
Despite this, the NCM cautioned motorists to take precautions due to a chance of foggy weather and low visibility, especially in the inland areas.
There will be cool and breezy conditions expected to persist through the weekend, with seas moderate to rough at times. The temperature on Monday had dropped to 1.6 C on Jebel Jais mountain, the UAE's highest peak in Ras Al Khaimah, sending down heavy hail.
It can be recalled that in March of last year, residents in Umm Al Quwain was surprised to wake up to hail-covered streets, with some early-risers capturing ice pellets falling and striking their cars and roofs. 
Meanwhile, the rest of the country will experience temperatures ranging between 12 C and 20 C in the coastal areas and 3 C to 9 C in the mountains.
The latest round of winter rains was particularly heavy, lasting intermittingly from Thursday to Sunday. Major roads in Dubai and Sharjah were closed, causing huge tailbacks. Also, over 20 flights at Dubai International Airport were canceled, besides those which had been delayed or diverted due to unstable weather conditions. 
In line with this, worked non-stop to rescue stranded people and to clear water and debris off the roads. Between 12 am on Thursday and around 7:20 am on Sunday, the largest amount of rainfall was recorded in Khatam Al Shakla at 190.4 millimeters.
By Monday, the weather had eased a little, with no major accidents or delays reported.
ALSO READ: Abu Dhabi Police Issues Road Safety Advisory During Unstable Weather Conditions