A police campaign in Abu Dhabi has featured a video of a driver recklessly speeding on the road and then cutting in front of a bus full of student passengers to warn motorists of the dangers of such behaviour in public.
ALSO READ: WATCH: Reckless Driver Smashes Two Cars on Highway
The video footage of the speeding car was uploaded by the Abu Dhabi Police on social media as they encourage netizens to comment on related road safety and traffic posts to help raise awareness on serious road traffic violations.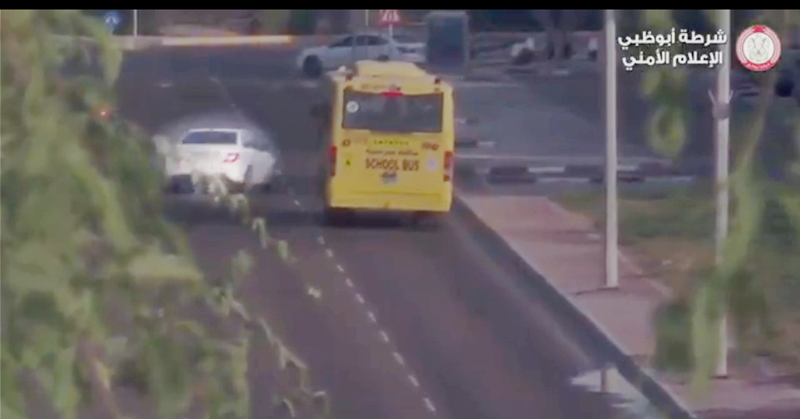 WATCH: Speeding Driver Almost Rammed School Bus in Abu Dhabi
Video stills from the police traffic camera identify a white saloon rushing on the road to overtake a school bus full of children before sharply cutting in front of it into a corner, which had caused the bus driver to make an emergency stop.
And while no one was seriously hurt from the incident, the police used the video as an example to send a message to the public about the dangers of reckless driving and to spread awareness on such behaviour through social media by encouraging the public to share any similar experiences on the matter.
The director of Security Media department Col. Mohammed Ali Al Muhairi shared that the police campaign aims to shed light on the gravity of such traffic violations encountered on the road.
By encouraging the public to comment on social media, the police can gather relevant ideas to come up with appropriate solutions to reduce incidences of road accidents and casualties from such.
Col. Al Muhairi said, "The Abu Dhabi Police is keen to hear the opinions and suggestions of the community in road safety, and the services they expect to be provided."
ضمن مبادرة لكم التعليق ..#شرطة_أبوظبي تبث فيديو لسائق متهور كاد يصطدم بحافلة مدرسية pic.twitter.com/IUUTeZ2OhX

— شرطة أبوظبي (@ADPoliceHQ) October 6, 2018
The campaign video carries the slogan: "Keep them alive, don't be a killer", as the video was released to promote safer driving in public, particularly near schools.
A fine of up to Dh 1,000 along with 10 black points will be imposed on drivers who fail to stop once the bus 'stop ' sign is on.
ALSO READ: 500 AED Fine if You Don't Clean Your Car