With this year's announcement by the UAE government for those seeking to get amnesty or extend their stay in the country, many residents, particularly expats, are given renewed hope in chasing their dreams of building a life in the country. A new UAE temporary visa has been introduced to help expats who have overstayed in the country but still wish to remain to seek employment opportunities.
ALSO READ: OPINION: What the 6 Months Visa Means for Job Seekers in UAE
While that in itself sounds promising, it's important that we understand who are covered by this important policy change and what its benefits mean. Continue to read to know more…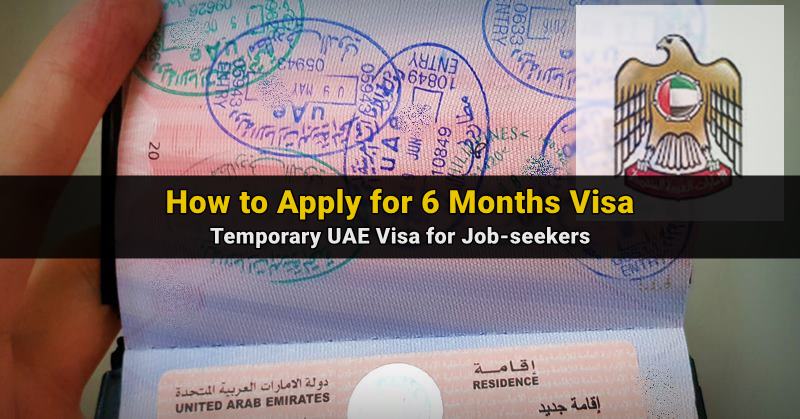 6 Months Temporary UAE Visa Application: What You Need to Know
In this post, we will answer the basic questions regarding the newly-implemented 6 months UAE Visa, what it means, who is eligible and how to apply for this temporary visa
Who are eligible to apply for this type of visa?
The new visa category is offered to amnesty seekers who have applied for the 2018 Amnesty program of the UAE government for those who have incurred violations up until August 1 of this year.  Through the programme, illegal residents and visa violators will have more time to rectify their visa status within six months, also giving them time to look for a job which will help them apply for residency visas for the long term according to the Federal Authority for Identity and Citizenship (FAIC).
What are the application requirements?
Here are the following requirements you'll need to apply for the new temporary resident visa:
Your original and valid passport
A passport size photograph
A copy of your visa or visa status
A copy of your Emirates ID (for employment visa holders)
AED 640 application fee
How do I proceed with my visa application?
To apply for a UAE 6 months temporary visa, you should personally visit the nearest TASHEEL Centres, which are also now available in Al Twar, Al Manara, and Al Jafiliya Immigration Centres and bring all the above listed documents to file your application. It will take three days (minimum) for your temporary 6 months visa to be issued.
As of now, the UAE Temporary 6 Months Visa is only applicable to 2018 amnesty seekers, but it will soon be extended to foreign nationals entering the UAE without/are still looking for a job. The visa would allow foreign nationals to stay in the country for up to six months while they look for work.
ALSO READ: UAE Cabinet Approves 5-Year Visa for Expat Retirees