Another welcome news which will offer much relief for resident expats in the UAE is an amnesty program wherein visa violators will get a chance to exit the country without paying any Fines for overstaying. This is part of the "Protect Yourself by Modifying Your Status" initiative of the Federal Authority for Identity and Citizenship (ICA).
Aside from the 6-months temporary visa for job seekers, the 48 hour transit visa for travellers, and the 1-year visa for widows/divorcees and people from war-torn countries, this amnesty program for those overstaying in the UAE is another wonderful update announced by the UAE Cabinet to make the country more visa-friendly to residents, workers and tourists.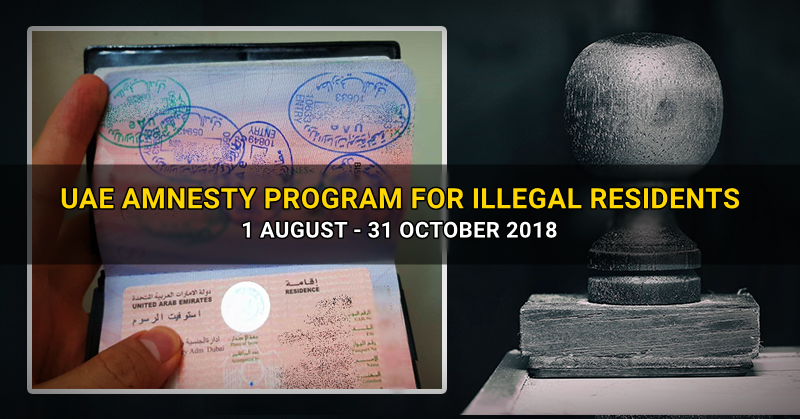 "Protect Yourself by Modifying Your Status" Amnesty Program for Visa Violators
From August 1 to October 31, visa violators will have the choice to correct their status or exit the country. In a report from GulfNews, there was a similar amnesty program back in 2013 and more than 60,000 people took advantage of it.
What's Included in this ICA Initiative
Here are the following points under this initiative:
Exemption of fines in case of voluntary departure
Allowing departure from the UAE without "No Entry" stamp on passport on condition of paying for flight ticket
Possibility of visa transfer and exemption from fines for a minimal fee
Allowing people who entered the UAE illegally to leave the country with "No Entry" stamp valid for 2 years.
Grace Period for this program is from 1 August to 31 October 2018. This means you need to process it within this time period.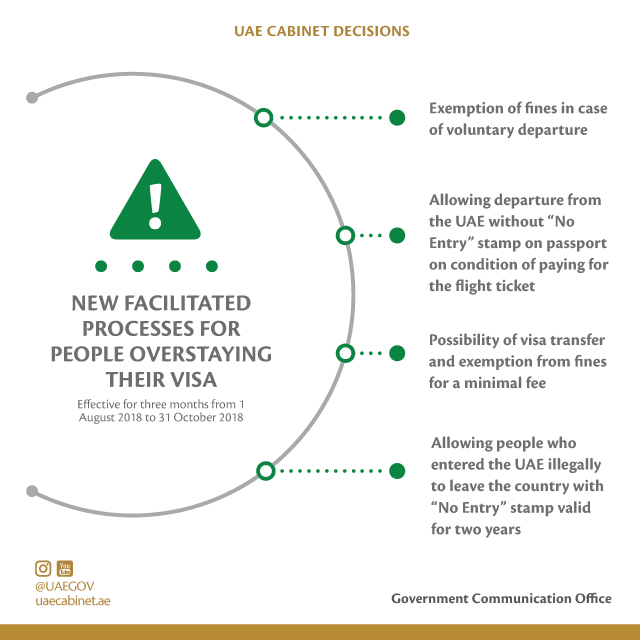 Frequently Asked Questions
Below are some frequently asked questions about this new program and we've tried to simplify it according to the best of our understanding. Please be guided accordingly.
*When is the date of the Amnesty?
You need to correct your visa status between August 1 to October 31, 2018 (this is a 3-month period).
*Who is affected by this Amnesty?
Everyone who is staying illegally (those who have overstayed and those who have entered the uae illegally).
*I OVERSTAYED my visa, what are my options?
1. Exit the UAE – If you pay for your own flight ticket to Exit the UAE, you will NOT get a "No entry" stamp on your passport. This means you can still come back with a valid visa (tourist/visitor/worker with another visa).
2. Stay in UAE – You can change your visa status and correct it. There will be fees for changing visa status.
*I ENTERED the UAE illegally, what are my options?
You can leave voluntarily WITH a "no entry" stamp for 2 years, provided you show a valid return ticket. This means that you will get a ban from entering the UAE only for 2 years.
But if you come from a war-torn country, you can still apply for a one-year visa, even if you entered illegally. You are also exempted from paying Fines.
*Do I get an Immigration Ban if I take the Amnesty Program?
If you pay for your own flight ticket, you will not get a ban.
*Will I get a Ban? (Immigration)
Only if you entered the UAE illegally and the ban (no entry stamp on your passport) is for 2 years.
*Will I get a Fine?
No you will not get a fine, but you will need to pay fees for the change of visa.
*Do I need to leave the country to change visa status?
No, you can do it while in the UAE, for a fee.
*If I Exit, can I come back and enter the UAE again?
For those who overstayed, yes you can come back with another valid visa
For those who entered illegally, after 2 years for those who have a NO ENTRY stamp.
Video: Pardon for Over-stayers and Those Who Illegally Entered the UAE
Below is a quick summary video of this amnesty initiative:
A Great Opportunity for those Overstaying to Come Clean
This is a wonderful chance for those who are illegally staying to come forward and come clean so they can correct their visa status or exit the country. Those who plan to Exit will not incur any Fees.
We want to thank the UAE government for offering this initiative and we hope many illegal expats and residents will try to use this opportunity.
Note: Please take the information above as a guide and not used in legal cases. We are trying to simplify the news based on has been announced but always seek professional advice for more assistance and always check with official government portal for more updated details. We hope the article we posted helps give you a better insight and answers some of your questions. Good luck!