Are you ready for a shopping and entertainment extravaganza in the heart of Sharjah? Look no further than Rolla Mall Sharjah! This vibrant hub of retail therapy and fun has been a staple in the city for years, attracting locals and tourists alike with its impressive array of stores, dining options, and exciting attractions.
Also Read: Sharjah Furniture Complex: Home Furniture Market in UAE
Whether you're searching for the latest fashion finds, satisfying your hunger pangs, or seeking some good old-fashioned entertainment, Rolla Mall has got you covered. So come along on this journey as we discover the many wonders that await within its walls. Get ready to be wowed by the sheer magnitude of shopping, dining, and entertainment options at Rolla Mall Sharjah! Keep on reading to learn more.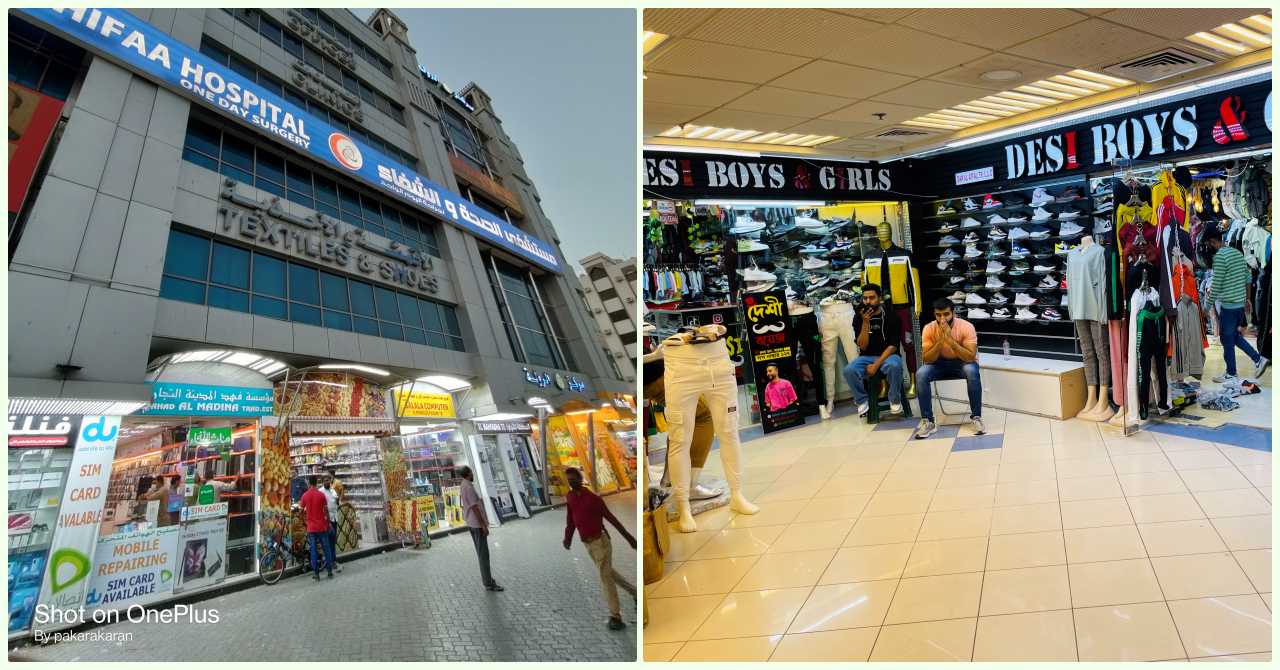 What is Rolla Mall?
When planning a vacation, shopping is often a must-do activity. Rolla Mall in Sharjah offers a one-stop destination for all your shopping needs, featuring top-quality goods in a wide range of categories. From clothing and cosmetics, to electronics and home goods, Rolla Mall has something for everyone. The mall is organized into distinct areas, making it easy to find what you're looking for, whether it be in a clothing store, restaurant, or electronics shop.
Located in the prestigious neighborhood of Rolla in Sharjah, this shopping center is a popular destination for tourists due to its proximity to several famous landmarks and cultural institutions in the area. Rolla, which was named after the massive banyan tree that once stood there, is located in the Al Ghuwair district, between the settlements of Al Shuwaihean and Al Musalla. Come discover the shopping wonders of Rolla Mall Sharjah for yourself.
History
Rolla Mall Sharjah has a rich history that dates back to its opening in the early 2000s. Over the years, it has established itself as one of the most popular shopping destinations in the city, attracting locals and tourists alike. Initially, the mall was known for its diverse range of shops and stores, offering everything from clothing and cosmetics, to electronics and home goods.
As the years passed, Rolla Mall continued to evolve, adding new features such as fine dining restaurants, a cinema complex, and various leisure activities. Today, Rolla Mall remains a beloved landmark in Sharjah, known for its exciting shopping and entertainment options, as well as its welcoming atmosphere and convenient location.
Shopping and Retail
At Rolla Mall Sharjah, shopping is an art form. With a wide variety of stores, you're sure to find something that suits your style and budget. From trendy fashion boutiques and high-end cosmetics shops, to electronics stores and home goods, the mall has something for everyone. And with popular brands like Zara, H&M, and Sephora, you can be confident in the quality and style of the products you're buying.
Whether you're in the market for a new outfit, the latest tech gadget, or just looking to treat yourself, Rolla Mall has got you covered. And to make your shopping experience even better, be sure to check out the mall's extended shopping hours and special sales, where you can score amazing deals on the items you've had your eye on.
Rolla Mall in Sharjah is a shopping destination that offers a wealth of options for visitors. Located in the bustling commercial district of Rolla, the mall is surrounded by a wide variety of shops and boutiques, including leather goods, beds, jewellery, and electronic gadgets.
The mall is situated near the historic Rolla Clock Tower and Al Arouba Street, and features 6 floors of shopping opportunities. In this shopping center, visitors will find a variety of domestic companies selling their wares at competitive prices, with department stores, shoe stores, and textile boutiques among the options.
For those looking to stock up on groceries, Rolla Sharjah has plenty of supermarkets to choose from. Al Safeer Supermarket can be found at the northern end of Arabian Gulf Street, while additional grocery options, such as Noor Al Falak Supermarket, Al Telal Supermarket, and Gharb Al Madina Supermarket, are located in the northern part of the area.
Shops including Fathima Supermarket, Giant Supermarket, and Sadrofa Supermarket are also located just below Rolla Square Park, offering convenient options for all your grocery needs. Fathima Supermarket is one of the most cost-effective options among the great supermarkets in Sharjah.
Food and Dining
Dining at Rolla Mall Sharjah is a culinary journey unlike any other. With a wide range of options for food and drink, the mall caters to all tastes and preferences. Whether you're in the mood for a luxurious fine dining experience, or just looking for a quick bite on the go, Rolla Mall has got you covered. For those looking to indulge, the mall's fine dining restaurants offer delectable menus, elegant ambiance, and top-notch service.
On the other hand, for those seeking something more casual, there are plenty of quick bites and cafes to choose from, offering delicious eats and refreshing drinks. So whether you're in the mood for a gourmet feast, or a quick snack, Rolla Mall is the perfect place to satisfy your hunger.
Entertainment
Rolla Mall Sharjah is not just a shopping destination, it's also a hub of endless entertainment! Take a break from shopping and immerse yourself in a world of fun and excitement. With its state-of-the-art cinema complex, movie-goers can enjoy the latest blockbusters in comfort and style.
For the young and the young-at-heart, the mall's game zones and play areas offer hours of entertainment, with exciting arcade games and interactive activities to enjoy. And if you're looking for other leisure activities, Rolla Mall has you covered with its diverse range of options, from live music and cultural performances, to workshops and educational events.
With so much to do and see, Rolla Mall Sharjah is the perfect place for a fun-filled day out for all ages.
Services and Amenities
At Rolla Mall Sharjah, the comfort and convenience of visitors is of utmost importance. That's why the mall offers a range of services designed to make your shopping experience as smooth as possible. For those in need of financial assistance, there are numerous ATMs and a currency exchange counter available.
If you're feeling under the weather, there's no need to worry as a pharmacy and medical services are also readily available. And for those unexpected emergencies, the mall even provides other conveniences such as a lost and found, and a customer service desk to assist with any inquiries. Rolla Mall Sharjah is dedicated to ensuring that your visit is enjoyable and stress-free.
Parking and Transportation
Getting to Rolla Mall Sharjah is a breeze, thanks to its convenient location and easy-to-access transportation options. Whether you're driving your own car or taking public transportation, you'll find getting to the mall to be a stress-free experience. With ample parking available on-site, you won't have to worry about finding a spot to park your vehicle.
For those who prefer to take public transportation, there are several bus and taxi options available, all run by the Sharjah Roads and Transport Authority. Rolla Square Park is conveniently positioned close to several bus stops, including the Al Rolla Bus Stop, Sharjah's Al Jubail Bus Station 1, and Sharjah's Al Jubail Bus Station 2. These bus routes connect to several popular locations, such as Sahara Centre, Muweilah, and Al Sana'a.
It only takes about 19 minutes to reach either Al Qiyadah or Stadium on the green line. So whether you're driving, taking the bus, or renting a car, getting to Rolla Mall Sharjah has never been easier!
Other Things to Consider when Visiting
Rolla Mall in Sharjah is a shopping destination that attracts visitors throughout the week, but the most popular time to visit is between 9 AM and 10 AM. During this time, the mall is bustling with activity, as shoppers rush to find the best deals. On average, visitors spend about an hour exploring the mall, taking in its many shops, boutiques, and dining options.
The busiest days at Rolla Mall are Monday, Friday, and Saturday, when the mall is packed with locals and tourists alike. Before or after their visit to Rolla Mall, many visitors like to stop by nearby attractions such as Carrefour, Rolla Square Park, and the Rayan Hotel. These popular destinations offer additional opportunities for shopping, dining, and relaxation, making Rolla Mall a must-visit destination for anyone in the area.
What's Nearby Rolla Mall in Sharjah?
Interested to explore the area? Here are some of the things you can find in the area:
The Area
The neighborhood of Sharjah Rolla boasts a unique composition of low-rise and medium-rise structures. This dynamic area offers a diverse range of commercial establishments, with different sections dedicated to specific industries, such as electronics, food, and clothing.
In the lower half of the town, travelers can find a wealth of travel and tourism agencies, including Air India Travel, Kanoo Travel, Al Ajwa Tourism, and Desert Tourism. The neighborhood also boasts various other services such as tailoring, laundry, textile markets, and electronics repair.
Rolla Area's prime location, near parks, restaurants, shops, and malls, and easy access to the city's public transportation network, make it a highly sought-after neighborhood in Sharjah. Its monthly rental property cost is also lower compared to other districts in the city. The western boundary of Sharjah Rolla is bordered by Al Arouba Street, while Al Zahra'a Street runs along the eastern boundary, providing convenient access to the rest of the city.
Hotels
Visitors to Sharjah can choose from a range of comfortable and convenient accommodation options, including the 4-star Jormand Hotel Apartments located on King Faisal Street. Ideal for families, business travelers, or those just passing through, this hotel boasts a bright lobby, free on-site parking, and a gym and sauna.
With 140 fully furnished studios and one- and two-bedroom apartments, each with its own private bathroom, guests are sure to find the perfect sleeping arrangements to suit their needs. The hotel can be easily reached on foot.
For those seeking a budget-friendly option, the Al Sharq Hotel in Umm Tarrafa offers 65 comfortable rooms, each with its own heating system, trouser press, and large windows.
Guests can enjoy a complimentary continental breakfast each morning, and dine in the hotel's 24-hour restaurant serving a variety of cuisines. Additional amenities include an indoor pool, sauna, fitness center, and gym, all just a 3-minute drive away.
In the heart of Sharjah, the 3-star Nejoum Al Emarate Hotel offers spacious rooms with en-suite facilities, as well as three distinct room types to choose from, including a standard room, executive suite, and more. Each room is equipped with a mini fridge and flat-screen TV, and 24-hour room service is available.
The hotel also provides conference space for business meetings, and free parking is available, subject to availability. The hotel can be reached in under 5 minutes by car.
Video: ROLLA SHARJAH | SHARJAH ROLLA | ROLLA MARKET SHARJAH | ROLLA MALL SHARJAH
Interested in visiting the area in Sharjah? Here's a video taking us around the area and locating the Rolla Mall in Sharjah. As you can see, this neighborhood is quite popular with shoppers and diners alike. The mall itself has an impressive selection of stores, including a Carrefour supermarket and many different restaurants offering both Arabic cuisine and international fare. If you're planning to visit, you can rest assured that you'll not only shop for the best prices, but you'll also find an excellent selection of goods and services.
Frequently Asked Questions
1. What is Rolla Mall in Sharjah?
Rolla Mall is a 6-story commercial complex located in the Rolla area of Sharjah, offering a variety of shops including department stores, shoe stores, and textile boutiques.
2. What are the hours of operation for Rolla Mall?
The mall's operating hours vary, but typically it is open from 10am to 10pm, 7 days a week.
3. Is there parking available at Rolla Mall?
Yes, there is ample parking available for visitors at Rolla Mall.
4. What types of stores are available at Rolla Mall?
Rolla Mall features a variety of shops, including department stores, shoe stores, and textile boutiques, selling products ranging from leather goods, beds, jewelry, and electronic gadgets.
5. How do I get to Rolla Mall?
Rolla Mall is easily accessible by car, with ample parking available, and it is also conveniently located near several bus stops serviced by the Sharjah Roads and Transport Authority.
6. Are there any dining options available at Rolla Mall?
Yes, Rolla Mall has a food court and several cafes and restaurants where visitors can enjoy a meal.
7. Is Rolla Mall wheelchair accessible?
Yes, Rolla Mall is fully accessible for people with disabilities.
8. Are there any events or promotions held at Rolla Mall?
Yes, Rolla Mall occasionally holds special events and promotions, so visitors should check their website or follow them on social media for up-to-date information.
Final Thoughts
With its prime location near the Rolla Clock Tower and Al Arouba Street, Rolla Mall Sharjah is the perfect destination for those seeking a day filled with excitement and adventure. Don't miss out on the opportunity to experience the best that this dynamic shopping centre has to offer. So grab your shopping bags and head on over to Rolla Mall today, where you're sure to have a day filled with memories that will last a lifetime.
READ NEXT: Sharjah National Park: Zoo Mosque Location Timings
Google Map Location
Please check out this map guide to the location so you can get to Rolla Mall: