Planning to go on a trip to France to see the Eiffel Tower? Or maybe search and experience the best chocolates in Belgium? or drink a bottle of one of the finest port wine in Portugal? Aside from getting all your bags packed preparing to go, you will need one important thing: a Schengen visa.
First of all, what is a Schengen Visa?
The term Schengen is coined from the Schengen Agreement, which was a mutual agreement/treaty on abolishing internal border checks between 26 European countries. You will be granted to visit the Schengen countries once you have this visa stamped in your passport.
– It allows the holder transit through or an intended stay in the territory of the Schengen States of a duration of no more than 90 days in any 180 day period ("short stay visa"),
– Or, it allows the holder transit through the international transit areas of airports of the Schengen States ("airport transit visa").
In short, if someone other than a European Union, European Economic Area (EEA) or Swiss citizen wishes to enter the Schengen Area, Bulgaria, Croatia, Cyprus or Romania they must have a visa or be a national of a visa-exempt country.
The following are Schengen countries:
| | | | | |
| --- | --- | --- | --- | --- |
| Austria | Malta | Finland | Slovakia | Iceland |
| Lithuania | Denmark | Poland | Greece | Sweden |
| Belgium | Netherlands | France | Slovenia | Italy |
| Luxembourg | Estonia | Portugal | Hungary | Switzerland |
| Czech Republic | Norway | Germany | Spain | Latvia |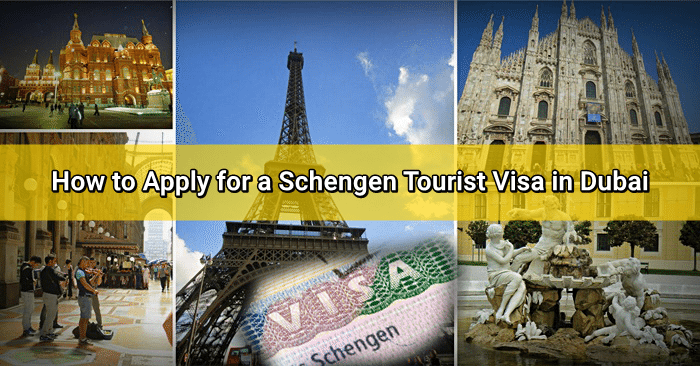 Guide to Processing a Schengen Tourist Visa in Dubai
1st Step: So the first step to do is to make up your mind on the country you would want to visit. If you have your itinerary in mind, the better since this will guide your decision as to which embassy you will need to apply for your visa. Just an example, if you wanted to go and visit Paris (city), you need to apply for a Schengen visa for France (country).
2nd Step: Step two is to schedule an appointment. You can go to the VFS Global website and choose the country where you are planning to visit in order to schedule an online appointment. It is recommended that the appointments be set as early as possible (2-3 months ahead) depending on the season/time of the year. The earlier you book the appointment means you will have more time for the visa application process.
UPDATE: While VFS Global handles a lot of the visa for European countries, NOT all countries are being handled by them. Take for example, if you need a Schengen Visa in Dubai for Italy, you need to go to Cox & Kings, if you need to get a Schengen Visa for Spain, you need to go to BLS Intl. Please be guided accordingly. (Thank you to one of our readers Carl Tupas, for pointing this out!)
3rd Step: After booking an appointment schedule, you may start preparing the necessary supporting documents for your visa application.
 Documents for Schengen Visa Application:
1. Filled out application form. You can get the application form online on the country where you are planning to travel. If you plan to go to France, then you need to need to choose France from the VFS Global website.
2. Original Passport. Please secure a couple photocopies of the passport as well. The passport must be valid for at least 3 months after the intended date of departure from the Schengen area. It must also be issued within the previous ten (10) years and should at least have two (2) consecutive blank pages.
3. Original residence visa. Photocopies must be secured as well for submission. The residence visa should still be valid for at least 3 months after the intended date of departure from the Schengen area.
Note: Hosts, sponsors, institutions, companies, employers and other third party supporting a visa application should be informed that visa applications can only be submitted and withdrawn by the visa applicant. Consequently, no information will be given or action taken without written consent with signature by the visa applicant.
Particular to applications for business and visit purposes, can be supported by you with an explicit invitation (e.g. covering costs of accommodation and transport) or Letter of No Objection sent to the applicant. Please send those letters directly to the visa applicant in order for him/her to present it when submitting his visa application.
4. One (most recent) passport photo with white background. The photo needs to display a full frontal view of the face showing neutral expression (no smiling). The size of the face from the bottom of your chin to the hairline must be between 32mm (1 ¼ inches) and 36mm (1 3/8 inches).
5. Medical insurance for travel. The policy should cover the entire period of intended stay and must be valid for all Schengen States. The policy should be able to cover any expense which might happen in connection with repatriation for medical reasons, urgent medical attention, emergency hospital admission/treatment or death during your stay (min. coverage €30000).
6. Confirmed (and VALID) flight tickets.
7. Financial capacity proof. (Bank statements and payslip)
8. Certificate of Employment that indicates your start date, current work position and monthly salary.
9. Accommodation reservation (confirmation email from hotel and or car rentals). You may book a hotel/hostel via Booking.com here.
4th Step: Submit the Documents to the VFS Global Office during your Appointment Date. VFS Global is the office that processes applications on Schengen countries. It is located in Wafi Mall in Oud Metha. You may proceed to the specific VFS office country of your destination (i.e. if you are planning to visit Switzerland, then you need to go to the Switzerland department in the VFS office). Depending on the season, wait time may be as long as an hour or two, so better be prepared.
The VFS Global staff will need to check if your requirements are all in order. After that, they will also get your biometrics (fingerprints and picture). Your passport will be surrendered to them for the visa stamp (once your application is approved). They will give you a receipt attached to one of your passport copies which you must keep with you, and it will be needed this when you claim your passport.
Schengen Visa Application Visa Fees:
The application fees may vary.  You may check with the corresponding country from the VFS Global website for a more updated information.
Visa processing – AED 300-500
VFS Service fee – AED 100
5th Step: Wait for the approval stamp. Normally the turnaround time is up to 15 working days, on some cases (off-peak season) it usually arrives as early as 3-5 days. They will send you a message (SMS) when your visa is approved. Head back to the VFS office to get your passport!
Be advised that it is important that you push through with your travel after you've gotten an approved visa stamp. This ensures that you are clear of your intentions of travel (for holiday). This also helps (but does not guarantee) in getting easier approvals for tourist visas when you apply for other Schengen destinations in the future.
Disclaimer: The above mentioned information are accurate as of writing. It is still recommended that you contact the embassy directly for any updates on the Visa application process.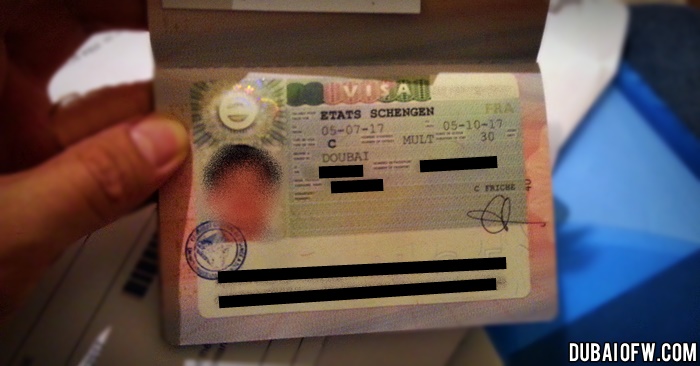 VFS Global in Wafi Mall: Where to Process Schengen Visa Application in Dubai
Just a note to everyone, VFS Global is the office that handle visa applications in the UAE. They have an application center which is located in WAFI Mall. This is the third-party that processes your request that's why there is no need to go to the Consulate or embassy as this is the official center  to handle these types of
VFS Global Application Center Contact Information
Address: 2nd floor, WAFI Mall Level 2, Falcon Phase 2 – Dubai – United Arab Emirates
Website: www.vfsglobal.com
Phone Number: +971 4 205 5666
Google Map Location of VFS Global in WAFI Mall
Below is a guide map to provide directions on how to get to VFS Global office in WAFI Mall. Good luck in the application!