There are states in the United Arab Emirates that widely caters the best quality education prepared and pioneered mainly by the reform of the institutions. The state of Ras Al Khaimah having an increased public and private educational institutions offer a wide vary of enhanced and well-looked-up-to management. The institutions are basically directed with functional progress of operations.
Its conduct handling are well regulated and are administered meticulously for the welfare of the students to be enrolled in. We have compiled this list of schools in Ras AL Khaimah, UAE. Please see below.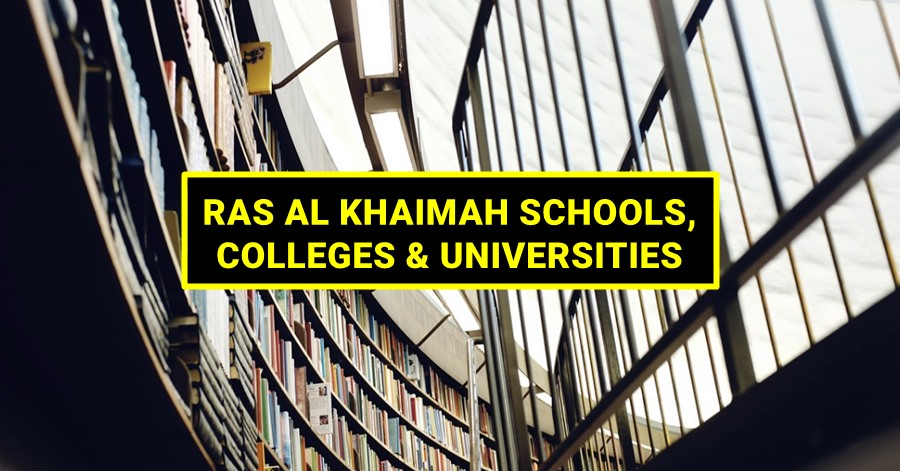 UAE Directory: Ras Al Khaimah Schools, Colleges, and Universities
In case you are looking for a particular school in the emirate of Ras Al Khaimah, please check out the list we have compiled below. We've shared their address, contact number and official website for your reference.
Kindergartens
Al Abeer Kindergarten
Phone: 07 233 6122
Email: alabeer@moe.gov.ae
Al Bashayer Kindergarten
Address: Al Mataf Road, Al Sharishah, Julphar, Ras Al Khaimah
Phone: 07 223 6002
Website: https://www.rak.ae/wps/portal
Email: albashayerk@moe.gov.ae
Al Ekhaa Kindergarten
Address: 25.791110,55.9991700North – Ras al Khaimah – United Arab Emirates
Phone: +971 7 222 9880
Email: alekhaak@moe.gov.ae
Al Ghadeer Kindergarten
Phone: 07 244 5413
Email: alghadeerk@moe.gov.ae
Al Mustaqbal Kindergarten
Phone: 07 223 3193
Email: mussch@moe.gov.ae
Al Naseem Kindergarten
Address: Al Gail Al Rayees St, Shaik Mohammed Bin Zayed – Ras al Khaimah – United Arab Emirates
Phone: +971 7 258 5156
Email: alnaseemk@moe.gov.ae
Al Nojoom Kindergarten
Address: Ras al Khaimah – United Arab Emirates
Phone: +971 7 202 5414
Email: alnojoom@moe.gov.ae
Al Olaa Kindergarten
Phone: 07 268 1197
Email: alolaak@.moe.gov.ae
Al Rahma Kindergarten
Address: Al Rams – Ras al Khaimah – United Arab Emirates
Phone: +971 7 266 4472
Email: alrahmak@moe.gov.ae
Al Rawabi Kindergarten
Address: Al Dhait South – Ras Al-Khaimah – United Arab Emirates
Phone: +971 7 202 5476
Email: alrwabik@moe.gov.ae
Al Shomooa Kindergarten
Phone: 07 266 6885
Email: alshomooak@moe.gov.ae
Al Shomoos Kindergarten
Phone: 07 228 3717
Email: alshomoosk@moe.gov.ae
Al Worod Kindergarten
Phone: 07 233 2510
Email: alworod@moe.gov.ae
Al Yanabee Kindergarten
Phone: 07 244 8115
Email: alynabeea@moe.gov.ae
Kindergarten Development Centre (KDC)
Phone: 07 236 2010
Email: kdc@moe.gov.ae
Public Schools for Girls in RAK
Abi bin Kaab Primary School
Phone: 07 222 1223
Email: bnkaab@moe.gov.ae
Al Asmaa Bint Al Harith Primary and Secondary School
Phone: 04 852 5226
Email: asmabh@moe.gov.ae
Al Baidaa Primary School
Phone: 07 233 1342
Email: albaidaa@moe.gov.ae
Al Bustan Primary School
Phone: 07 244 8278
Email: albustan@moe.gov.ae
Al Ghub Primary School
Address: Al Soor – Ras Al-Khaimah – United Arab Emirates
Phone: +971 7 222 7244
Email: alghub@moe.gov.ae
Al Hemham Secondary School
Phone: 07 246 2424
Email: hemham@moe.gov.ae
Al Hudaiba Secondary School
Address: Al Hudaiba Secondary School
Phone: 07 222 9494
Website: https://www.rak.ae/wps/portal
Email: hudaiba1@moe.gov.ae
Al Jeer Primary and Secondary School
Phone: 07 268 1252
Email: jeer@moe.gov.ae
Al Madina Centre for Adult Education (evening)
Phone: 07 223 4771
Email: Almadina.centre@moe.gov.ae
Al Mansoor Primary School
Phone: 07 235 1617
Email: almansoor@moe.gov.ae
Al Mareed Primary School
Phone: 07 228 3064
Email: almareed@moe.gov.ae
Al Mataf Primary School
Address: Al Mataf Rd – Al Sharisha – Ras al Khaimah – United Arab Emirates
Phone: 07 223 5057
Email: almataf@moe.gov.ae
Al Najah Primary and Secondary School
Address: O'zone – Ras Al-Khaimah – United Arab Emirates
Phone: 07 258 5133
Email: alnajah@moe.gov.ae
Al Nakheel Primary School
Address: Khouzam – Ras Al-Khaimah – United Arab Emirates
Phone: 07 223 4200
Email: alnakheel@moe.gov.ae
Al Qasimya Primary School
Phone: 07 233 2332
Email: qasimya@moe.gov.ae
Al Reyadah Primary School
Address: Khuzam, Ras Al Khaimah, United Arab Emirates
Phone: 07 235 6651
Email: alreydah@moe.gov.ae
Al Roya Primary and Secondary School
Address: Al Rams – Ras al Khaimah – United Arab Emirates
Phone: +971 7 266 3887
Email: royasch@moe.gov.ae
Al Sabahyia Secondary School
Phone: 07 233 1613
Email: alsabahyia@moe.gov.ae
Al Ufuq Primary School
Phone: 07 266 2358
Email: alufuq@moe.gov.ae
Al Wadi Primary School
Phone: 07 266 6073
Email: ghalila1@moe.gov.ae
Al Yamama Primary School
Address: Ras al Khaimah – United Arab Emirates
Phone: +971 7 243 6006
Email: alymamma@moe.gov.ae
Al Zait Secondary School
Phone: 07 235 2495
Email: alzait@moe.gov.ae
Bin Dhaher Primary School
Address: Al Kharran – Ras al Khaimah – United Arab Emirates
Phone: 07 244 1683
Email: bndhaher@moe.gov.ae
Ebn Zaydoon Primary School
Address: Sidroh – Ras Al-Khaimah – United Arab Emirates
Phone: 07 266 3539
Email: ebnzadoon@moe.gov.ae
Heraa Primary School
Phone: 07 233 1486
Email: heraa@moe.gov.ae
Hessa bint Saqr Primary School
Phone: 07 244 5502
Email: hessabsaqr@moe.gov.ae
Hind Centre for Adult Education (evening)
Phone: 07 233 4571
Email: hind.centre@moe.gov.ae
Idhen Primary School
Phone: 07 258 5570
Email: idhensch@moe.gov.ae
Julphar Secondary School
Address: Al Mataf – Ras al Khaimah – United Arab Emirates
Phone: 07 223 9568
Email: julfrsec@moe.gov.ae
Kadra Primary and Secondary School
Phone: 06 883 8112
Email: kadra@moe.gov.ae
Mahra bint Ahmad Primary School
Address: Wadi Ammar – Ras al Khaimah – United Arab Emirates
Phone: +971 7 276 2138
Email: Mahrahsch.rak@moe.gov.ae
Mozoon Primary and Secondary School
Phone: 06 882 7655
Email: mozoonsch@moe.gov.ae
Naseeba bint Kaab Primary School
Phone: 07 233 2649
Email: nbkaab@moe.gov.ae
Noora Bint Sultan Secondary School
Address: Sidroh Street, Dahan, Ras Al Khaimah City, RAK, UAE
Phone: 07 228 9300
Website: https://www.rak.ae/wps/portal
Email: noorabsu@moe.gov.ae
Qubaa Primary School
Phone: 07 228 3474
Email: qubaasch@moe.gov.ae
Rafeeda Al Ansaryah Primary School
Phone: 07 246 3003
Email: rafeeda@moe.gov.ae
Suhila Primary School
Phone: 07 246 1420
Email: suhila@moe.gov.ae
Sumia Bin Al Khayat Primary and Secondary School
Phone: 07 243 6228
Email: sumiabkh@moe.gov.ae
Traim Omran Primary School
Phone: 07 244 5625
Email: traimo@moe.gov.ae
Um Al Dardaa Primary School
Address: Ras Al-Khaimah – North Ras Al Khaimah – United Arab Emirates
Phone: 07 223 6585
Email: dardasch@moe.gov.ae
Um Al Qura Primary School
Address: Ras al Khaimah – United Arab Emirates
Phone: +971 7 202 5469
Email: umalqura@moe.gov.ae
Zahrat Al Madaen Primary School
Phone: 07 222 3833
Email: zahratal@moe.gov.ae
Zaid bin Hartha Primary School
Phone: 07 223 7873
Email: zaidbha@moe.gov.ae
Zemzem Primary School
Address: Al Dhait North – Ras Al-Khaimah – United Arab Emirates
Phone: +971 7 244 2434
Email: zemzem88@moe.gov.ae
Zynab Primary and Secondary School
Address: Ras Al Khaimah – United Arab Emirates
Phone: 07 244 5663
Email: zynabsch@moe.gov.ae
Public Schools for Boys in RAK
Abdul Rahman bin Ouf Primary School
Address: Al Rams – Ras al Khaimah – United Arab Emirates
Phone: +971 7 266 2448
Email: abinouf@moe.gov.ae
Al Burirat Primary School
Phone: 07 226 1003
Email: burirat@moe.gov.ae
Al Ghail Primary and Secondary School
Address:Ras al Khaimah – United Arab Emirates
Phone: 07 258 5958
Email: alghail@moe.gov.ae
Al Hamranya Primary and Secondary School
Phone: 07 243 6229
Email: hamranya@moe.gov.ae
Al Jawdah Secondary School
Address: Dafan Al Khor – Ras al Khaimah – United Arab Emirates
Phone: 07 236 2238
Email: jawdah@moe.gov.ae
Al Jazeera Al Hamraa Primary and Secondary School
Phone: 07 244 6602
Email: jazeeras@moe.gov.ae
Al Monayie Primary and Secondary School
Phone: 04 852 5718
Email: almonayie@moe.gov.ae
Al Rams Secondary School
Address: Al Rams – Ras al Khaimah – United Arab Emirates
Phone: +971 7 266 5658
Email: ramssch@moe.gov.ae
Al Wataniya Primary School
Phone: 07 258 4240
Email: alwatnyia@moe.gov.ae
Al Yasser Primary School
Address: Al Sharisha – Ras al Khaimah – United Arab Emirates
Phone: 07 223 6355
Email: alyasser@moe.gov.ae
Balat Al Shuhadaa Primary School
Phone: 07 235 1854
Email: balatsch@moe.gov.ae
Ghalila Primary School
Address: Ghalila – Ras al Khaimah – United Arab Emirates
Phone: 07 266 6121
Email: ghalila1@moe.gov.ae
Ibn Al Qayem Primary School
Address: Al Mamoura – Ras al Khaimah – United Arab Emirates
Phone: +97172283677
Email: ealqayem@moe.gov.ae
Khet Primary and Secondary School
Address: Khet – Ras al Khaimah – United Arab Emirates
Phone: 07 246 2444
Email: khat@moe.gov.ae
Masafi Primary and Secondary School
Address: Masafi – Ras al Khaimah – United Arab Emirates
Phone: 09 256 4212
Email: masafib@moe.gov.ae
Moussa bin Nseir Primary School
Phone: 07 236 2239
Email: moosabna@moe.gov.ae
Othman bin Abi Al Aas Primary School
Address: Al Kharran – Ras al Khaimah – United Arab Emirates
Phone: +971 7 244 2687
Email: othmanb@moe.gov.ae
Ras Al Khaimah Secondary School
Address: Al Dhait South – Ras al Khaimah – United Arab Emirates
Phone: +971 7 236 1688
Website: https://www.moe.gov.ae/
Saeed bin Jubair Secondary School
Address: Seih Al Uraibi – Ras al Khaimah – United Arab Emirates
Phone: +971 7 221 1116
Email: sbjsec@moe.gov.ae
Shaam Primary and Secondary School
Address: Shaam – Ras al Khaimah – United Arab Emirates
Phone: +97172681411
Email: shaamb@moe.gov.ae
Shaml Primary School
Phone: 07 223 6083
Email: shaml@moe.gov.ae
Shooka Primary and Secondary School
Phone: 06 883 1155
Email: shooka@moe.gov.ae
Tunb Secondary School
Address: Al Mamourah – Ras Al-Khaimah – United Arab Emirates
Phone: +971 50 779 0145
Email: tunbsch@moe.gov.ae
Wadi Asfani Primary and Secondary School
Address: Wadi Asfny – Ras Al-Khaimah – United Arab Emirates
Phone: +97168827679
Email: wadiasfani@moe.gov.ae
Private schools in Ras Al Khaimah
Al Arabiya Private School
Address: Ras Al Khaimah , 1579 Ras Al Khaimah, Ras Al Khaimah
Phone: 07 222 8856
Al Manar Private School
Address: Khuzam – Ras Al-Khaimah – United Arab Emirates
Phone: +971 7 236 4642
Al Masafi Kindergarten
Address: Ras Al Khaimah , 11296 Ras Al Khaimah, Ras Al Khaimah
Phone: 72564664
Al Nasr Private School
Address: Al Sharisha – Ras al Khaimah – United Arab Emirates
Phone: +971 7 223 9595
Al Rashad British Private School
Address: Ras Al Khaimah – United Arab Emirates
Phone: 07 235 5005
Website: http://alrashadschool.com
Al Rawabi Modern Private School
Address: Al Mamourah – Ras al Khaimah – United Arab Emirates
Phone: +971 7 228 2155
Website: https://www.facebook.com/alrawabi.rak
Al Salaf Al Saleh Private School
Address: Al Mataf, Ras Al Khaimah – UAE
Phone: 07 268 0082
Alpha Private School
Address: Seih Al Uraibi – Ras al Khaimah – United Arab Emirates
Phone: +971 7 222 5151
Website: http://alphaschool.ae/
Bangladesh Islamia Private School
Address: Near Abu Dhabi Co-op Society – Dhafeer St – Zone 1 – Abu Dhabi – United Arab Emirates
Phone: +971 2 444 6904
Website: http://bdschooluae.com/2018/
Dar Al Salam Private School
Address: 19A St – Dafan Al Khor – Ras al Khaimah – United Arab Emirates
Phone: 07 236 1154
GEMS Westminster School – Ras Al Khaimah
Address: Seih Al Uraibi – Ras Al-Khaimah – United Arab Emirates
Phone: +971 7 203 5999
Website: https://www.gemswestminsterschool-rak.com/
Ideal English School
Address: Al Mamourah – Ras al Khaimah – United Arab Emirates
Phone: +971 7 228 2500
Website: https://iesrak.com/
Indian Public High School
Address: Sultan Al Kabeer Rd W – Seih Al Hudaibah – Ras al Khaimah – United Arab Emirates
Phone: 07 222 3124
Website: http://www.iphsrak.com/
International School of Choueifat
Address: Al Dhait North – Ras al Khaimah – United Arab Emirates
Phone: +971 7 235 3446
Website: http://www.sabis.net/
Islamic Education Private School
Address: Dafan Al Khor – Ras al Khaimah – United Arab Emirates
Phone: 07 233 4344
Nedaa Al Salam Private School
Address: PO BOX 6070 – Al Rams – Ras al Khaimah – United Arab Emirates
Phone: 07 266 4663
Pakistan Higher Secondary School
Address: Al Mamourah – Ras al Khaimah – United Arab Emirates
Phone: +971 7 228 1146
RAK Modern Private School
Address: Dafan Al Khor – Ras Al-Khaimah – United Arab Emirates
Phone: +971 7 236 5998
Ramsis Private English School
Address: PO BOX 3789
Phone: 07 236 2521
Website: http://ramsisrak.com/
Ras Al Khaimah American Academy for Girls
Address: Seih Al Uraibi – Ras al Khaimah – United Arab Emirates
Phone: +971 7 204 7999
Website: https://www.rakaag.sch.ae/
Sheikha Hessa bint Saqr Private School
Phone: 07 236 2387
Sheikha Nora bint Sultan Kindergarten
Phone: 07 235 3737
Universities in Ras Al Khaimah
American University of Ras Al Khaimah
Address: Address: American University of Ras Al Khaimah Road – Ras al Khaimah – United Arab Emirates
Phone: +97172210900
Website:/http://www.aurak.ac.ae
Abasyn University
Address: Al Dhait South – Ras al Khaimah – United Arab Emirates
Phone: +971 7 236 9495
Bath Spa University Ras Al Khaimah
Address: Sheikh Muhammad Bin Salem Rd – Ras al Khaimah – United Arab Emirates
Phone: +971 7 236 9495
Website: https://www.bathspauae.info/
Birla Institute of Technology
Address: RAKEZ Academic Zone – Ras al Khaimah – United Arab Emirates
Phone: +971 7 235 9322
Website: http://www.biticrak.ae/
Bolton University of Ras Al Khaimah
Address: Sheikh Saqr Bin Khalid Road, Bareraat,opp HCT – Ras al Khaimah – United Arab Emirates
Phone: +971 7 221 1221
Website: https://www.boltonac.ae/
Ecole Polytechnique Federale de Lausanne
Address: Ras al Khaimah – United Arab Emirates
Phone: +971 7 206 9666
Website: http://epfl.ae/
Higher Colleges of Technology – Ras Al Khaimah Men's College
Address: Sultan Al Kabeer East Street, Seih Al Araibi – Ras Al-Khaimah – United Arab Emirates
Phone: +971 2 206 7222
Website: http://www.hct.ac.ae/ar/colleges/rkmc/
Higher Colleges of Technology – Ras Al Khaimah Women's College
Address: Seih Al Uraibi – Ras al Khaimah – United Arab Emirates
Phone: +971 2 206 7111
Website: http://www.hct.ac.ae/ar/
Indian Public High School
Address: Sultan Al Kabeer Rd W – Seih Al Hudaibah – Ras al Khaimah – United Arab Emirates
Phone: +971 7 222 3124
Website: http://www.iphsrak.com/
Indian School
Address: Al Muntasir Rd – Al Mamourah – Ras al Khaimah – United Arab Emirates
Phone: +971 7 228 8346
Website: http://www.indianschoolrak.org/
RAK Medical & Health Sciences University
Address: Al Juwais – Al Qusaidat – Ras al Khaimah – United Arab Emirates
Phone: +971 7 2222922 / +971 7 2269999
Website: www.rakmhsu.com
Ras Al Khaimah Academy
Address: Dafan Al Khor – Ras Al-Khaimah – United Arab Emirates
Phone: +971 7 236 2441
Website: https://www.rakaonline.org/
Ras Al Khaimah Medical & Health Sciences University
Address: Al Juwais – Al Qusaidat – Ras al Khaimah – United Arab Emirates
Phone: +971 7 204 3000
Website: https://www.rakmhsu.ac.ae/
Scholars Indian School
Address: Al Seer – Ras al Khaimah – United Arab Emirates
Phone: +971 7 222 7600
Website: http://www.rakscholars.com/
University of Stirling
Address: Al Seer – Ras al Khaimah – United Arab Emirates
Phone: +971 800 2552
Website: http://stir.ae/
University of West London
Address: RAKEZ Amenity Centre, Building 2 – Ras al Khaimah – United Arab Emirates
Phone: +971 7 243 2099
Website: https://uwl.ac.ae/